Gas Lines on a Pressure Relief Valve?
05-03-19, 12:41 PM
Join Date: May 2019
Posts: 2
Gas Lines on a Pressure Relief Valve?
---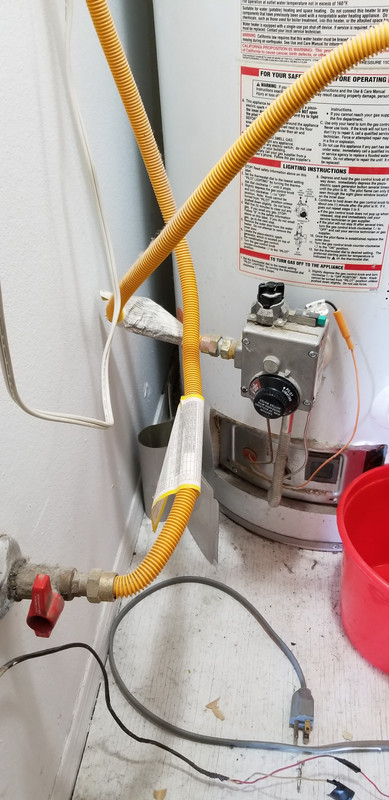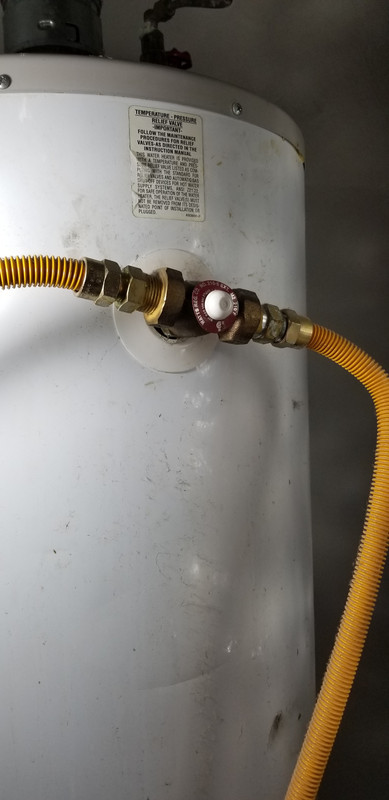 Hello everyone, I recently purchased a home and I noticed the water heater makes a lot of noise when I shower so I decided I should drain the tank. Just as was getting set to drain it, I noticed the gas line is connected to what I assume is the Pressure Relief Valve. It then travels back down onto the thermostat. I've never seen this setup before and tried to look online but found nothing. My question is, is this normal and if so, where does the water go when the pressure is too much? Thanks in advance.
---
Last edited by LoneStar86; 05-03-19 at

12:52 PM

. Reason: Adding pictures
Sponsored Links
05-03-19, 02:23 PM
Welcome to the forums.
That is a first for me. I'm not a plumber so I looked it up. It's called an automatic gas water heater shutoff valve. It installs in place of the typical T & P valve which means one needs to be installed on the hot water outlet. The link below explains it in more detail. Curious if it's code required in your area.
Automatic gas wh shutoff valve
05-04-19, 12:45 AM
Join Date: May 2019
Posts: 2
Thanks for the reply. To my knowledge, this isn't required by the city. My other home had the typical relief valve. My guess would have to be preference due to the water heater's location. It is in the middle of the house with no drain nearby.
05-04-19, 10:20 PM
I was hoping one of the plumbers stopped by. I can't add anything helpful.
Posting Rules
You may not post new threads
You may not post replies
You may not post attachments
You may not edit your posts
---
HTML code is Off
---