2 Questions, one slightly OT
12-31-04, 10:19 PM
2 Questions, one slightly OT
---
Folks, first off, I'd like to wish everyone on this forum a very Happy and Prosperous New Year!

On to my questions:

1) Does anyone know where I can pick up a Hex wrench large enough to tighten the main (and neutral) in the breaker box (Square D). Not sure what size to look for and I've tried various hardware stores without success.

2) This is slightly off topic but unfortunately users on the camera forums would not know this but perhaps one of you electrical gurus would.

How is a battery's mAh rating obtained? Is it possible to measure this with a multimeter?
01-01-05, 01:16 AM
Here are my thoughts for both questions:

1 - hex wrench issue. Most suppliers of electrical panels will have the information you are looking for. Obviously you don't intend on making any adjustments of the type you suggest on an energized panel.

2 - In the battery world capacity is usually figured in Amp hours or milliamp hours. Since you mentioned cameras, we are talking about low power devices so we will use mAh (milliamp hours). This rating is dependant on the drain rate, voltage required, operating temperature and self discharge of the battery. Battery catalogs typically list the most advantageous ratings just like automotive mile per gallon ratings for your automobile. For lithium batteries intended for low to moderate rate applications the capacity would be shown for a 1,000-hour discharge. So if you come across a 1,000-mAh cell you may assume the rating is for a 1 mA resistive discharge. As your drain rate increases your capacity will decrease due to the inefficiency of the discharge and as your load decreases your capacity will decrease due to self-discharge of the cell. Battery manufacturers provide curves to deal with these considerations, so if you're looking for data on a specific type of battery, you can usually find it on the manufacturers web site.

Best wishes.
01-01-05, 08:45 AM
Measuring the mAh rating of a battery is a very common third grade science fair project. Just connect a light across the battery and see how long it lasts. Of course, this is a destructive test.
01-01-05, 07:41 PM
I should've clarified on question 2
---
Here's the deal, the original battery that came with my camera is rated as 710mAh, I have purchased an additional battery that's rated at 1230 mAh. Short of charging each one and then leaving the camera on to test the life, is there a way to use a multimeter to see if one is truly rated at 710mAh and the other at 1230 mAh?
01-01-05, 08:08 PM
To test the maHr rating, you would have to know the discharge RATE which it is specified at. One milliamp for 760 hours; 10 milliamps for 76 hours; 100 milliamps for 7.6 hours; 1 amp for 0.76 hours. ALL these = 760 maHr. However, any given battery will not be able to accomplish all these things.
By comparison, on the ustafish the 250 volt battery had a nominal rating if I remember of 5600 AmpHours. But there were charts for a 10 amp discharge, 100 amp discharge, and 1000 amp discharge. Once, seawater intrusion caused the battery to discharge something like 12,000 amps. The batteries did not like that! Those boys almost bought the farm that day. On the Bonefish, an even worse battery incident did take the life of 3 people.

If you assume a certain draw for the device you are powering, divide the battery voltage by that number. This will give you a resistance value. Obtain a resistor of that value from Radio Shack. Place the resistor across the battery and take voltage readings at intervals and determine when the voltage drops below the specified minimum voltage value specified for the device.

As you can see, there are variable here, and you don't know the values of all of them. But you should be able to record a significant difference between the two batteries you mentioned.
01-01-05, 08:44 PM
For the hex head set, I think that
---
you're looking for something similair to this,
http://www.amazon.com/exec/obidos/tg...&s=hi&n=553354
You'd use a 3/8 in rachet with these, they're also made in larger sizes for 1/2 in drive rachets. You can also find them in short versions, but I couldn't find a picture of them. **Note there are standard and metric versions of these, please pay attention to this when selecting them....it's kind of like trying to use a standard socket on a metric bolt....I just doesn't work.**
01-02-05, 05:32 AM
Klein, Bondhus, Eklind, etc., all make folding hex key sets in several sizes. You want the biggest size set which will have 3/8" & 5/16" which are the sizes you probably need. One brand of panel uses a 1/4" hex for it's lugs as well.
This is assuming a 200 amp panel. Not many 100 amp panels use hex set screws, but some do.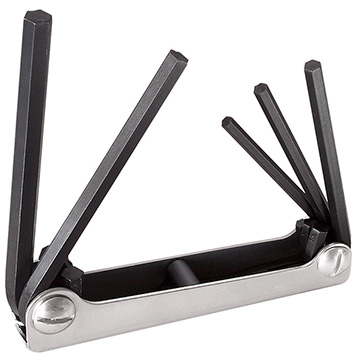 01-02-05, 08:57 AM
Red Flag Issue
---
Why do you need to tighten your panels main lugs? If they have loosened since they were installed then you may well have a serious problem. KEEP IN MIND THAT THE MAIN LUGS ARE ALWAYS ENERGIZED unless the power company disconnects the service drop, opens the drip loop / hand hole splices, or the meter is pulled and any meter bypass is secured open. Those lugs should be tightened with a torgue wrench. Over tightening or under tightening can lead to connection failure and arcing.
--
Tom H