Main Box Open - See Issues? (Pic)
08-06-07, 01:57 AM
Join Date: Aug 2006
Location: Indiana, USA
Posts: 126
Main Box Open - See Issues? (Pic)
---
I feel like I'm sticking my head out a bit, but better safe than sorry. When we purchased out current (built in 1946) home last year, it had 100amp service and we (my handman-ish father did all the wiring work) upgraded to 200A before the electrical was hot. I had a pro do the work on the outside of the house, and had him take a peek at the box, which he said looked fine.
Still, after having the AC go down this week b/c of a neutral lug that wasn't tight at all (was putting out 96V), I nosed around and feel that there are likely other issues. My Dad is old enough that he tends to forget/miss things at times despite the best intentions.
I'll be doing the work and will likely just flip off the main and avoid the big wires of course. I picked up an insulated tool kit from Wiha as an added safety margin.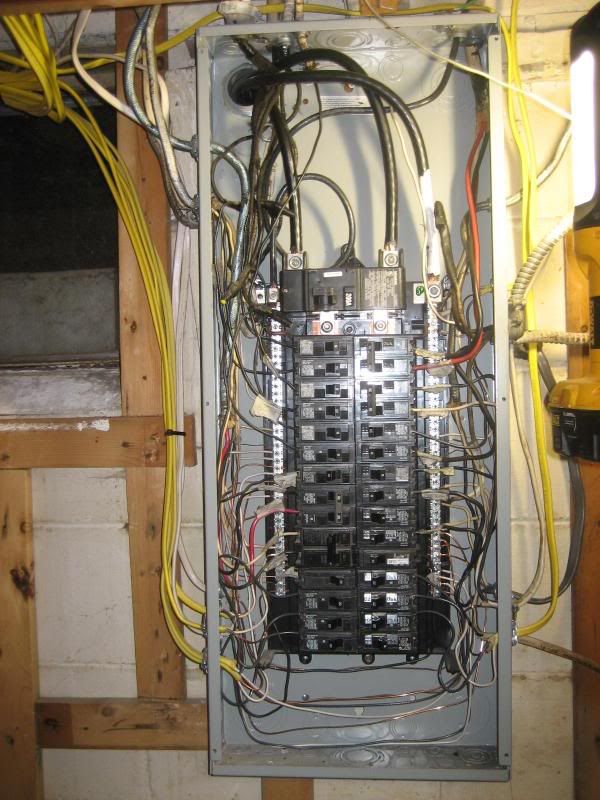 Sponsored Links
08-06-07, 05:34 AM
Join Date: Sep 2003
Location: Central New York State
Posts: 13,973
Sorry, you'll have to explain your concerns and provide more detailed pictures.
08-06-07, 07:06 AM
Join Date: Aug 2006
Location: Indiana, USA
Posts: 126
08-06-07, 07:17 AM
Join Date: Sep 2003
Location: Central New York State
Posts: 13,973
I can't see something that small.
08-06-07, 07:59 AM
Join Date: Sep 2000
Location: United States
Posts: 18,497
Well, we obviously cannot check the torque settings of all the screws from a picture. So be sure to do that.

The resolution of the picture isn't that high. It gets a bit grainy when you blow it up for a closer look.

And it's a darn shame you put in a 30-space panel. It's already full with no extra room. A 40-space panel would have been so much better.

And those cables approaching the panel don't look very well protected from physical damage, especially in the upper left corner where it looks like they go past a window opening.

Other than that, no major problems seem obvious. You used cable clamps. You secured the cables outside the box (most of them, but not all of them). The wire routing inside the box is fairly neat (could be better). Nothing is double-lugged. There's plenty of space on the neutral/grounding bars. The wires are labeled. There's a few wire nuts in the panel, but that's okay. The cable sheathing is stripped appropriately. There are a few hot white wires which should have been reidentified as black. Doesn't look like there are any AFCI breakers, and there probably should be. Looks like the neutral bar is bonded to the case, which it should be in a main panel.
08-06-07, 10:13 AM
Join Date: Aug 2006
Location: Indiana, USA
Posts: 126
Thanks John!

Yeah photobucket limits the resolution. The original is 1600 x 1200.

I'm not sure if Lowes had a 40 space panel, but I was clueless about electrical when we purchased it. I think we'll be okay, the house is small and I can easily pull 4 spaces to open up room (2 breakers are dummies from old removed circuits, and I'm likely going to pull out the 30A baseboard heater circuit). Still, I think you're right about the 40.

That window never opens, but I do want to fix that corner. Thankfully most all those circuits have small service loops which should help.

does doule-lugged just mean two wires (like a neutral and ground) under one neutral bar lug?

Can you explain why I should have an AFCI breaker? I'm not sure where or why they're appropriate.

I also haven't put GFCI's in the 2 garage circuits. Should I put a GFCI breaker in to correct this, or is it not a huge deal? I'm not sure if it's a regional code thing, or an absolute. Code is generally loose here in Indiana.

I'll mark the hots in red as black.

Do any of those ancient wires really concern anyone? I have some 2 wire BX in there, some "anaconda" wire, and some old braided-teal/silver looking wires that I can't ID. Everything I remove I've been replacing with 12/2 Romex.
08-06-07, 11:05 AM
Join Date: Apr 2004
Location: Ontario Canada
Posts: 1,767
If the old wired supply lighting or heating fixtures, I'd check them.

Double lugged means more than one conductor under a terminal. As a rule you can have one one neutral wire per neutral terminal, three individual ground conductors, and one hot per breaker terminal, unless the breaker is rated otherwise.

One concern of mine, which is mostly workmanship, is you apparently have the grounds and neutrals interspersed on the ground/neutral busses. I'd install the neutrals on one side, and the grounds on the other.
08-06-07, 11:15 AM
Join Date: Feb 2006
Location: USA
Posts: 6,459
Connections
---
Someone has already mentioned torqueing the connections. The panel instructions should give the correct torqueing values for connections in the panel proper. Breakers usually have the torqueing values printed on them in fine print.

MAKE SURE THE POWER IS OFF WHEN TORQUEING THE CONNECTIONS!
08-06-07, 12:28 PM
Join Date: Feb 2005
Location: Near Lansing, Michigan
Posts: 10,535
The panel torque ratings aren't that helpful unless you have an expensive torque screwdriver. The wire terminals should be tight, but not too tight. If the screw is mashing the copper flat or cutting it, it's too tight. If you can wiggle the wire and pull it out, it's too loose. Somewhere in between is just right. The screw should be tight enough to securely hold the copper in place without damaging it.

The main lugs, on the other hand, should be torqued down pretty tight. Not enough to damage the wires, but you can put some muscle into it. As previously mentioned, don't work on the main lugs unless the power is turned off upstream!
08-07-07, 01:05 PM
Join Date: Sep 2005
Location: USA
Posts: 4,295
I would highly recommend adding GFI to your garage receptacles. Power tools, snowblowers, and whatever else you plug in will be safer with GFI protection. Mainly, garages are required to have them due to the flooring (concrete, especially wet concrete makes a great ground).

You can accomplish this with either a GFI breaker ($30) or individual GFI receptacles ($12/ea). You don't have to GFI any receptacle with a specific purpose (garage door opener, freezer, etc).

Lights and such don't need GFI protection and it's usually discouraged.
08-07-07, 02:02 PM
Don't worry too much about the 30 space. Pretty much every 200 amp panel such as this is a 40 circuit panel. That one is likely what's known as a 30/40.
30 actual spaces,where the lower five on each side can use "twin" breakers.

I also would have used a full size panel there, I typically do when space is not a concern, but do not worry that your new panel is "full".
Posting Rules
You may not post new threads
You may not post replies
You may not post attachments
You may not edit your posts
---
HTML code is Off
---