burying triplex [MERGED]
12-25-07, 05:00 AM
burying triplex [MERGED]
---
Hello, My house, has on overhead service that runs from the house itself, to a couple of out buildings about 300 feet away. The service is strung along on railroad ties instead of poles, and they have rotted, and constantly fall over. My plan is to put the service under ground in rigid conduit. Where the service leaves the house, it runs underground for about 40 feet, than climbs the first pole, than exits through a service head. The underground wire is #2 AWG. The overhead wire is triplex and I believe is 2/0. ( the only markings on the triplex is the word "alcan" I measured the wire with a micrometer and it read .375 and I believe 2/0 .365.) My issue, is that I'm not sure if I can use compression couplings with two different size wires. All help is greatly appreciated. Merry Christmas, John
Sponsored Links
12-25-07, 06:38 AM
The wrench- or screwdriver-operated couplings that I have used for grounding have their ratings printed on the packaging just like wire nut packages.
You can also use H-Taps, which could also be called compression couplings. Those would require a hydraulic crimper, however.
Whichever you do, putting some no-ox on the conductors would be a good idea, as well.
12-25-07, 07:01 AM
Originally Posted by
Nilzlofgren
Hello, My house, has on overhead service that runs from the house itself, to a couple of out buildings about 300 feet away. The service is strung along on railroad ties instead of poles, and they have rotted, and constantly fall over. My plan is to put the service under ground in rigid conduit. Where the service leaves the house, it runs underground for about 40 feet, than climbs the first pole, than exits through a service head. The underground wire is #2 AWG. The overhead wire is triplex and I believe is 2/0. ( the only markings on the triplex is the word "alcan" I measured the wire with a micrometer and it read .375 and I believe 2/0 .365.) My issue, is that I'm not sure if I can use compression couplings with two different size wires. All help is greatly appreciated. Merry Christmas, John
Sounds like you have a voltage drop problem and need to run largers size conductors.
If you are going to supply the out building with underground feeders you should make them all the same size from the main panel out.
for your question you can get barrel connectors or split bolt connectors for bugging the two different gauges together. rubber tape, then black tape for insulating them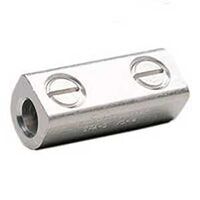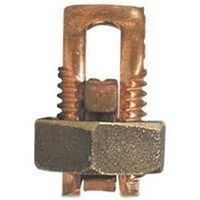 12-25-07, 07:12 AM
Join Date: Nov 2007
Location: Twin Cities, MN
Posts: 13,134
Polairs is the best
---
I REALLY like these connectors! They come in many different sizes. Accept a wide range of wire and are rated for copper and aluminum. They are full insulated so no taping is needed.
http://www.nsipolaris.com/pdf/polaris.pdf
01-13-08, 06:45 PM
burying triplex
---
I posted a few weeks back about wanting to bury an overhead service that runs to my outbuildings. So, before I get started, can i even bury triplex wire? It would be going in schedule 40 PVC. If not, can I replace the bare neutral messenger wire with an insulated alternative? Also, can the neutral be smaller AWG, than than the conductors? the total length is about 300' feet.
Thanks in advance for any replies!
John
01-15-08, 12:10 PM
You cannot bury overhead triplex. You may be able to obtain an underground equivalent to it, which has an insulated neutral, or individual THWN insulated wires. I'd size the neutral the same size as the hot conductors. The ground can likely be a bit smaller.
01-19-08, 04:06 AM
Going underground
---
Thanks to everybody for all the help. It's clear now that I should use THWN in conduit for my underground installation. According to the voltage drop calculator, I can pull 2/0 copper the distance I need, and only have a 2.8% voltage drop. The current setup is, 8-3 from the panel, to the crawspace and stopping at the block wall. A connection to 2-2-2 aluminum through 1.25" conduit to the outside of the wall, than direct buried about 40' to the first pole. 1.25" conduit up the pole through a servicehead, where it is connected to 2/0 aluminum tri-plex with the bare neutral ACSR messenger wire. Now my questions are, 1.) Can I just bring the copper to the 2-2-2 and start the underground installation there, or should the copper go all the way back to the panel? 2.) Will I have to add a fourth wire to the installation to act as a ground? 3.)In the current setup, does the neutral acts as a ground as well? 4.) What size conduit would I need for this installation?
Thanks, John
Posting Rules
You may not post new threads
You may not post replies
You may not post attachments
You may not edit your posts
---
HTML code is Off
---