How to Connect AL/CU splicers
04-19-08, 09:34 PM
Join Date: Sep 2005
Location: USA
Posts: 8
Received 0 Votes on 0 Posts
How to Connect AL/CU splicers
---
Hello. I want to connect a new cooktop with silver stranded wire leads, presumably copper, to a stranded aluminum 8- Gauge circuit. I bought some aluminum Splicer Reducers that are rated for AL or CU. I guess these are also called lugs. This splicer has an aluminum body and two set screws in it. Seems much safer than wire nuts.

What is the correct way to attach the wires to the splicer? Suppose I have the black CU from the cooktop going into one end and the black
AL from the circuit going into the other end. How do I ensure proper contact between the wires? There is no solid barrier between the set screws in this particular splicer.

Is this the correct connection method, or should I be using split bolts?


Thanks,
Bob
Sponsored Links
04-20-08, 03:17 AM
Join Date: Mar 2006
Location: NE Wis / Paris France{ In France for now }
Posts: 4,808
Received 0 Votes on 0 Posts
There are few methold of doing copper / alum spliceing and with proper spit bolt or connector [ sometime called " bug " ] which i will show you in a sec and all the splices must be inclosed in the junction box there will be
no
exposed splices for safety reason.
this photo is a 3 wire verison and there is two wire verison on hand i don't know if big box may have this type of connector like this if not my suggest is stop one of the electrical supply centre.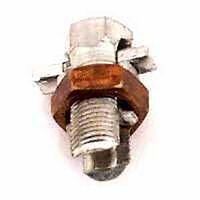 this type of split bolt is approved for both alum and copper wire you will noted the spacer bar between the two and i will show you the next one in a sec.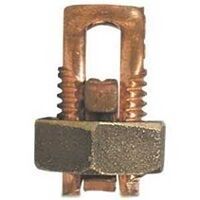 now with the last photo you see all copper colour there that split bolt is
only used with copper wires
can not use copper/alum wire on this type of splitbolt the other type of splitbolt what you see above the silver split bolt [ see the photo above ] that one is approved for copper / copper , copper / alum , alum / alum combations.
however there is a good trick with split bolts wrap one layer with electical tape with sticky side out [ first layer only ] then rest of the wrapping just run like normal manner the reason why do that because when take the split bolt apart it will make it alot easier to remove instead alot of sticky stuff and take a bit of time to remove it [ i did see some crazy one some actally build them pretty big like baseball
]
just make sure you run the electrical tape about 6-12 layer thick [ kinda match to the insluation materal thickness ] and when you put in the box make sure you don't have unuseal stress point and when you put the cover on make sure it don't pintch the wires. [ you may end up get 4 11/16 box for this one make it more room in there but the 4X4 will work as well if deep box type.
is your wire at the junction box is exsting 3 wire or 4 wire ??
let us know
Merci,Marc
04-20-08, 10:52 AM
Join Date: Sep 2005
Location: USA
Posts: 8
Received 0 Votes on 0 Posts
Marc, thanks for your response. The connectors I got at Home Depot looks like this:
http://www.twacomm.com/catalog/model_87-143.htm
Will these work and how do I insert the wires? One end, both ends? It looks like the AL and CU wires are overlapping in this type of connector. In the split-bolt they are separated.
My circuit is an AL three-wire: red, black and white/gray. The cooktop has four wires, but the green and white are crimped together. So I need to splice the Al white to the crimped CU green+white. According to the manufacturer, this is acceptable for existing wiring done prior to 1996 if local codes allow the neutral/ground.
Thanks,
Bob D.
04-20-08, 11:37 AM
Join Date: Feb 2005
Location: Near Lansing, Michigan
Posts: 10,944
Yes that connector is okay. Also, polish up the aluminum conductor with a brush or emory paper and apply a liberal amount of no-ox grease (available in the electrical aisle). I like to use a flux brush and really work down between the strands. This procedure takes a little longer to do but will produce a much more reliable connection on the aluminum side. The copper side does not require any special treatment.
04-20-08, 05:21 PM
Join Date: Mar 2006
Location: NE Wis / Paris France{ In France for now }
Posts: 4,808
Received 0 Votes on 0 Posts
Yes it will work but however when you put the connector in the box you may run into some issue getting the cover on espcally if you have 4X4X1.5 box that can really test your nerves my SOP is get 4X4X2 1/8 box [ deep well verison ]or get 4 11/16 [ we called 5by box ] that have even more room espcally with inline splicer and expect to use at least 1 full roll of electrical tape for sure some case two depending on how it conferated and size of box.

just take your time when you shove the connector in the box and make sure there is no pintch points which it can cause some issue down the road.

Merci,Marc
Posting Rules
You may not post new threads
You may not post replies
You may not post attachments
You may not edit your posts
---
HTML code is Off
---