loose electrical box
05-04-08, 08:42 PM
loose electrical box
---
Hello, are there any tricks to help tighten up a loose metal double gang electrical box? The right side wants to come out everytime you unplug something and it happens often as it is in the bathroom.

Thanks!
05-04-08, 10:04 PM
What you can do with this is take the switch or repectale cover off then look at the box if the screws are loose or not if not and the box stay loose you can use one of the old work box clip which i used alot something look like this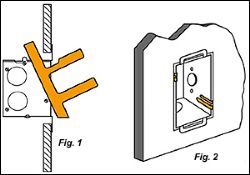 that one of most common item and they are avabile at big box store and hardware store.
if you have old work box with clamp try to tighten them down also sometime it will loosen up over the time
Merci,Marc
05-05-08, 07:57 PM
Suggest you use a "MAdison Strap" as mentioned in another earlier post.

I used to call them Hold-Its.

It is a sheet metal strap with two legs.

Put the strap behind the drywall on the right side of the box, with the two legs sticking out.

Bend the two straps over to hold the right side of the box flush with the drywall.

Because this strap is metal, it is advisable to shut off the power before you weld your pliers to some wire!

Bending the straps over the edge of the box is much easier if you first remove the switch or receptacle in the right half of the box.

I always keep some Hold_Its on hand, especially if I am adding an outside box thru stucco.

Works great.

Cheers,
s/Mike