Electrical box for finished walls
05-05-08, 11:06 AM
Join Date: Mar 2006
Location: Canada
Posts: 371
Received 0 Votes on 0 Posts
Electrical box for finished walls
---
I've only installed electrical boxes(for standard lights/plugs) into unfinished rooms. What kind of box do I need to use to install into a finished wall(drywall)? I've seen some with tabs that tighten once the box is placed into the cut out. Would I want plastic or metal? In Canada we use 14/2 and 14/3 romex, with bare copper ground.
Sponsored Links
05-05-08, 12:39 PM
Join Date: Feb 2005
Location: Near Lansing, Michigan
Posts: 10,944
The box is called "old work" or "remodel" style. You cut a square hole to the proper dimension, pull the cable into the box, insert the box through the hole, then tighten the screw tabs and the box is held in position. You can use either plastic or metal, but plastic is cheaper and you don't have to worry about grounding the box.
05-05-08, 07:15 PM
Join Date: Jul 2002
Location: Maryland
Posts: 14,985
If plastic is Ok in Canada you could use one of these if you can get to a stud.
If you can only use metal get an old work box with the flanges at the top and bottom to stop the box from dropping into the wall. You will also need 2 madison straps to keep the box from coming out of the wall. Madison straps kind of look like the letter F.
I will post the link that Marc posted elsewhere if I can find it.
Here is a cut-away of a Madison strap and installation.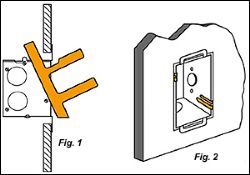 ---
Last edited by pcboss; 05-05-08 at

07:21 PM

. Reason: added 2nd graphic
Posting Rules
You may not post new threads
You may not post replies
You may not post attachments
You may not edit your posts
---
HTML code is Off
---