Arc Fault Breaker trips under any load.
05-17-08, 06:33 PM
Arc Fault Breaker trips under any load.
---
I have done quite a bit of looking around, and havent found anyone with the exact problem I have, so I'm turing to the experts. I just put a bedroom addition on my house. Original structure was built in 97, but now since its a bedroom, the breaker needs to be AFI. I did all the electrical myself, but can't figure out why it is tripping. When I click the test button, it seems to work fine. Then I turn the breaker back on, and go to the addition. Any time I try to turn the light on, it flickers on, then immediatly trips the breaker. Same thing with power tools in the outlets. I turn the tool on, and it faintly comes to life for a split second, then trips the breaker again. Also, I don't know if this matters, but the nuetral and ground bars are not bused together, but each bar has a bunch of grounds, and a bunch of neutrals. So anotherwords, I have this breaker pigtail tied to the same bus bar as the circuit neutral and ground. Could this be the problem?
05-17-08, 07:37 PM
Yes, your afi should only run to the neutral bus, seperate them and your problem may go away.
If the problem doesn't go away, try putting in a regular breaker (just to test it) and see if it holds it. If it holds you may still have a neutral problem. You'll have to go around and pull out all the devices and make sure nothing is touching together.
gl
nova_gh
master electrician
05-18-08, 07:24 PM
pcboss:
The circuit neutral wire goes to the buss. Is there a terminal on the breaker itself for the neutral wire?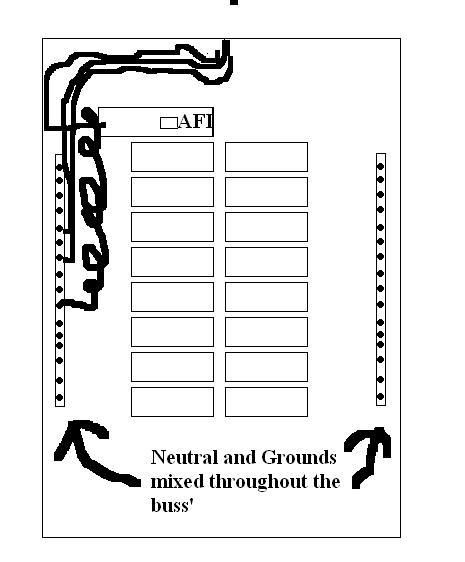 nova_gh
seperating the neutrals and grounds means going back and rewiring the whole panel basically. Is there a way around this, or is how they wired it previously not compatible?
05-18-08, 07:53 PM
05-18-08, 08:06 PM
your afi has two screw terminals and a white curled up wire.
your black wire from your circuit goes to the top screw on your afi. your white wire goes to the bottom screw on your afi. and the curled up white wire goes to the neutral buss. you shouldn't have to seperate your grounds and neutrals for this to work.
But, i ran into an afi problem not to long ago on a job where the neutral was troubled, and i know the afi stayed on without the circuit neutral hooked up. Then when i touched the circuit neutral to the afi it would trip, that story doesn't really apply here other than to say the way your afi is hooked up now it should be holding. But you need to move your circuit neutral in order for it to protect properly.
I would say move that circuit neutral where it belongs first, then let us know what happens. It might just work.
05-19-08, 09:50 PM
Well that fixed the problem. I re-routed the neutral thru the breaker itself, and everything works fine. I feel stupid for not even seeing the terminal. Thanks for all your help, I won't make the same mistake twice!