Deck lights
07-14-08, 02:40 PM
Deck lights
---
I have a dedicated 15 Amp circuit that provides power for deck lighting. The lights plug in to a GFI receptacle mounted on a deck post. I want to remove the GFI and replace it with a wet area switch and hardwire the lights into the box. I have two other GFI receptacles on the deck so I don't mind losing the outlet. The only time it's ever used is for the lights.

I have two questions - the lights are rope lights with an outdoor rated lampcord. Can this be hardwired into the switch and secondly, does this circuit need to be GFI served from the SEP.
Sponsored Links
07-14-08, 03:15 PM
Join Date: Feb 2005
Location: Near Lansing, Michigan
Posts: 10,944
No it cannot be hardwired. Ropelights are manufactured for plug-in use only. You have to leave them on a receptacle with an in-use bubble cover. You could just replace the GFCI duplex receptacle with a combo GFCI receptacle/switch device. The circuit must be GFI-protected.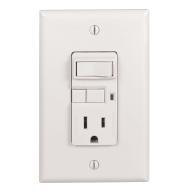 07-14-08, 11:19 PM
Join Date: Mar 2006
Location: NE Wis / Paris France{ In France for now }
Posts: 4,808
Received 0 Votes on 0 Posts
The rope light that part if have factory cord attached you can not modifed at all.

You can add a combo GFCI/Switch as Ibpooks show you the photo of it.

If you need to know how to set up it let us know and how many wires are in the box ??

Merci,Marc
Posting Rules
You may not post new threads
You may not post replies
You may not post attachments
You may not edit your posts
---
HTML code is Off
---