Conduit pull access outside retaining wall?
10-01-08, 07:44 PM
Join Date: Jan 2002
Location: WA
Posts: 157
Received 0 Votes on 0 Posts
Conduit pull access outside retaining wall?
---
During the inspection for my recent remodel I was flagged for some existing work where the previous owner had run power out to a converted detached garage without conduit (i.e. just burried cable). I am doing the work to bring this up to code.
There is a j-box in my new basement bedroom, and the cable comes out there goes through a conduit stub before going bare. I recently built a retaining wall, and built around this stub. It unfortunately sweeps the wrong way (why?!), and as I am going to reuse the cable, I don't have the slack for the bad sweep once I bury to depth.
So, what I want to do is to have a pull access hatch so I can pull future wires outside without having to be in my bedroom (pull ropes covered with cable lube on the carpet and all), but I only have 6" between the house and the retaining wall timbers. I can put the access outside the retaining wall, but then I want to keep soil off the plate. So, my current plan is to:
A) Drill a hole for the conduit in my landscape timbers at the height where it exits the house (about 10" below grade).
B) Run the conduit stub into an access hatch similar to this: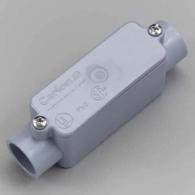 C) Put the access into a meter box like this: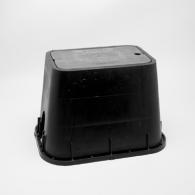 D) Coming out of the meter box I will dive the addition 10" to code depth and run to the external unit.
Does this sound like a good plan? I originally had thought of mounting something like this:

directly to the retaining wall, but then I would need to have some way to keep the dirt off it.
Is there a better way to do this?
Thanks!
~john
Sponsored Links
10-01-08, 08:08 PM
Join Date: May 2001
Location: Dry Side of Washington State
Posts: 738
Received 0 Votes on 0 Posts
Why did the inspector tag you for something that was already there? Is the existing cable rated for direct burial? Is it not deep enough? Did you ask the inspector to explain the violation to you? Did he cite a specific code article?
10-01-08, 09:49 PM
Join Date: Jan 2002
Location: WA
Posts: 157
Received 0 Votes on 0 Posts
All questions that I have been discussing with my contractor. The exterior wiring was not in conduit, and was not buried deep enough. Also, while it was to code when it was done, we have newer codes that require an additional ground wire to be run. It was existing work, but the main panel was relocated, and the interior wiring that used to run through the joist chase to the j-box now runs along the wall. So new cabling was run to the j-box that goes outside, and therefore we "touched" the exterior lines.

Thanks,
~john
Posting Rules
You may not post new threads
You may not post replies
You may not post attachments
You may not edit your posts
---
HTML code is Off
---