Outlet box for tight space?
03-28-09, 01:03 PM
Join Date: Mar 2009
Location: Washington
Posts: 1
Upvotes: 0
Received 0 Upvotes on 0 Posts
Outlet box for tight space?
---
We moved into our house almost three years ago and have an issue with an outlet. They remodeled the kitchen right before we moved in and put in all new cabinets. On a floor cabinet they installed an outlet but then installed the drawers and realized the drawer would hit the box if they put one in. So now I have an outlet on the outside of the cabinet but it is not wired. I'm not an electrician but I can't just wire this without having a box right? Normal boxes are far too deep though to allow the drawer to close, any ideas? Thanks so much!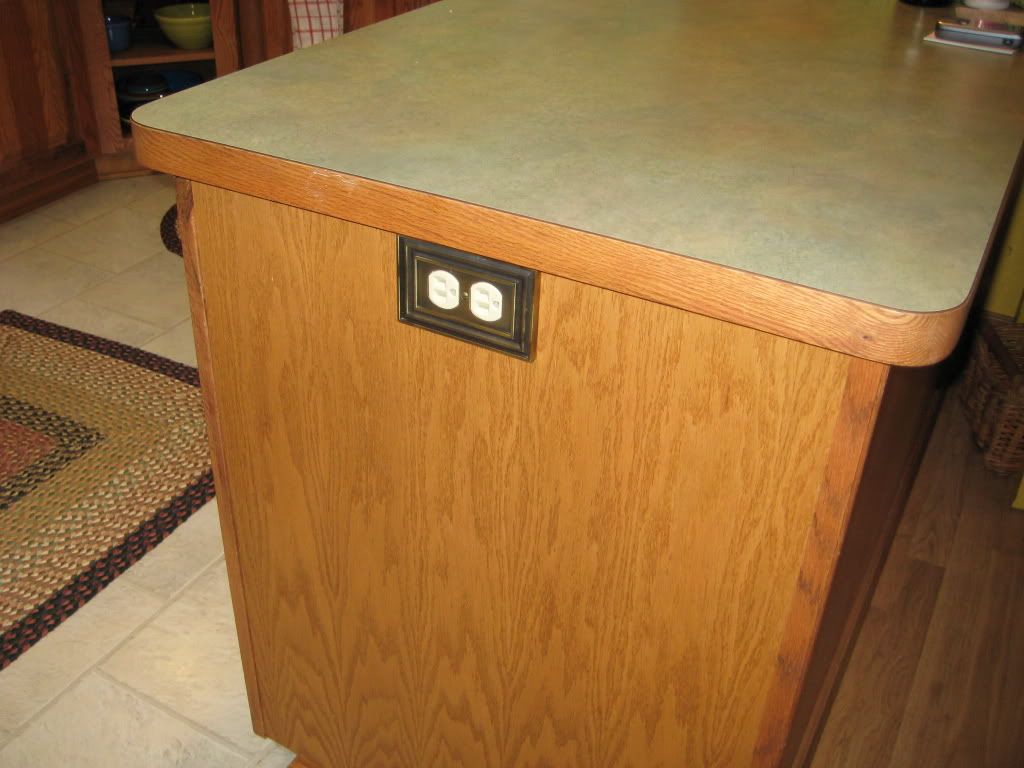 03-28-09, 01:20 PM
Join Date: Dec 2005
Location: USA
Posts: 36,608
Upvotes: 0
Not sure what your clearance is from the edge of your drawer to the side of the cabinet, but you may be able to use a "pancake" type box. It is thinner than normal, and as long as you only have one cable it should comply with fill requirements. In short, you must have a box to complete this job. With that said, the only other alternative I see is to build a 1" extension box of dimension lumber (oak) around the hole in your cabinet, attaching it over the hole. Your box (standard) should fit fine inside the new opening. Sort of like a jamb extension.
03-28-09, 08:24 PM
Join Date: Jul 2002
Location: Maryland
Posts: 13,904
If you can live with a blank plate over the hole you could try to relocate the receptacle to a spot where you will not have interference with the drawer.

Is the wire run into the cabinet already?
03-28-09, 08:45 PM
Well the carpenter in me comes up with other solutions. Remove drawer and use the front to "fake" a drawer. Shorten drawer so it only goes in to where the box begins. Retain the original front face of the drawer but reduce its width.
03-29-09, 06:44 PM
Join Date: Oct 2005
Location: Milwaukee WI
Posts: 1,217
Three maybes:
I can't tell if you might have room for a Carlon B117RSW, which is a shallower plastic box with a little "cubby" on the side to allow extra wiring space.
Also a fan box like this may be adaptable somehow:
Deeper Fan Box
Finally, you could cut off the side of the drawer from the point where it would hit the box, and the back part of the drawer that would hit the box. Without cutting the bottom panel or drawer glide. Then add pieces far enough inboard to avoid the electrical box but retain as much usable space in the drawer as possible.
03-30-09, 12:20 AM
Here one of my tricks .,

If the drawer is seperated from the front face which it will secured with two sometime three or four screws if that the case. read on .,

Take them apart and make a offset pattern by cutting one or two inches off on one side { use the table saw with guide that is the only way you can get very straght cut }

and put all them together however with the track you will have to move it over and reglue with very short screw or just cut one side one or two inch lower and just cut the X number off lengthwise those two rick will work very well.


Merci,Marc