Whole House Fan Switch
06-10-09, 01:32 PM
Join Date: Jun 2009
Location: Southeast Michigan
Posts: 3
Received 0 Votes on 0 Posts
Whole House Fan Switch
---
I just purchased a 2 speed Master Flow 24" Whole House Fan (WHFS24M). Is it possible to wire the fan so that I can eliminate the pull chain and use a wall switch or a variable speed wall switch?
Sponsored Links
06-10-09, 03:31 PM
Join Date: Aug 2004
Location: Bella Vista, AR
Posts: 57
Received 0 Votes on 0 Posts
Yea... first is it a direct wire fan or one that plugs into a wall outlet? All you need to do is add a switch from a circuit nearby or run a dedicated one from the panel depending on what the load of the fan is, and than just wire direct into the fan or into a new receptacle if the fan has a cord. Than just keep the chain pulled to the on setting and than just control it from the switch you just added. There is no reason to rewire the fan. Also you may void the warranty by trying to get inside it and bypass the chain switch unless the documentation says that it can be done. If your trying to control the speed from the wall switch just keep the chain pulled to the fast setting and install a wall dimmer(fan speed control) rated for use on a fan... make sure the watt and voltage rating exceed what the fan pulls. A rule of thumb is to make sure the dimmer is not loaded more than 80% of what it is capable of handling. To figure this, take the watt rating of the fan and multiply it by 1.25, the answer will be the minimum watt rating the dimmer can be.

Best of luck,
Paul
06-10-09, 05:52 PM
Since your fan has a split capacitor motor the same as newer ceiling fans a ceiling fan speed control should work.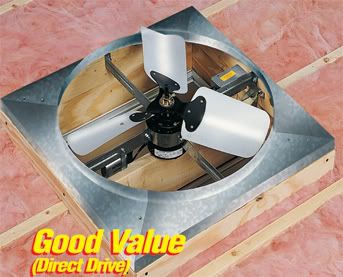 Master Flow® Direct Drive Standard Whole House Fans
WHFS24M

* Efficient, Long-Lasting Motor...
1/4 hp permanent split capacitor design

* Easier To Wire...
2-speed pull chain switch controls operation (no wiring through walls required)
---
Last edited by ray2047; 06-10-09 at

06:30 PM

.
Posting Rules
You may not post new threads
You may not post replies
You may not post attachments
You may not edit your posts
---
HTML code is Off
---