Weird Things Happen!
08-15-09, 09:10 PM
Join Date: Aug 2009
Location: Rhode Island
Posts: 3
Received 0 Votes on 0 Posts
Weird Things Happen!
---
so i replaced and two switches in one house from what i think is 1968, and it has a white wire and three blacks i wired it the same way as the old one was and when i turn the top one on it turns on the light it should but it also turns on the light that is supposed to be on the other switch...but when i turn on the bottom switch it tripps the breaker...I think there is two feeds and depending on what the wiring codes were in 1968 is beyond me...the switch housing is not labled and the new one is...but when i read the directions that came with the swiches it says something about a metal peice connecting the two switches for what i guess is if you have one feed and two different lights you want to control...what do i do?
Sponsored Links
08-15-09, 09:52 PM
white wire and three blacks
Are there more wires in the box? That combination doesn't make sense. If you have cables (Romex, Bx, etc.) there should be two blacks two whites. Has one of the whites been recolored black or do you have conduit?
It sounds like this is a duplex switch not two separate switches. You need to find a meter to determine which black wire is hot to ground then check if it is hot to any of the wires. If two of the black wires are hot to ground then you probably have two switch loops. If you have two switch loops then you would break the tab. One switch loop would go across the two screws of one switch and the other two wires across the other switch. If you have 240v between two of the wires you have two separate breakers controlling the box. Be sure you shut both off. 0 volts could also indicate two breakers so be sure you check every wire to ground to be sure all breakers are off.
08-15-09, 10:00 PM
Join Date: Aug 2009
Location: Rhode Island
Posts: 3
Received 0 Votes on 0 Posts
well see here is something i left out....the house is very old (1968ish) and i turned off what i thought was the breaker cause the light in my living room wouldn't turn on so i continued to pull out the tandem switches...while i was removing the wires i got a little tingle...touched it again to make sure i wasn't sensing things and got a tingle again...so i went to my breaker box and shut off the main cause i couldn't start shutting off random breakers i was home alone...once i did that obviously the circuit was dead....one switch controls a outlet inside the house accross the room and the other switch feeds a light outside....if this helps
08-16-09, 07:02 AM
Still need to know if it is cable or conduit and if one of the black wires is a white wire recolored black. Can you post a picture or two to photo sharing site such as Photobucket, Flikr, or Imageshack.us. Tinypic though won't work here.
08-16-09, 08:38 AM
Join Date: Aug 2009
Location: Rhode Island
Posts: 3
Received 0 Votes on 0 Posts
here are 4 pictures (avg size 1.5 to 2 megs) of what is inside the box...copper wire and no conduit...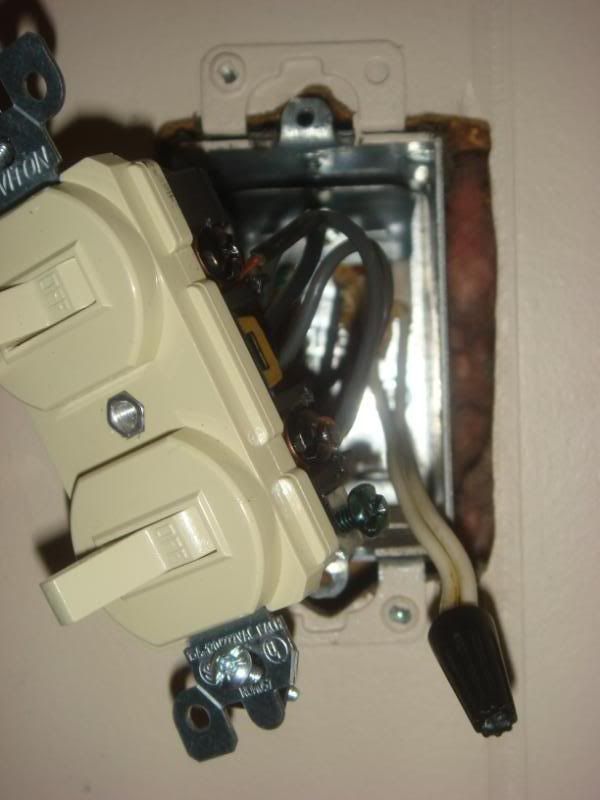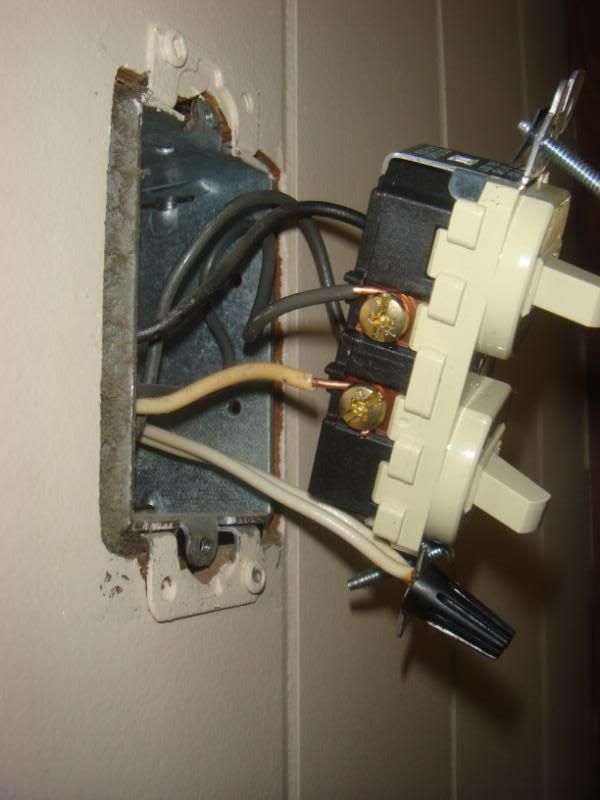 there they are....i'm no electrician but i think the white wire should be with the other white wires....and none are recolored black....
08-16-09, 12:02 PM
You are correct. The three white wires together. One of the three cables is hot. You need to measure for voltage between black and white on each cable. The black of the hot cable goes on the side that has the metal tab between the screws. The other two blacks go on the screws on the other side of the switch.
Posting Rules
You may not post new threads
You may not post replies
You may not post attachments
You may not edit your posts
---
HTML code is Off
---