Low Voltage Wiring
08-16-09, 03:04 PM
Join Date: Jan 2006
Location: California
Posts: 62
Received 0 Votes on 0 Posts
Low Voltage Wiring
---
Hello All,
I have a house built in the 50's which has low voltage wiring for all the lighting. There are relays at the boxes for the light fixtures.
I've got a bad relay that I need to replace, but these are difficult to find. I've found some from Touch Plate, but none of them look exactly like mine (pictured). Also, on the bottom of the cylinder is stamped 12V DC. All of the low voltage systems I've researched are 20+ VDC. This worries me with regard to ordering one of the Touch Plate relays or a GE RR-7 relay.
Anybody familiar with this one?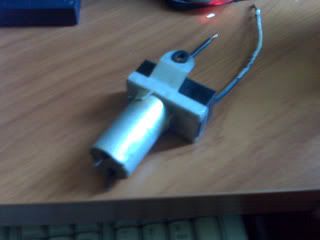 08-16-09, 03:14 PM
Have you checked what voltage your system uses? Most common is/was 24 volts AC although many systems added a rectifier so that it was nominally 24 volts DC. It could be that your 12 volt relay burnt out because of too many applications of a voltage twice the rating.

If it is nominally 24 volts then just get a replacement 24 volt relay. If it is 12 volts then there are other options but they will not be pretty.
08-24-09, 01:34 PM
Join Date: Jan 2006
Location: California
Posts: 62
Received 0 Votes on 0 Posts
Old Low Voltage Relay
---
After a lot of research, I bought a Touch Plate 4000-PL relay. It worked intermittently at first, then wouldn't. The light would only flash on for the instant the button was pushed and the relay received the pulse.
I was able to confirm (with a meter) that my system is indeed 12VDC. So, since the TP relay is designed for 28VDC, it was obviously not getting enough voltage to consistently trip the latch.
It seems that Touch Plate's systems have always been 24 - 28Volts. So, since the old relay I pulled has no brand marking, I'm beginning to think it might have been part of a competing system. Problem is, I cannot find any information on any other LV light system company that would have been around in the late fifties.
Fortunately the failed relay was on a back porch light. As a workaround, I simply bypassed the relay and hard-wired it (always on). Then I installed a dusk-to-dawn light sensing controller. Not an optimum solution but acceptable for now.
All the other relays in the house are working properly, but I shudder to think about them failing in the future since I've turned up zilch as far as locating a compatible 12VDC SPST latching relay.
08-24-09, 06:25 PM
One thing that would work is to use a dual-coil latching relay with 12 volt coils. You would have to know if you have AC or DC as your control power. Such a relay would not be cheap and it most likely would require a separate enclosure than what you have now.
Let me know if you want me to find an example of this relay for you.
Another possibility would be to use two separate relays and wire the first with a holding circuit with the second relay used to break the holding circuit of the first relay. The downside of this is that the first relay would be using control power continuously while the mainline circuit was closed and this might be sufficient to cause your other relays to not operate reliably. The same problem of enclosure as previously mentioned would also come into play.
There are probably solid state circuits that could be used to simulate the action of a dual coil latching relay but just off hand they escape me. Of all the things I've lost over the years my memory is what I miss the most.
08-25-09, 05:03 PM
Join Date: Jan 2006
Location: California
Posts: 62
Received 0 Votes on 0 Posts
The coil gets a 12VDC pulse when the switch is pushed which pulls a plunger which rotates a cam wheel attached to a ratchet. This sets the state (on/off) alternately. So the relay is not receiving continuous power, only momentarily when the switch button is pushed. I'm convinced that the Touch Plate relay would work fine except for the fact that it is expecting a 28VDC pulse. 12V is too weak to pull the plunger with enough force to trip the cam consistently.

I thought about substituting a modern, generic relay but am overwhelmed by all the different types and specs, etc. Way beyond my level of electrical knowledge. So I'm in a quandary there.

But, I'd be very grateful if you or someone else could suggest something. The requirements are quite simple: A latching relay with a coil voltage of 12VDC which can conduct house current.
08-25-09, 06:00 PM
I know that the relays in a low-voltage control system do not normally have their coils energized but only change state with a pulse. What you describe to me with the Touchplate relay is, however, not a dual coil latching relay but a single coil latching relay. With the single coil latching coil you would not use one of the leads from the control switch but instead would use the same switch action (either on or off) to sequentially turn the relay's load on or off.

I'll do a bit of research and post back later tonight.
08-26-09, 02:57 AM
Okay, a little late but you're probably asleep anyway.
This is probably your best bet. Its contact rating is only 16 amperes so you would have to limit the load to less than that, it would be fine on a 15 ampere circuit. As I previously wrote you will need to do some fancy mounting, perhaps in a separate enclosure. You can purchase a matching socket or use "faston" terminals for the connections. If your line-voltage wires are solid I recommend splicing a short piece of stranded wire between the solid wire and the relay connections.
Item # 785XBXCD-12D, 785 Magnetic Latching Square Base Relay / DPDT, 16 Amp Rating on SE Relays LLC, Magnecraft
To order on-line do a Google search using
785XBXCD-12D
for the search criteria. Several dealers will be displayed and they all seem to have different pricing and some will have different specifications; that's why I linked to the manufacturer's listing.
08-26-09, 08:32 AM
Join Date: Jan 2006
Location: California
Posts: 62
Received 0 Votes on 0 Posts
Thanks, Furd. That looks like it might do the job.

Judging from the dimensions, I just might be able to fit it into the box, but, like you say, I may need to do some creative mounting.