Another AC Motor Question. This One Is A 3 Speed
08-16-09, 10:24 PM
Join Date: Jun 2009
Location: Left Coast
Posts: 44
Received 0 Votes on 0 Posts
Another AC Motor Question. This One Is A 3 Speed
---
I have an AO Smith AC motor, 3 speeds according to the tag. About 800, 950 and 1125 RPM. Problem is, no matter which leads I hook up to the power, it only runs at one speed (which one , I don't know). Here is the wiring diagram from the motor.
I was trying to get low and high and here is how I wired it: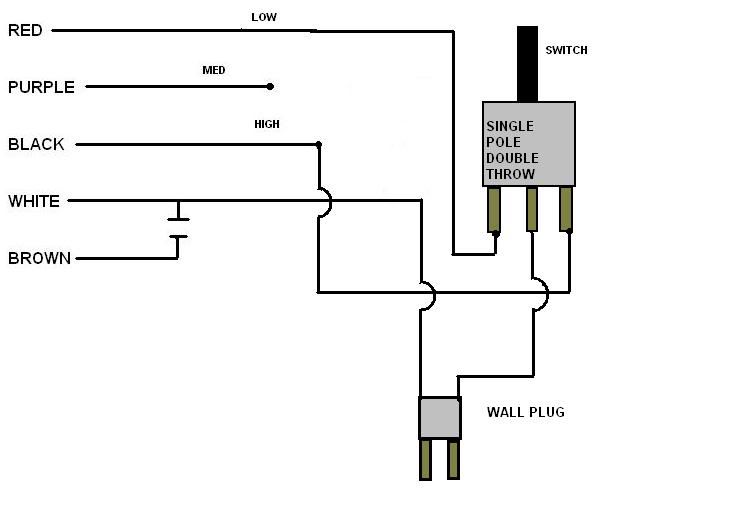 I don't know diddly squat about AC motors, so I am wondering if there is a switch wiring schematic that is missing from the motor. Or maybe they never worked right in the first place, and that is why I got "such a deal" from the surplus store.
08-17-09, 09:31 PM
Join Date: Jun 2009
Location: Left Coast
Posts: 44
Received 0 Votes on 0 Posts
I have the capacitor in place, as specified by the motor tag. As far as load goes, I believe there is very little as I have geared the motor down to a final drive of 60 RPM, and all that is turning between the rollers is a 2 pound canister.
Ball mill, still in "beta" stage: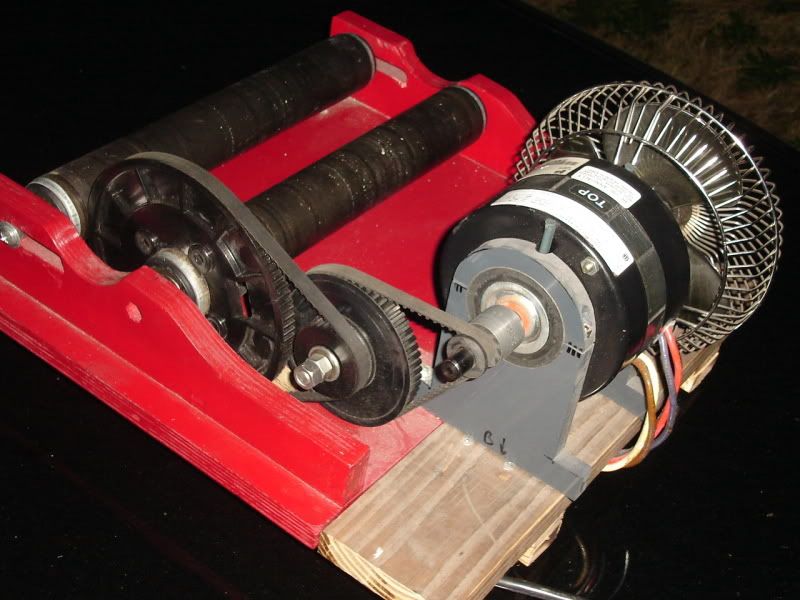 08-19-09, 10:46 AM
this is more of a question than an answer.
wouldn`t you have to variate the power for the high and low?
if you put the same into the motor it would run at the same speed. i think that the high speed circuit is for higher in-put and it`s wired for such. like 110 volts to 120 volts.

maybe a reistatic switch ( variable speed control) would be the answer.
wire the power to that then to the motor and control it from that.like for the dimmer on a light switch. but once again under power and over power can make it burn out.i`d try this and do a quick test and monitor the heat and go a little longer each time if it works. i`m not an electrical engeneer by any means ( not even close). may be some one else can approve or disapprove this idea here.

i have a mechanical variable speed pully that would work.
v-belt of course. then you`d need a mechanical tensioner.
and you`d have to re-pully the whole thing. i just looked back at the pic. so that may be out.
08-19-09, 10:58 AM
Printerman..the speed of the motor depends on the internal windings, just like a multi speed motor in an air handler for a furnace-A/C system.

buns...is the motor used? Maybe its just no good? Also, those speeds are pretty close together...are you sure its NOT running correctly?

btw kind of a cool setup..but whats it really for? Almost looks like a rock tumbler or something.
08-19-09, 12:22 PM
real good gunguy45
like i said i`m not too much into motors and how they work exactly.
all the motors i use have speed controls seperate, like the reostat. ( sounds like re-o stat).
all the speed controls are in a control box.
08-19-09, 04:37 PM
Have you actually tried to count the revolutions per minute? 800 is about 72% of 1125 and even with the double reduction drive I don't think that it would be immediately apparent that a speed change had taken place by visual inspection only.
08-19-09, 07:39 PM
Join Date: Jun 2009
Location: Left Coast
Posts: 44
Received 0 Votes on 0 Posts
I bought the motor from a surplus store. It looked new, but even so, there was no gaurantee that it worked.
The machine is used to keep my mettalic ceramic header coatings mixed. They are kind of like oil and vinegar dressing. As soon as you stop shaking, the solids sink to the bottom.