garage: ceiling box to grounded outlet?
08-31-09, 12:37 PM
garage: ceiling box to grounded outlet?
---
Hi,

This work is to be done in the garage of my house...

Currently, the garage lighting consists of two ceramic 100 watt single bulb fixtures (the "naked bulb" type...). The previous owners of the house converted this to fluorescent lighting by using screw-in two pronged outlet converters in each bulb socket, and converting two two-tube in ceiling fluorescent fixtures to have a two-pronged plug on them and hang down from the ceiling on chains.

Unfortunately, the ballast on one of those fixtures has now died, and they were such old fixtures that it appears to be not worth the effort to fix. Besides which, there appears to be a good amount of "homebrew" that went into creating these fixtures...

In the meantime, my father-in-law gave me a three tube hanging fluorescent fixture he had in his garage (factory made to be such a fixture). It has a three-pronged plug, and a pull chain to turn it on and off.

I know I could do this the lazy (and illegal) way-put a "cheater" on the plug of the new, three tube fixture.

What I would like to do, though, is convert the current, single bulb light fixture to a single grounded outlet. I want my wife to be able to turn the garage lights on and off with a simple flip of the switch (I would use the pull chain on the new fixture and just leave it on).

Does anyone manufacture a plate or outlet that goes into a ceiling light fixture box that I could put a standard outlet into, or even has just a single grounded outlet coming out of it?

Many thanks!
Sponsored Links
08-31-09, 01:04 PM
You need an octagon cover plate.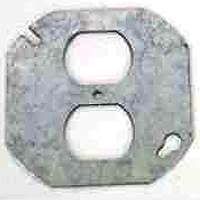 You may have to go to a Hardware store or electric supply house for a simplex, single receptacle version You do have a ground at the box don't you? Depending on local code you may need to use a GFCI if the circuit isn't GFCI protected. If you use a GFCI you may have to use a single device plaster ring instead.
Posting Rules
You may not post new threads
You may not post replies
You may not post attachments
You may not edit your posts
---
HTML code is Off
---