AC unit not working properly
09-09-09, 05:30 PM
AC unit not working properly
---
Just finished replacing the electic panel in a 50 year old house. Had the electric company turn of the electric so I
would have no surprises. Every thing is perfect except the LG window air conditioner (12k btu) seems like it is under powered fan blows about a 3rd of what it used to and doesn't seem very cold either. This unit was originally on a 30 amp single breaker circuit, when I replaced the box I reduced the breaker to a 20 amp and then went back to 30 amp single breaker but it didnt make a difference. Trying to figure out what is going on here. How do I go about measuring the voltage at the outlet? Thanks
Sponsored Links
09-09-09, 05:45 PM
Any chance it's actually a 240V unit and you mistook it for a single pole 120V? Perhaps there was some bootleg wiring to the unit which supplied it with 240V previously?

The size of the breaker will not affect the performance of the A/C. It trips off if the unit exceeds the maximum current but does not provide any "throttling". The breaker should be sized to protect the wiring inside the wall -- 15A for #14 wire, 20A for #12 wire, 30A for #10 wire.

If you have a multimeter available, set the dial to AC voltage 250V or similar setting. Stick the probes into the receptacle and measure all 3 possibilities (slot to slot, slot to ground, other slot to ground)

Look at the air conditioning unit for a stamped nameplate which will list the electrical requirements.
09-09-09, 06:56 PM
The plug on the outlet is 3 prong with one sideways.
Does it look like this: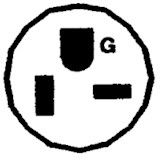 This will have two brass screws and a green.
Or does it look like this: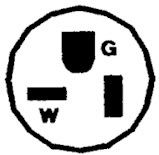 This will have a silver, a brass, and green screw.
---
Last edited by ray2047; 09-09-09 at

07:28 PM

.
09-10-09, 07:27 AM
guys thanks for all your help. I went down this morning and looked at the setup and it was an old double pole breaker with one bar. They were using the neutral as a hot leg without marking it. Got a 20 amp double breaker in there and marked the neutral as hot and the ac unit is working 100 %. I will take better notes the next time I dissassemble something.
Posting Rules
You may not post new threads
You may not post replies
You may not post attachments
You may not edit your posts
---
HTML code is Off
---