Conduit bends and other rules
10-11-09, 08:48 AM
Join Date: Dec 2004
Location: South Florida
Posts: 1,178
Received 0 Votes on 0 Posts
Conduit bends and other rules
---
Are there any rules I need to know before installing wiring in PVC conduit (interior)?

Can I use the short 90 degree bends at corners? Are the big loop bends just to make pulling easier?

Is there a rule for when I switch from cable to wire in conduit? Electrical box for the splice?

Anything else I need to know?

Is PVC the easiest type to work with?
Sponsored Links
10-11-09, 09:14 AM
grey vs white pvc
---
you can only use the grey pvc conduit with the sweeps for the 90s
the grey schedule 40 is for electrical
white pvc is for irrigation
you can use LBs for outside 90s since you can pull through a LB 90, but as long as you do not bury it in wall where you have no access to the LB,
and you can use a j box ( if outside make sure it's a "bell box" or a junction box rated for outdoor exposure ) in the run from transitions

yes the 90's are for making pulling easier ( no more than 4 - 90s in a run before you must put a junction box )

i'll take it you do not have a EMT bender, as EMT is almost as easy to run a pvc

is this in a exposed location like a garage?
10-11-09, 10:34 AM
Join Date: Dec 2004
Location: South Florida
Posts: 1,178
Received 0 Votes on 0 Posts
I looked up the right terms and it's a 90 degree elbow I meant. Are you saying I have to use sweeps at bends? Is there a reason I can't use a 90 degree elbow when it works better? I'm thinking about when I have to go thru a wall.

When I go through a wall (to an exterior light fixture or outlet) do I switch to wire using an electr box on the interior of the the wall? Does the conduit have to go all the way through to the light or outlet box? How do you do this?

Yes it's exposed on interior garage walls.
10-11-09, 10:52 AM
Yes.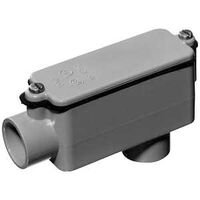 ----------------------------------------------------------------------------
No.
The fittings MUST have the proper radius to allow pulling the wires through with minimal friction. Using plumbing fittings will damage the wire's insulation if it is even possible to pull the wire through the fitting. Conduit MUST be continuous from beginning to end.
---
Last edited by Furd; 10-11-09 at

11:53 AM

.
10-11-09, 11:52 AM
It's all there when I look, the word Yes, a 90 degree conduit bend, a 45 degree conduit bend, an LB fitting then the word No and then a 45 degree plumbing elbow and finally a 90 degree plumbing elbow.
10-11-09, 05:33 PM
Join Date: Dec 2004
Location: South Florida
Posts: 1,178
Received 0 Votes on 0 Posts
Crystal clear, thanks, and illustrated too. I've always wondered why no 90 degr elbow in gray PVC.

On going thru the wall from the interior to an exterior outlet or light fixture, if I understand you right I need an LB fitting to turn into the hole in the drywall, then I need a short section of conduit to span the wall space between the LB and the fixture box or outlet, right?
Posting Rules
You may not post new threads
You may not post replies
You may not post attachments
You may not edit your posts
---
HTML code is Off
---