Light Dimmer/junction box ground?
05-16-10, 09:21 PM
Light Dimmer/junction box ground?
---
Hi all,
First post, and thanks to all in advance for replies.

I want to make a dimmer box for lights including a lighting dimmer and one dual power outlet.

I have a mobile entertainment business and want to be able to dim some low wattage LED fixtures I have.

What I bought:
-4x4 metal box
-1000W light dimmer
-1ea. dual-power outlet
-extension cord

I basically want to plug the extension cord into the box, and have the dimmer act on the two outlets that I can plug the LED lights into. This will be designed for mobile use. Is it possible to do this without grounding the box? Would it work with a plastic box instead?
Sponsored Links
05-17-10, 01:40 AM
Typically the NEC is intended to cover permanent wiring, so I am not sure if it would have any applicable section.

However your metal box and the receptacles definitely should be grounded.

More importantly, however, have you checked to make sure that your LED lamps are dimmable, and that your dimmer is rated for use with LED lamps? This would be clearly specified in the data sheets for the products, and if it is not specified, you must assume they are not compatible. Trying to use them together despite that may result in damage to both, either, or a fire.
05-17-10, 06:40 AM
As Arg said, LEDs must be specifically rated for dimming for it to work.

They typically cannot be dimmed, because the voltage feeds to a DC converter to run the diodes. Reducing the voltage would do nothing, or worse, depending on the circuit. You'd never get dimming, the best you could hope for is a universal converter with zener diodes that would compensate for varying voltage levels and operate normally. At worst, you would damage the electronics through undervoltage application.
05-17-10, 08:34 AM
Another common issue with dimmers and LEDs is that dimmers usually have a minimum wattage of something like 40W. Unless you have a truckload of LEDs, they probably do not satisfy the minimum.
05-17-10, 11:18 AM


I am sure I have seen portable band light boards with receptacles for dimmable stage lights, although those were probably 208 or 240-volt and twist lock.
05-17-10, 11:27 AM
I believe the NEC allows dimmable receptacles only when they are "non-standard". I imagine it would be acceptable if the manufacturer made a dimmer unit and matching lights as long as it didn't use 5-15R/20Rs.
The studio/stage light configuration (rectangular plug with three prongs in a line, ground slightly off-centered which forces polarization) is almost always on a dimmed circuit.
(Wikipedia image)
05-17-10, 12:28 PM
There is some information in this Luton PDF that includes receptacles intended for use with a dimmer.
http://www.lutron.com/pdfspecs/novatb.pdf
The receptacles have a raiseed tab that prevents a regular plug from being inserted. The matching plug has a recess for the tab.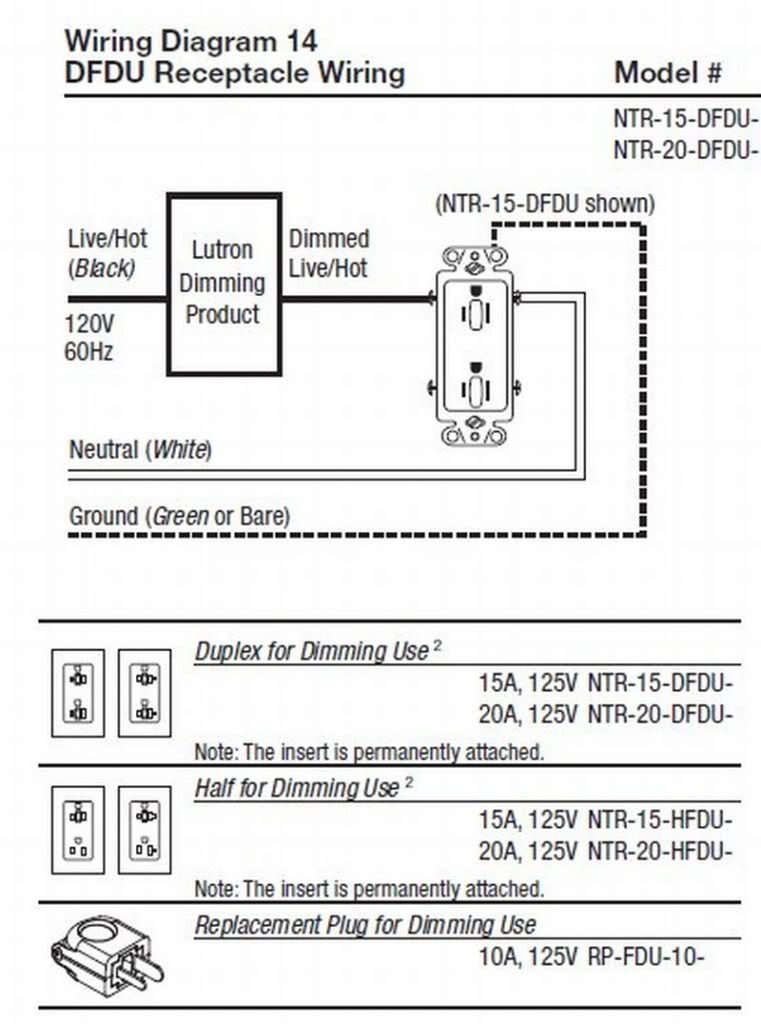 05-17-10, 07:30 PM
Join Date: Nov 2007
Location: Twin Cities, MN
Posts: 13,595
On your cord you should bond the ground (you did buy a 3 wire cord right?
) to the box, and the receptacle. IF you use a plastic box then the switch and receptacle should be grounded. You will also need some type of mud ring to attach the devices to.
05-17-10, 07:32 PM
Hey, btrain, great thread here.
The dimmer should probably be grounded anyway, but with a plastic box you could just maintain an insulated grounding conductor within the plastic box.
Ray, thanks for the Lutron dimmer recep - I had no idea these were available.
btrain, if you could put up your dimmable LED specs and info, I would appreciate it. This has been a back burner issue for me for quite a while.
Posting Rules
You may not post new threads
You may not post replies
You may not post attachments
You may not edit your posts
---
HTML code is Off
---