Breaker flipping
11-08-10, 10:19 AM
Join Date: Nov 2008
Location: Louisville, KY, USA
Posts: 9
Breaker flipping
---
I am building a playhouse for my daughter and have put in some really basic electrical. An outlet, a switch, and a light controlled by that switch (in that order, coming from the power source). It's not wired into our house, I have just added a male plug and we plug the house into an extension cord when we want to use it.

The problem is that once it's connected it keeps flipping the 15A breaker that it's run through. When I first plug it in the light works. I flip the switch on, then off, then on two or three times and it flips the breaker. For all of the pieces I have connected the white wire to the silver screws, the black wire to the brass screws, and the bare wire to the ground. All correct, right?

So any ideas what might be causing this? It's just a 75W bulb!

Thank you!
Sponsored Links
11-08-10, 10:57 AM
Join Date: Feb 2005
Location: Near Lansing, Michigan
Posts: 10,501
Is the breaker a GFCI or AFCI (includes a TEST button)? Did you wire the switch correctly? No white wires should be on the switch in this case. It could just be a bare ground is contacting a screw terminal in one of the junction boxes and the movement in the playhouse is causing an occasional short. Examine the boxes to see if that is the case and repack the box if necessary.

Note that the outlet should be a GFCI type, and I would also strongly recommend TR (tamper resistant) for a child's play area.
11-08-10, 11:07 AM
Join Date: Nov 2008
Location: Louisville, KY, USA
Posts: 9
The breaker I'm talking about is just the one in the breaker box in the basement. The outlet does not have a test/reset button.
I must be misunderstanding the wiring then. The switch has three screws. Two are silver and the one is the ground. So should I just be attaching the black wires? What do I do with the white ones?
Ugh, just found this picture. Is this right?
How To Wire a Switch - Switch and Light at End of Circuit
My switch does have a ground screw, so should I use that for both of the bare wires, or wire nut them together like in the picture from the link above?
11-08-10, 11:16 AM
Join Date: Feb 2006
Location: USA
Posts: 6,442
Switch
---
Tell us the colors and number of wires in the switch box. We need to determine if you are using a switch loop.

Does the power for the light go to the light first or does it go to the switch box first?
11-08-10, 11:21 AM
Join Date: Nov 2008
Location: Louisville, KY, USA
Posts: 9
I'm using Romex with a white, black, and bare wire. The switch has a ground screw and two other screws. Power goes through switch, then to light. I think ibpooks has given me the right info. I'm going to check that. Any other possibilities?
11-08-10, 12:15 PM
Join Date: Feb 2005
Location: Near Lansing, Michigan
Posts: 10,501
At the switch box, the grounds all get wirenutted together with one 6" pigtailed to the switch green screw and one to the box green screw if it is metal. The two whites get wirenutted together. One black goes on each screw of the switch.

The GFCI protection is important for safety in a play area. You should either have the receptacle in the playhouse be a GFCI or only plug the playhouse into a GFCI protected receptacle. They now make GFCI receptacles that also have tamper resistance and these are ideal for a play area.
11-08-10, 01:00 PM
Please not below is only a basic diagram of neutral and hot. Ground must also be connected as outlined by Ben. Receptacle must be GFCI if play house is not plugged into GFCI receptacle. Romex should be used for interior wiring only if protected. Otherwise use conduit or flexible metallic cable (BX, Ac., MC).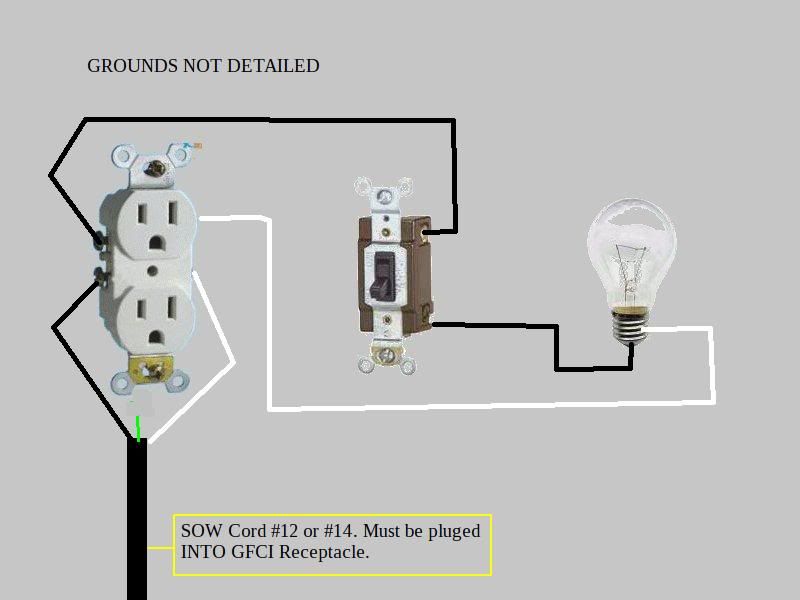 11-08-10, 01:09 PM
Join Date: Nov 2008
Location: Louisville, KY, USA
Posts: 9
If I have them in the following order

1. Source (extension cord from house)
2. Outlet (unswitched)
3. Switch
4. Light (switched by #3)

is it good enough to have the outlet as GFCI or should the extension cord be plugged into GFCI?
11-08-10, 01:20 PM
If the receptacle you are plugging into is outside it should by code be GFCI protected. If it isn't it should be changed. If it is outside it may already be protected by a GFCI receptacle elsewhere such as kitchen or bathroom.

If you are using an inside receptacle then it definitly needs to be a GFCI at the playhouse. Simplest and safest is to use a GFCI at the playhouse.
11-08-10, 01:22 PM
Join Date: Feb 2005
Location: Near Lansing, Michigan
Posts: 10,501
All outdoor, garage, shed, porch, etc receptacles must be GFCI anyway, so most places where you would plug it in should have GFCI protection no matter what. Those don't all need to be GFCI receptacles, but they do need protection which could come from an upstream GFCI device depending on how the circuit is wired.
11-08-10, 01:29 PM
Join Date: Nov 2008
Location: Louisville, KY, USA
Posts: 9
Thanks! I'm positive that the problem I'm having is because the white shouldn't be attached directly to the switch, but I also got some great safety info. Thanks everyone!
Posting Rules
You may not post new threads
You may not post replies
You may not post attachments
You may not edit your posts
---
HTML code is Off
---