Wiring 3-way switch with multiple lights
12-13-10, 02:55 PM
Join Date: Dec 2010
Location: usa
Posts: 2
Wiring 3-way switch with multiple lights
---
Having trouble with this 3-way set up. Power is coming in from source to four lights first and then to the two 3-way switches. Here's how I have it wired currently.
12-2 from source, between all lights, and to the first switch. 12-3 between first and last switch. The black from source runs to each light in sequence and attaches to each light's black wire via pigtail. The black from the last light runs continuous through the first switch box and attaches to the common on the last switch. Then red and white travellers run from traveller terminals back to the first switch's traveller terminals. Then white runs from common screw on first switch back to whites on each light, also attached by pigtail. Obviously, since I am posting this, this arangement doesn't work. Any help would be greatly appreciated.
Sponsored Links
12-13-10, 03:27 PM
You do not have enough wires run between the fixtures to get this to work.

Is all the work covered or can this be re-worked?
12-13-10, 03:29 PM
Join Date: Dec 2010
Location: usa
Posts: 2
Not covered. Can be redone.
12-13-10, 03:29 PM
Join Date: Feb 2005
Location: Near Lansing, Michigan
Posts: 10,515
What I gather from the description is that the wiring at light #1 is wrong.

--- is 12/2 and === is 12/3

I assume you have this now:

Power----Light1---Light2---Light3---Light4---Switch1===Switch2

To correct this you need to need to rewire to have power come at Light4, Switch1 or Switch2.
12-13-10, 09:19 PM
Join Date: Feb 2010
Location: United States
Posts: 461
easiest way would be to bring power to either switch one or switch 2. you could accomplish this by running a 2 wire jumper from light 1 to switch 1 or 2. I usually always try and wire my 3 way setups with the power at one switch and the switch leg at the other box.
12-14-10, 12:00 PM
Join Date: Dec 2010
Location: USA
Posts: 5
---
Last edited by bw777; 12-14-10 at

02:00 PM

.
01-31-11, 04:08 PM
Join Date: Jan 2005
Location: USA
Posts: 591
Originally Posted by
bw777
Just curious: is diagram 7 on that page legal? I read somewhere else that using two 2-conductor wires is illegal and dangerous.
01-31-11, 06:29 PM
Join Date: Aug 2004
Location: Myrtle Beach, SC.
Posts: 47
Wiring 3-way switch with multiple lights
---
Hello yorkbikeman
Here is a fast drawing I made on how to wire up your
project.. I did not draw in all the green equiptment grounding wires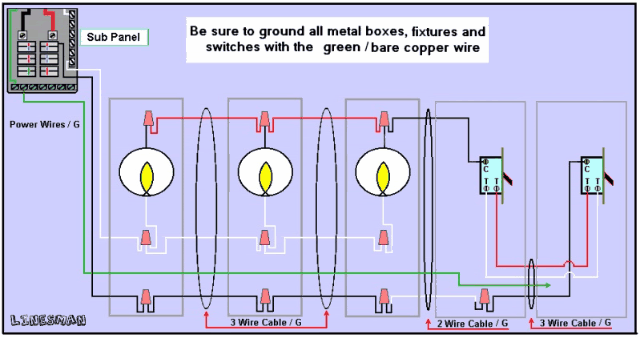 Hope this helps ---
Let us know how you made out with your wiring project
Have A Nice Day
Linesman
Posting Rules
You may not post new threads
You may not post replies
You may not post attachments
You may not edit your posts
---
HTML code is Off
---