Generator and transfer switch
01-11-11, 09:08 PM
Join Date: Jan 2011
Location: USA
Posts: 6
Generator and transfer switch
---
Yes, another G-and-T-S thread.
That's what newbies do.....

Anyway, generator (5000W) has 1 120V 20amp outlet that is split (ties broken) into 2 20amps and 1 220V 20amp outlet.

My intention is to run the generator supply cord to the wall outlet. That wall outlet is wired to the transfer switch with 6 circuits.

Inside the generator the neutral and the frame ground are tied together.

If I replace the 220V outlet with a twist lock, do I go:
4-wire 20 amp or ?
4-wire 30 amp or ?
3-wire 20 amp ?

Then that leads me to the next question...
Run the 50 feet of inside wiring to the transfer switch as:
10/3 ?
10/3 w/ground ?
10/2 w/ground ?
Move up to #8 wire?

Since the starting point at the generator has the N & G tied together, running 4-wire cabling seems wasted $$$.

Thanks in advance for your gentle responses.
Sponsored Links
01-11-11, 09:19 PM
What wall outlet are you talking about???? 20 amp,30amp????
my gen is 20 amp but I have 30 amp wall outlet and tranfer switch rated 7500 watts. My gen is only 4000 watts. I did this incase I want ro upsize the gen but it dont make sense with a 6 transfer switch.
I would use this next, and power the panal. Then you can power what you want.
Generator InterLock Kit
Mike NJ
01-11-11, 09:33 PM
Guys you need an inlet not an outlet. I know you know the difference but the newbies might not. An inlet is a male receptacle. You can't use the usual female receptacle.
01-11-11, 09:47 PM
Yes I want to assume, but I am thinking he is plugging into a dryer outlet or somthing. I want him to clarify but he says he has a transfer switch. He may have wired an outlet to a transfer switch to save $$$$$

Mike NJ
01-11-11, 09:49 PM
Join Date: Jan 2011
Location: USA
Posts: 6
What wall outlet are you talking about???? 20 amp,30amp????
The one I plan to mount on the outside wall near the generator.
Anyway, you bring a good point, plan and wire for a 30 amp generator service even though mine is only 20 amp at 240V.
I can't use the panel interlock because my main cutoff is next to the meter which is outside the house.
Thanks for you quick reply.
01-11-11, 09:58 PM
Yeah and if you have the money go for a ten circuit transfer switch. Mine is six. I wish I could power more but its only emergency and it dont last that long. We are doing better then anyone in our development.

Mike NJ
01-11-11, 10:12 PM
Join Date: Jan 2011
Location: USA
Posts: 6
I'm leaning towards this unit.
I may have answered some of my own questions.
Exposing my thoughts to the public for input has a way of forcing me to rethink my positions.
Part of me (i.e. wallet) says to just go 20amp and let the next owner worry about it.
Again, thanks everybody.
P.S. Since I mapped out my breaker panel I was amazed just how many drops were on a 15 amp circuit. 10 outlets + 4 ceilings lights + ceiling fan w/light = WOW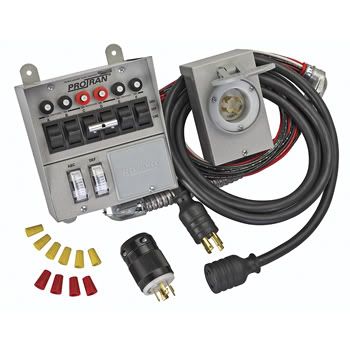 01-11-11, 10:23 PM
Thats what I bought. The power cord is different then what I got. Its 20 amp/20amp. But they send you a 30 amp wall inlet and a 30 amp end and you need to wire the end yourself.

I dont use 220 circuits and have six circuits. Well(110v), 3 ceiling fans/lights, tv, livingroom/kitchen, bathroom lights, boiler circ-zonevalves...( i dont have central air. Thats why I wired the ceiling fans) What more do you need. Emergency and I did it for $800 with gen and my labor.

Plus we are Yankees up here.. Some folks have a hard time up here if the power is out for 15 minutes. I grew up in the mountains of North Jersey. I know better. South Jersey where I am at now is flat. Shore area..... But alot of shore towns lose power but most are summer rentals. People are not here to weather the storm. They go back to NY and hang in their co-op's



Mike NJ
Posting Rules
You may not post new threads
You may not post replies
You may not post attachments
You may not edit your posts
---
HTML code is Off
---