Need Diagram: supply power to multiple lights with switch at the end of circuit
01-18-11, 12:40 PM
Need Diagram: supply power to multiple lights with switch at the end of circuit
---
Hello all!

I'm wiring up some lights in my basement. What I need is a wiring scheme for power to enter light fixture#1, then to #2, #3 and so on, then finally, a switch at the end.

I will be using only 14/2 so I understand that the switch will have a black and white going to it (the white I will tape as black). For some reason, I'm totally lost at how to loop the lights in from the power source though.

Thanks in advance!
01-18-11, 01:13 PM
If you only have 14/2 on hand, then you have two options:

1) power -- switch -- light 1 -- light 2 -- light 3

2) power -- light 1 -- light 2 -- light 3 AND light 1 -- switch
01-18-11, 01:17 PM
From the power source (near fixture #1 I presume), run a switch loop to the switch. By the way, the NEC now requires switch loops to be 14/3, so there is a neutral at the switch. So the power flow is as follows: Hot from source, to black on switch loop wire, through switch, back to souce box on red wire of switch loop, then to the string of lights.

If you want to run 14/3 between the fixtures as buzz suggested, use the black conductors to pass power down the string to the last fixture, then make a switch loop to the switch. Upon returning to the last fixture from the switch loop, power the string of fixtures on the red conductors.
01-18-11, 01:34 PM
here is how it goes;
from power source 14/2 to ceiling box...... 14/3 to next box........14/3 to next box .........14/3to next box..........14/2 to single-pole switch and box.
black from power source wire nutted to black in all ceiling boxes and the 14/2 black to the switch.
white from power source wire nutted to white from light and to 14/3 white to next light then nutted to next light white and 14/3 to next light etc. This white stops at the last light white wire.
black light wire in first box is nutted to 14/3 red wire.. second light black wire nutted to the 2 red.....3rd light black nutted to red and the white from the 14/2 to the switch. this white wire should have black electrical tape on both ends to show it is being used as a black (hot) wire.
in switch box the black and the remarked white goes to the single pole switch screws.
you must also use the ground wire in all the boxes
BUZZ
I type to slow already 2 post telling you how !!
01-18-11, 01:41 PM
01-18-11, 02:56 PM
Can I just go power 14/2 to light1(black to black, white on light to black on cable to next light, white on supply cable nutted to white on cable to next light) to light2(black to black from incoming cable, white from light to black of cable to next light, white from incoming cable nutted to white of cable to next light) outgoing cable to switch(white to one screw, black to other,grounded,terminated)?
01-18-11, 04:18 PM
Need Diagram: supply power to multiple lights with switch at the end of circuit
---
Hello moveright
Here is a fast drawing I made on how to wire up your
project.. You might have to bring the "white wire" into the switch box if your on the NEC 2011 regarding switch loops. (just like I drew it!!)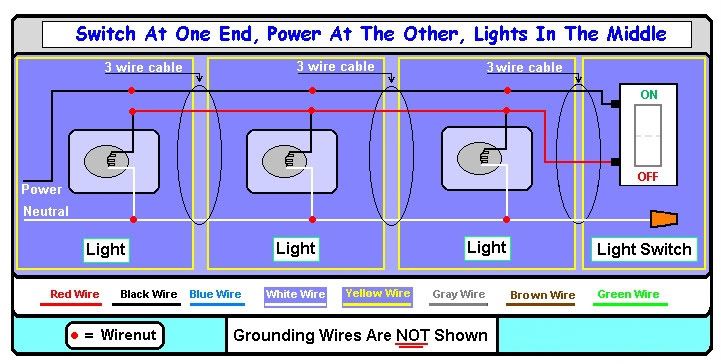 Hope this helps ---
Let us know how you made out with your wiring project
Have A Nice Day
Linesman
01-21-11, 06:05 AM
Thank you all!
---
Thank you all! I opted for the 14/2 supply to light1, 14/3 light to light and 14/2 last light to switch with black tape on white wire.
Worked out so well, it was almost as if I knew what I was doing
01-24-15, 09:19 PM
A variation on OP question
---
I'm looking to put some lights in a workshop. In doing some searching, I found this thread and it is exactly what I need to do. I do have 1 further question:

Would this same wiring schematic apply to running a series of outlets (3) for plug-in flourescent lights?

It seems logical, but I just wanted to be sure.
01-24-15, 10:31 PM
Join Date: Oct 2012
Location: Jersey
Posts: 70,052
Welcome to the forums.

Yes.... you can install receptacles for plugging in fluorescent fixtures in place of directly wired light fixtures.


_______________________________________________________________________________

As this thread is getting a little old.... we're going to send it back to the searchable archives.
If you have a similar question or problem..... please feel free to start a new thread.
---
Last edited by PJmax; 01-24-15 at

10:56 PM

.