Crooked junction boxes - how to rectify?
01-20-11, 12:40 PM
Join Date: Oct 2005
Location: Florida
Posts: 1,466
Crooked junction boxes - how to rectify?
---
I hired a contractor/electrician to do some wiring for me as part of my remodel project.
After the wiring was done I noticed some of the junction boxes were installed crooked or tilted. Minor variations can be corrected or may not even be noticeable, but I have a few that are way off.
For example, the one below.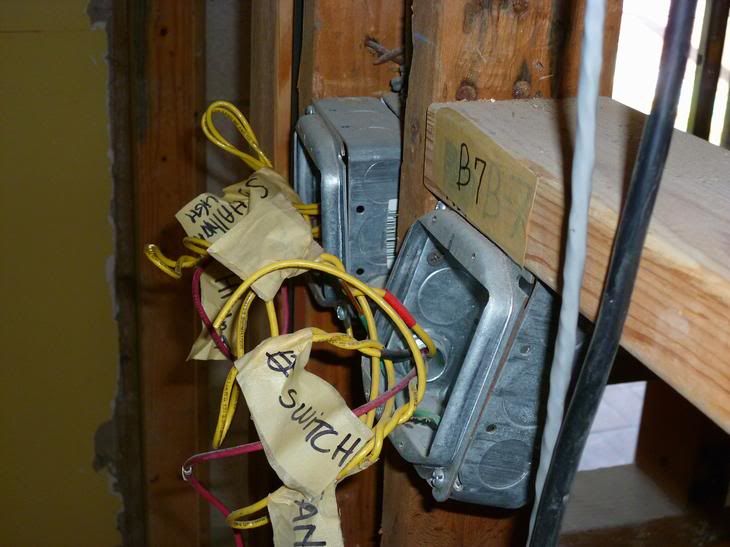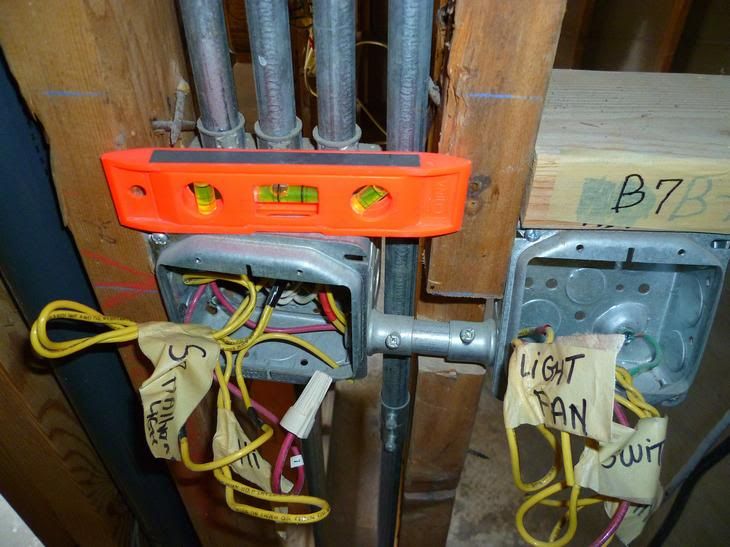 I put a level on the lower picture so you can see the line between the two studs, and how far out of alignment the box is.
The one to the right is tilted a lot because the one to the left was off. The one to the left is off because the three conduits coming into it at the top are not aligned properly. I asked the contractor to fix it and he said that this is normal for these boxes to be out of alignment, the sheet rock people will correct this and "bang it in", and that he would take care of it for me when I hire him to do the sheet rock. Now I am thinking if I hire him for sheet rock, all my sheet rock would be crooked.
The same situation happened in a few other places. For example, the box below is also out of alignment. However, the situation was made worse by me, as I hired someone to do some stucco work on the outside and he had left over stucco, and he suggested that he used the left over stucco to fill some holes I have on the walls on the interior of the house, concrete block walls that were opened up for electrical and plumbing. This is very nice of him to do so, but this crooked box is now embedded in stucco.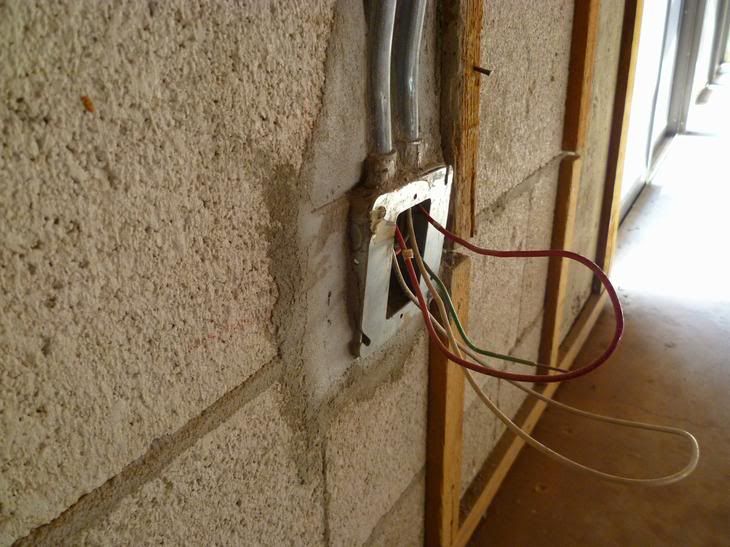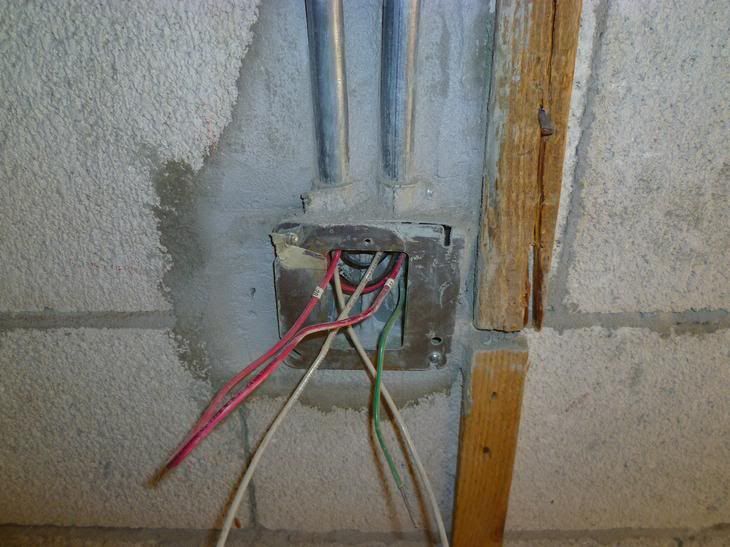 My questions are - firstly, is it the responsibility of the electrician to install boxes square and aligned with the walls? My contractor says they are only responsible for wiring everything correctly, that I need to hire a carpenter or trim person to set them properly, is this the case?
Secondly, is there a way to fix the box embedded in stucco without drilling it out? I would think with it tilted this badly, the switch plates would also be tilted badly right? Is there something I can do to compensate for the tilt? Or I have to drill it out to realign them properly?
Thanks in advance for any comments and advice.
Sponsored Links
01-20-11, 01:09 PM
Total BS....unfortunately you hired a hack and he'll never correct it. Some of our Pro's will probably have some ideas.

EDIT...make sure you let it be known that this guy/company either doesn't know what they are doing...or doesn't care.

Also...are they an electrical contractor...or a general contractor of some sort? There are times when specialization is worth paying for.
01-20-11, 01:42 PM
Join Date: Oct 2005
Location: Milwaukee WI
Posts: 1,338
Is this work by a licensed electrical contractor? Was there a rough-in inspection done?

Around here these would have gotten a head shake or an eye roll from the inspector, and a remark like, "These guys need to learn to use a bender" followed by, "Make sure they fix that for the final" if not "Have him re-do it and file a reinspection request after that is done."
01-20-11, 02:06 PM
Join Date: Feb 2005
Location: Near Lansing, Michigan
Posts: 10,515
That looks like a sloppy hack job. The electrical contractor should mount the boxes pretty close to square, plumb, level. Minor deviation would be okay, but there's no way you could rock over those and end up with a smooth wall. It also looks like he didn't use concrete-tight fittings on that embedded box, which the inspector should red tag if he notices.

The masonry box you could chip out and do over. The problem there just looks like the guy didn't know how to bend an offset in the pipe. Another option for this one might be to run inside the voids in the block.

The side-by-side boxes, it's obvious there isn't enough room to go horizontally with the nipple. He should have made a big "U" out the bottom of the left box, through the stud and back up into the bottom of the right box. Either that or put a saddle bend into the vertical pipe to avoid the horizontal nipple, but that option may not have worked if the rightmost vertical pipe was already installed.
01-20-11, 07:14 PM
Join Date: Dec 2010
Location: usa
Posts: 243
You might be able to fix the B7 box and the one beside it IF there is enough wire. I would think a small pc of 1/2" flex (greenfield), a couple of 1/2" connectors, pulling the wires out of B7, drilling a hole thru the stud, running the flex and wires out the bottom of the one on the left up into B7, and both boxes should be fixable.....but I wonder if there would be enough wire. What I can't figure is with all of the various fittings and tools available how in the world anyone would do this.....
01-20-11, 07:52 PM
Join Date: Oct 2007
Location: USA
Posts: 3
The only thing worse than a hack is a lazy hack. The electrician didn't care (doesn't care) and nobody was there when he installed this. Tell everyone you know and let his shoddy work be his reputation.
01-20-11, 08:19 PM
The boxes are not properly installed and/or supported. That job wouldn't have passed the rough inspection in my area.
01-21-11, 06:06 AM
I would have hoped someone would be ashamed to take money for such hack work, but I see I am wrong. There is no way the sheetrock will fix that.
Posting Rules
You may not post new threads
You may not post replies
You may not post attachments
You may not edit your posts
---
HTML code is Off
---