Changing Outlet Controlled by Switch
02-20-11, 01:48 PM
Join Date: Feb 2011
Location: California
Posts: 2
Received 0 Votes on 0 Posts
Changing Outlet Controlled by Switch
---
Hi,
I would like to change the outlet controlled by a switch in my living room.
Here is the scenario: Outlet #1 that is not controlled by the switch has two black (hot) wires and two white (neutral wires) connected to the outlet and a ground wire. Behind this outlet is a red wire that is capped and continues to the outlet I would like to change. Here is a pic of what I'm talking about.
Outlet #2 which is controlled by the switch has a black and white wire connected to the top plug. The red wire from the switch is connected on the bottom. There is also a ground. Here is a picture of that outlet.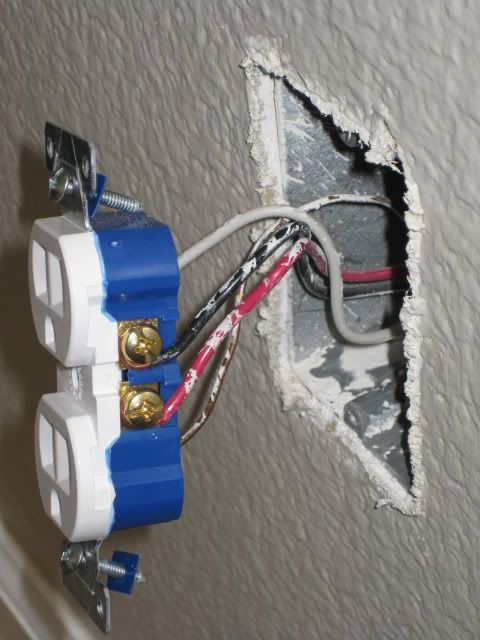 So...can I uncap the red wire behind outlet #1, connect that to outlet #1 on the bottom plug, break the tab and now have that plug controlled by the switch? Also and maybe more importantly how do I make sure that power continues to the top and bottom of outlet #2? Now that I've taken the red wire and removed it from the bottom of outlet #2. Thanks for the help.
FYI I live in California.
Sponsored Links
02-20-11, 03:28 PM
Make sure it is the red that is switched. It usually is but best to check. If the tab has been broken and you wish to feed both outlets on the yolk you can either replace it or pigtail the feed to both screws.
02-20-11, 08:04 PM
Ignoring grounds and poor artwork, wire it like this:
Also, tamper resistant receptacles are required.
wiringdiagram.jpg picture by js89938 - Photobucket
02-21-11, 12:08 PM
Join Date: Feb 2011
Location: California
Posts: 2
Received 0 Votes on 0 Posts
Thanks guys, I appreciate the response back!
Posting Rules
You may not post new threads
You may not post replies
You may not post attachments
You may not edit your posts
---
HTML code is Off
---