How to fix an exposed wire?
02-28-11, 10:08 PM
How to fix an exposed wire?
---
I have a wire that apparently was "nipped" and the sleeve exposed. Most of the wires are new but the red wire in the picture is "existing". The red wire in the box to the right is a solid (not stranded) wire.
This red wire was nipped in three places, as circled in the images below.
What is the best way to fix this?
Do I just wrap it with new electrical tape?
Or use a brush on "liquid tape"?
Or use a heat shrink rubber sleeve?
Thanks in advance.
02-28-11, 10:21 PM
Best is to cut a half in below the first bare spot then finish stripping from the bare spot down.. Attach a pigtail with a wire nut or a Wago if you don't have enough left for a wire nut.

If the copper conductor has been compromised at the bare spot cut just above the bare spot.
03-01-11, 07:40 PM
Join Date: Dec 2010
Location: Cressona, Pa, USA
Posts: 2,541
Likes: 0
I see some double-lugging on the rocker switch which needs to be addressed. I would, if the copper is not cut into, use heat shrink, or if it is cut, use a wirenut or pull a new piece of wire through.
03-01-11, 08:55 PM
OK I struggled with this a bit today trying to fix it. The bad news, the sleeve is bad further up. I pulled on the wire a little harder and got another inch of it to come out, and I can see another crack in the sleeve.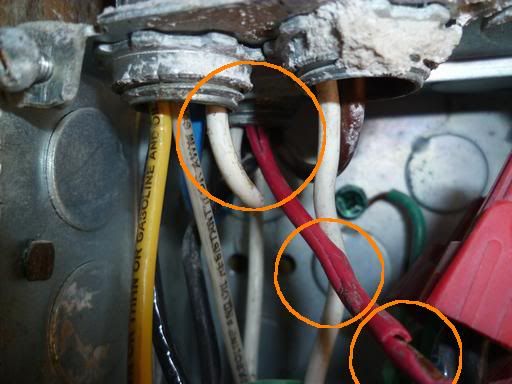 I don't know how far back this is. I know it is a home run all the way up the attic to the panel fifty feet away in a 3/4" conduit. I called the electrician that ran the wiring and asked him about this and he told me they tried to pull that wire out but it being solid wire it would not come out so they left it in, and probably when they tried to pull it was when the sleeve was nipped. Now that they ran two more wires into this conduit there is no way I can take it out.
So what I did, was I wrapped red electrical tape around the outside of the wire as far back as I can go, like this: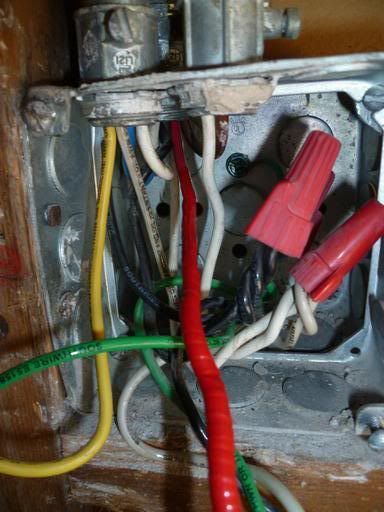 After that, I pushed a heat shrink sleeve over the red tape all the way to the top of the wire, and about an inch inside of that conduit was as far back as I can get it.
I hope this will be ok. I would have preferred to swap the bad wire out but it is not coming out.
03-01-11, 09:01 PM
Doubtful you will get just one wire out. While your repair looks ok it may still be damaged up in the pipe. If you really want to replace the wire you need to pull out the entire group. You should be able to then pull them all back in at one time.