Labeling a wire
03-18-11, 11:11 AM
Join Date: Oct 2005
Location: Florida
Posts: 1,445
Labeling a wire
---
I am going through all my junction boxes, outlets and switches and labeling them.
I have two electrical panels in my garage, as shown below.
I called the left one Panel "A" and the right one panel "B".
When I label my wires, I used those "books" from Home Depot like this:
They have only numbers on them. But I can't differentiate panel A and B with only numbers. Are there other types of labels that is better for my purpose? Do they have labels of same numbers but in different colors?
Also if you have say a wire from panel A circuit 17 that jumps through three junction boxes to where it ends up, do you label the wire in each junction box or just where it ends?
---
Last edited by MiamiCuse; 03-18-11 at

12:42 PM

.
Sponsored Links
03-18-11, 11:25 AM
Join Date: Feb 2005
Location: Near Lansing, Michigan
Posts: 10,292
I don't know what brand it is, but I get label booklets that have letters in addition to numbers. You can also get a wire label printer to make custom labels. I suppose you could also do something like 1.1 1.2 1.3 ... instead of A1 A2 A3.

I prefer to label the wire anywhere it is spliced, but not where it just passes through a box. I would tend not to label wires that are simple chains of receptacles, switch loop or similar situation because that's a lot of time and labels. I would label at transition points, where many circuits come together, etc. Anywhere there reasonably could be confusion.
03-18-11, 03:42 PM
Join Date: Feb 2002
Location: port chester n y
Posts: 2,117
Your photo suggests a commercial / industrial location. You can simply I.D. exposed box covers as Panel A /B with a Magic Marker , or use Panel I D tags outside the boxes , or on the wires inside the boxes.

If a box contains only the conductors of Circuit 17 , Panel "A" . then one tag will eliminate identifying each individual wire inside the box.

Suggestion -- Instead of Panels A / B possibly Panels "L" ( left) and "R" ( right )
03-18-11, 05:33 PM
Some sharpie on white 35 works great.
Also, are those panels rated for skinnies?
That is His residential garage, and I like the way it is done in pipe.
03-18-11, 06:55 PM
They look like GE single phase 20-40 panels which would be rated to use THQP breakers.
03-18-11, 07:31 PM
Join Date: Oct 2005
Location: Florida
Posts: 1,445
03-18-11, 07:40 PM
Join Date: Oct 2005
Location: Florida
Posts: 1,445
Yes it is residential the two panels are in the garage side by side. Those panels may be original? built in 1972.
This is the right side panel with the cover off.
Close up.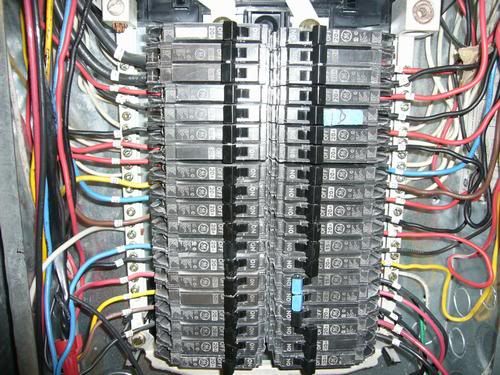 03-19-11, 06:54 AM
I am sorry, what are "skinnies"?
Justin Smith was referring to the thin circuit breakers, type THQP is the proper term. Your panel also uses type THQL breakers, the full sized version. You get the maximum number of circuits the panel is rated for by using the type THQP breakers.
03-19-11, 09:15 AM
Join Date: Oct 2005
Location: Florida
Posts: 1,445
OK thanks. I will remember THQP aka "skinnies".

The original wires are all solid copper wires, and they had all different color from black to yellow to red to brown to blue. Looks like a rainbow in my panel.
Posting Rules
You may not post new threads
You may not post replies
You may not post attachments
You may not edit your posts
---
HTML code is Off
---