Hanging Hi-hat lights
03-19-11, 08:46 PM
Join Date: Oct 2005
Location: Florida
Posts: 1,465
Hanging Hi-hat lights
---
I am going to be hanging some hi-hat lights (HALO H7T). However, the way my ceiling is framed, I have 2x6 joists running across, but below that I have 3/4" furring running in orthogonal directions, like this: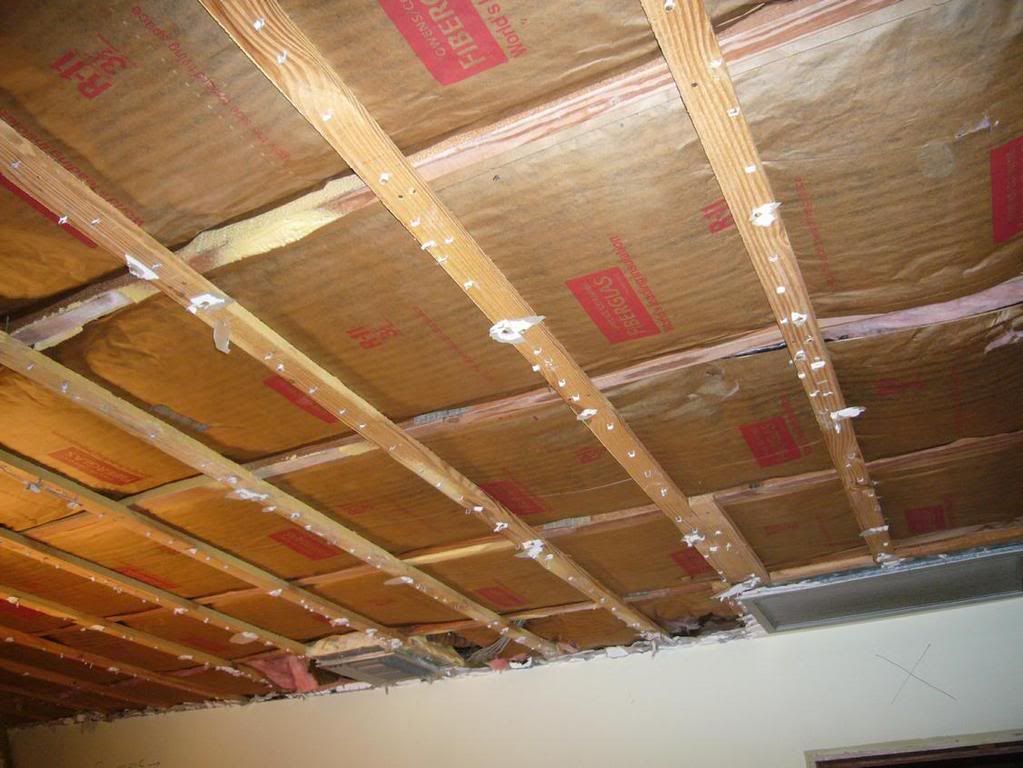 For ceiling boxes for lights and fans, I will hang these boxes flushed with the bottom of the furring, then I will attach 1/2" mud rings to get them to be flushed with the finished ceiling.
For hi-hats, I need to hang them such that the bottom edge of the can protrudes 1/2" from the furring strips. This makes it a bit difficult because it means I need to attach the "structs" of the can to the furring side "sideways" which will crack when I drive a screw through.
Any idea or tips of the trades?
Sponsored Links
03-20-11, 04:43 AM
You'll need to use IC cans. H7T's are non IC cans. You'll need to find one that will be adjustable as to depth. They come set for 1/2" sheetrock if you mount them flush to the joisting . Mount them on the joists using the spanners and drop the tube that your trim ring will fit into down 3/4". Usually wing nuts or the such inside the can itself.
03-20-11, 08:55 AM
Join Date: Oct 2005
Location: Florida
Posts: 1,465
I plan to cut into the insulation at least a 12"x12" hole to go around the can, my understanding is that I can use non-IC cans as long as I clear at least 3" around the can?
03-20-11, 12:03 PM
Why would you want to go to all the trouble of making sure you have 3" of insulation when an IC can will work, since you already have insulation??? Cost is comparable.
03-20-11, 12:18 PM
Join Date: Oct 2005
Location: Florida
Posts: 1,465
because even if I have IC ones I still would have clear a couple of inches just to be on the safe side. I don't want someone stepping on it, and I would have tear some of it out anyways just to get access to the joist to fasten the rods.

the other reason is I bought 40 H7T housing already last year when it was on clearance when a store went out of biz.
03-20-11, 02:19 PM
OK, I admit confusion. How would someone "step" on a can light? They are designed to be on their own safe side. You can buy low profile ones if you are concerned about height. Rods fasten at the bottom of the joist. I guess install what you got, and make adjustments.
03-20-11, 07:13 PM
I agree with Chandler, put in IC rated cans and call it good. Cost is about the same and last time big orange was phasing out non-IC rated cans. IC cans are buried with insulation all the time. No issues.

As far as attaching them, I would attach them to your furring strips. Halo can brackets can also be screwed up from underneath. At least the newer ones they sell in the stores.
03-21-11, 04:58 AM
I have caught big orange with Halo 6 pack IC cans WITH trims, new construction for about $36 a case. I always stock up for future projects. Wife hates it. Hey, but it's MY barn!!
03-21-11, 07:55 PM
Join Date: Oct 2005
Location: Florida
Posts: 1,465
One other problem I am running into is I have a hallway that is 38" wide (stud to stud, with sheet rock in place it would be a bit shy of 37"). There is a joist 18" from one wall, running along the hallway. This makes hanging hi-hat lights in the hallway challenging.

If I hang the light butt up against the joist, it will be off centered. I am thinking it would be noticeable.

One option is to forget the hi-hats there and go with as small a box as possible and use flush mount lights where the fixture is below the ceiling. The other option is forget about ceiling lights and go with a few scones along the wall. But before I pursue these options I want to make sure there aren't options I am overlooking.

Thanks.
03-21-11, 09:08 PM
In case you haven't priced them, "Sconce" is French (I believe) for expensive! Sconces are always more expensive than a "normal" ceiling light. However, they do have a nice ambiance to them. I just wanted to let you know so you don't get bit on the finish.
03-22-11, 05:18 AM
You could install 2x4's across the span of the wide joisting narrow enough to accept the spanner bars of the can light and solve that problem. If the area is already rocked, you can use an old work can light, provided you can get the wiring to it.
03-22-11, 07:01 AM
It was my understanding of what she wrote that the joist ran parallel down the center of the hallway so cans couldn't be centered.
MiamiCuse, my suggestion use two cans , one on either side of the joist. Do this on each end not in the middle of the hall. maybe midway between center and the end off the hall. Exanple 12" hall so a set of lights at each end 3' from the end of the hall. Over kill but they could be equally spaced that way and low wattage bulbs or a dimmer used.
03-22-11, 12:38 PM
Ray, you could pick and choose where you installed the 2x4's to allow for centering between the wide joists. Unless I am reading it wrong.
03-22-11, 08:43 PM
Join Date: Oct 2005
Location: Florida
Posts: 1,465
Chandler what I meant was there is a joist running parallel to the hallway, and in the way.

So if I draw a line east to west along the north edge of the hallway, another line east to west 36" south of it will be the south edge of the hallway.

Now if I draw a third line parallel to the north and south edge but in between, my joist is along that line. That makes it impossible to put hi-hats in the middle.

Ray, putting it on both sides may be one option. Thanks,
Posting Rules
You may not post new threads
You may not post replies
You may not post attachments
You may not edit your posts
---
HTML code is Off
---