Need advice on replacing breaker panel
03-26-11, 09:09 AM
Join Date: Nov 2010
Location: usa
Posts: 68
Need advice on replacing breaker panel
---
My breaker panel is located inside the wall outside my house. It has no door on it. I think it was removed and never replaced. I think the breakers are the modern style. Because the face looks kind of weathered and the door is missing, I am considering replacement. A friend has suggested placing a new box over the existing box instead of having to open the wall up and removing the old one. That would mean that the new box would stick out of the wall. Does that sound logical? He is an electrician btw. If it does, then what is that panel type called?
Sponsored Links
03-26-11, 09:29 AM
Replacing an electrical panel is not something the average home owner should tackle. Most local jurisdictions aka (Local Authority Having Jurisdiction) require a licensed electrician to pull a permit for this type of work. To replace a main panel you would need to kill the power to your house first which usually means removing the meter from the socket. Again, this is usually not allowed unless you are the local utility company.

I think your easiest option would be to get the manufacturer and model # off your existing panel and purchase a replacement cover.

Having a panel exposed to the elements is definately a bad idea. However, if the panel has not malfunctioned yet and you are not having problems with the breakers. I would advise against changing the entire panel.

________________________
Jeff Baltimore, MD
Licensed Master Electrician
03-26-11, 09:59 AM
Join Date: Nov 2010
Location: usa
Posts: 68
Thanks, I don't know really what I plan to do yet. Just concerned with the heavy rains we have been getting lately. The idiots who last painted the wall probably took off the panel face and left the door off.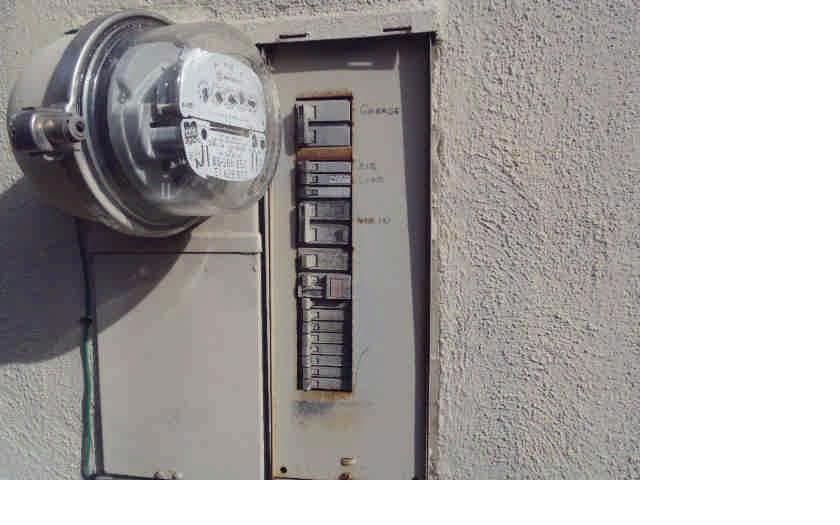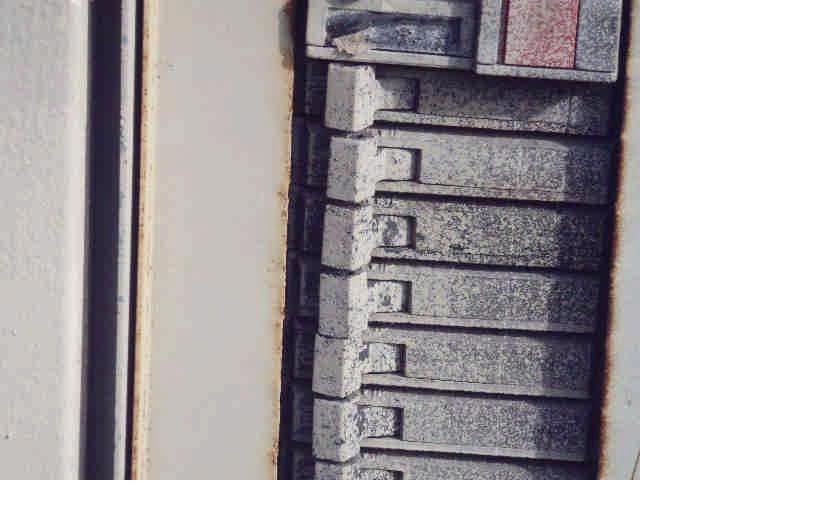 03-26-11, 11:11 AM
Its interesting to see panels installed on outside walls of houses like that. From what I've seen on tv, apparently thats a west coast thing to do. It seems silly to me, on this side of the country, east coast, we put the panels inside where you can get to it without having to put on shoes and going out in the rain.
03-26-11, 11:17 AM
Join Date: Mar 2006
Location: Wet side of Washington state.
Posts: 18,356
No, It isn't a "west coast thing" unless you call areas of Texas, Arizona and Colorado the west coast. I have heard/read of outside panels in other areas as well, some areas actually require the service panel or a service disconnect be located outside.
BTW, I also think it is stupid but no one asked my opinion.
03-26-11, 11:20 AM
Maybe it is so pranksters can shut off your lights on you
03-26-11, 11:32 AM
Join Date: Mar 2006
Location: Wet side of Washington state.
Posts: 18,356
In some areas it is actually a fire code requirement...or was at the time of installation. I think parts of Arizona or maybe it was New Mexico had that requirement.
03-26-11, 11:48 AM
I think outside disconnects is a good idea, and is better than cutting the triplex live, however the rest of the breakers should be inside, especially during blizzards. I also like having a main panel on a pole, then ug feed to the house.
03-26-11, 12:02 PM
Just to throw in....almost every house around here, of semi recent vintage (mines from 90 or so), has exterior panels, even the very few that are not stucco. While we were in San Diego, before moving, it was the same thing.
03-26-11, 01:01 PM
03-26-11, 01:30 PM
What is shown is a combination meter socker and panel all in one.

I do not think you will be able to mount a new enclosure over what is already there.
03-26-11, 01:30 PM
I just would not like to have to cut a pice of triplex connected to a transformer rated for a thousand or two amps, not even counting fault current.
03-26-11, 01:44 PM
Join Date: Nov 2010
Location: usa
Posts: 68
03-26-11, 02:33 PM
You should easily be able to fabricate a cover, and the breakers appear to be GE.
03-26-11, 02:34 PM
I think the best suggestion was to try and see if a replacement cover is available.

Replacement of this equipment will require inspections, permits and power company involvement.
Posting Rules
You may not post new threads
You may not post replies
You may not post attachments
You may not edit your posts
---
HTML code is Off
---