24VDC to AC Output Voltages
03-30-11, 12:43 PM
Join Date: Mar 2011
Location: USA
Posts: 1
24VDC to AC Output Voltages
---
Hey All,
I'm having a bit of a problem with a 24VDC to AC setup. Theres three solar panels charging four 6v batteries who are setup in series to an AC 120v inverter. When I hook up certain AC appliances such as vacuum cleaners, lights etc.. it works fine. When I hook up others, such as a computer or a APC line conditioner, the units wont recognize that they are plugged in and will not turn on. I made a quick image here, since I didnt know if Id be stealing someones if I took it off google image search, so bear with me!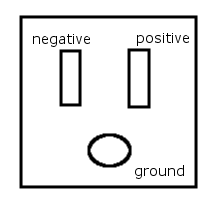 From the DC to AC inverter output:
When I hook a multi-meter up to the ground to positive it reads ~103volts.
When I hook a multi-meter up to the ground to negative it reads ~73volts.
If I was to go to an outlet in my house, completely separate from everything mentioned here, ground to positive reads ~119volts and ground to negative ~0volts.
Anyone have any experience with this that might get me in the right direction? I've been trying to figure this out for a week now and its simply beyond me. I cannot figure out why the 24DC to AC converter is giving me such odd readings. I have my suspicions, because its a modified sine wave inverter, but its not something I completely understand.
Thanks!
Morning Star ProStar-30, RM-1
4x Trojan T-105-RE
Aims Power - PWRINV2.5K24
Sponsored Links
03-30-11, 01:13 PM
Join Date: Feb 2005
Location: Near Lansing, Michigan
Posts: 10,300
First the terminology. AC does not have positive and negative, the wide blade on the left is the "neutral" and the narrower blade on the right is the "hot". Unlike a DC circuit, current flows in both directions in an AC circuit.

Try to repeat your tests with a simple incandescent table lamp plugged in to the receptacle and turned on while you are measuring. Your readings are probably incorrect due to the way digital meters work.

Also while the lamp is plugged in and on, switch your meter to the DC volts setting and verify that the input voltage from the battery pack is actually 24VDC.

Finally a modified sine wave (more accurately a modified square wave) inverter does not produce a particularly high quality power so you may not get good results with electronics. Laptops in particular are known for not working well on modified wave inverters, and it wouldn't surprise me if the APC unit detects the bad power quality and refuses to operate to prevent damage to itself or the connected electronics.
Posting Rules
You may not post new threads
You may not post replies
You may not post attachments
You may not edit your posts
---
HTML code is Off
---