Moving a light box to code
07-08-11, 09:43 PM
Join Date: Mar 2009
Location: USA
Posts: 78
Received 0 Votes on 0 Posts
Moving a light box to code
---
The way I understand the electrical code, wires connected by wire nuts must not be exposed, but must be in a box. Furthermore, a box cannot be hidden behind drywall - it must be accessible.

So let's say for example someone wants to "move" a ceiling light box, and the box moves farther away from the wire source and needs more wire. We have 2 options.
1) put a cover over the old box and run a new wire from the old box to the new box
2) if a visible cover is not acceptable, we have to run a new wire all the way from the light switch to the new box.

No other way, right?
Sponsored Links
07-09-11, 06:22 AM
Join Date: Nov 2007
Location: Twin Cities, MN
Posts: 12,967
There is possably two more ways.

"accessible" does not me you can access it from the room. If there is an accessible attic above the space you are working you can mount a box up there and make your splice.

Or, if there happens to be another light fixture box between the one you want to move and the switch you could put the old switch leg in there and extend it from that point. Just be sure the box is big enough.
07-09-11, 07:55 AM
Join Date: Mar 2009
Location: USA
Posts: 78
Received 0 Votes on 0 Posts
Yeah, those are good ideas I'll keep in mind. I forgot to mention that there is no attic access - second floor above.
07-11-11, 10:48 AM
Join Date: Feb 2005
Location: Near Lansing, Michigan
Posts: 10,944
If you're just moving the light a little bit you might be able to use an "apprentice plate". Basically a decorative ring mounted to the ceiling to cover up a hole that was too big. Usually it's made to look like old fashioned plaster work.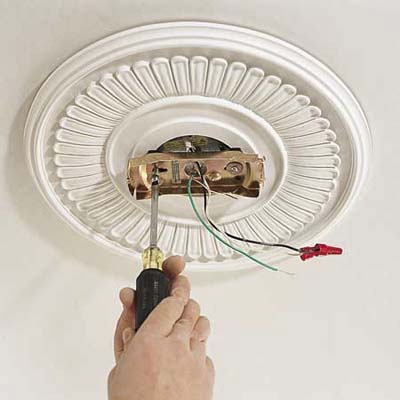 Posting Rules
You may not post new threads
You may not post replies
You may not post attachments
You may not edit your posts
---
HTML code is Off
---