Build out wall for Electrical Wires?
08-10-11, 06:51 AM
Join Date: Apr 2002
Location: USA
Posts: 218
Received 0 Votes on 0 Posts
Build out wall for Electrical Wires?
---
I have a few wires in my basement that run down the wall right by a header. To pass inspection must I fur the walls out with 2x2 or just put in metal plates?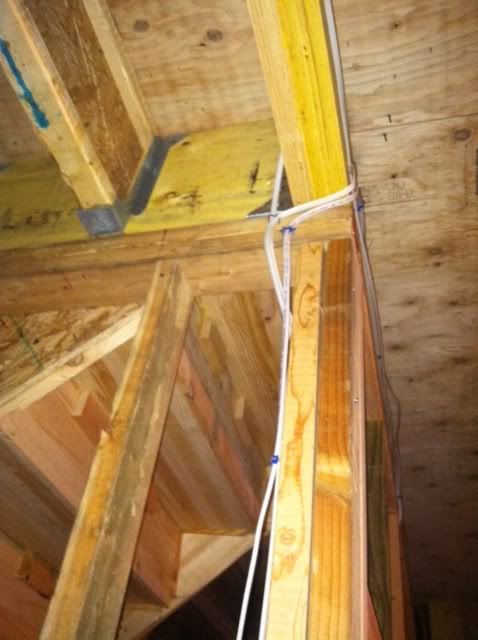 Sponsored Links
08-10-11, 07:13 AM
Yes, you need to fur out the wall a bit. If you use 2x2, you don't need to use a metal plate as the wire will be at least 1.5" recessed. If you use 1x3 to fur it out, you do need to protect it with a metal plate.

A few options:
1) You can fur out just a little 'box' up there for those wires. No reason to fur out the whole wall (unless you want to)

2) If the wires are going somewhere nearby, can you turn off the power and reroute them? Either on the backside of the wall (which looks like it's may be more of a closet/unfinished room). Or maybe route them over towards the staircase and down that way?
08-10-11, 08:58 AM
Join Date: Apr 2002
Location: USA
Posts: 218
Received 0 Votes on 0 Posts
Dont really want to fur a box out. Im thinking of just furing the entire wall out to make it uniform

rerouting the wires might be an option but all sides have beams for the stairway
08-10-11, 09:46 AM
I have run cables in that situation by drilling two 1" holes perpendicular to each other so they meet. Imagine an upside down "L". However getting two #12 cables in one 1" hole would be difficult. I would use one 90° hole for each cable positioned one per stud bay to minimize weakening of the beam.

A trick to feed the cable is remove about 6" of the outer sheath and cut back all but one wire. Tape the end of the sheath at the wire so you have a smother tapered end to pull through. And don't forget the wire lubricant. Put the beginnings of a hook on the single wire before you start pushing it in. May take a few tries.
08-10-11, 10:41 AM
Join Date: Jul 2002
Location: Maryland
Posts: 14,996
I too have used your tip Ray, but the framing around the stairwell looks like LVLs. Not many inspectors allow those to be drilled. I asked one and they wanted an engineer to sign off. I took another way around.
08-10-11, 12:40 PM
Posting Rules
You may not post new threads
You may not post replies
You may not post attachments
You may not edit your posts
---
HTML code is Off
---