Congested Junction Box
08-28-11, 09:39 PM
Congested Junction Box
---
I have two 4x4 metal junction boxes where many wires passes through and I call it the "grand central".
They are very congested with many wires and wire nuts.
I would like to make it more manageable.
I cannot get a deeper box, because it's concrete behind it and if I replace the box, I have to cut about 8 wires that just pass through it and creates the need to add 8 more wire nuts.
I cannot add an extension ring, because the box is already flushed with the finished wall.
What I am wondering, is may be I can save some room by eliminating the big wire nuts with something else.
Does these wire connectors work just as good? They will take up less room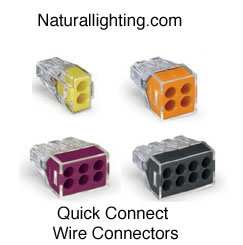 I have used these on recessed light boxes with solid copper wires as they push in and secure easy. I am not sure these work good with stranded wires. Do they?
Any other recommendations?
I will post some pictures tomorrow.
Sponsored Links
08-28-11, 09:52 PM
Banned. Rule And/Or Policy Violation
Join Date: Jan 2010
Location: KS
Posts: 1,896
Received 0 Votes on 0 Posts
The Ideal ones are rated for stranded that has 19 strands or less. However, these are going to take up MORE room than a wirenut, so it's not going to help you..

Honestly your best bet would be to install 4x6 or 4x8 boxes and use dual device mudrings.
08-29-11, 07:31 AM
Join Date: Jul 2002
Location: Maryland
Posts: 14,978
The push-ins may allow you to dress the conductors easier in the box since they are not twisted up into one large mass. The contact area of the connector is more robust than the backstabs on receptacles and switches. I use them on occasion, but it is based on cost over the wirenut.
08-31-11, 07:12 PM
That's what I was wondering it seems the push-ins will result in less "volume" and more flexibility on how I organize the wires in the boxes.
Here are a few pictures:
They did all fit into both boxes, I opened them up to diagnose a problem and am not liking how congested it is.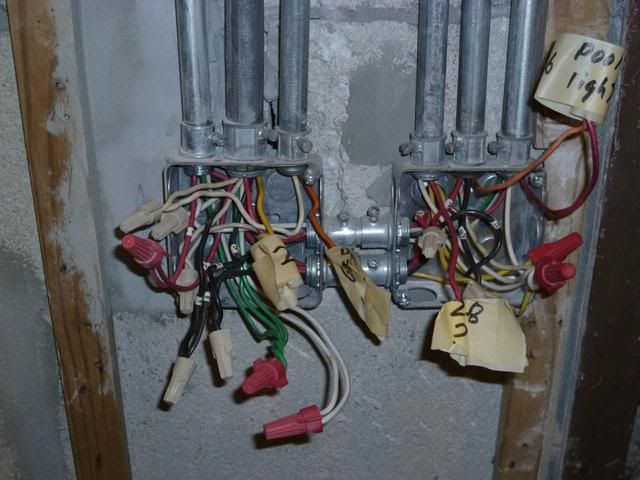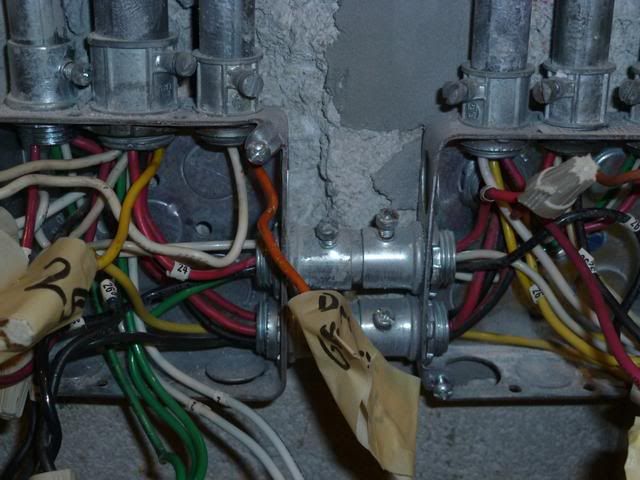 The box on the right side, has another box behind it on the other side of the concrete wall.
I would have used a deeper box, but to change out the boxes, I will have to cut a bunch of wires that simply pass through, therefore adding more wire nuts. Main feed is coming into the left box.
One option I thought of, is instead of two boxes side by side, I can add two more boxes below, to make it a "ring of four boxes", and pass some wires DOWN instead of to the right, but I am not sure how much that would do. Could be a total stupid idea.
Most of these are old wires, solid, and not stranded so they are less flexible then the stranded wires.
08-31-11, 07:27 PM
One option is to use box extenders. These would attache to the top of the current boxes and make them deeper boxes.
08-31-11, 07:52 PM
08-31-11, 08:28 PM
Banned. Rule And/Or Policy Violation
Join Date: Jan 2010
Location: KS
Posts: 1,896
Received 0 Votes on 0 Posts
He already said he can't use extenders in his first post, because the boxes are already going to be flush with the finished wall.

Looks like there should be just enough room to install two 4x6 boxes side by side and connect them with close quarters nipples.
08-31-11, 08:29 PM
I thought about box extenders, but these two boxes are in a wall along a hallway that is 34" wide. So if they protrude another two inches it will be an eye sore and obstruction.

Are there box extenders that are "shallow"? Like 3/4 inch, or are they all standard depth?

Right now the boxes are flushes with the finished wall.
08-31-11, 09:52 PM
Banned. Rule And/Or Policy Violation
Join Date: Jan 2010
Location: KS
Posts: 1,896
Received 0 Votes on 0 Posts
They're pretty much all 2". What about using dual device mud rings in whatever depth (1/2, 5/8, 3/4) with a double blank cover?

Are you against using 4x6 boxes (you seem to have ignored the suggestion both times I made it)? Because like I said, those pushin connectors aren't going to save you any space.
09-01-11, 01:38 AM
I can change it to bigger boxes or chip out more concrete behind for deeper boxes.

However, a number of wires that just pass through (not spliced) will need to be cut there, and therefore I would end up with another six to eight additional wire nuts. These wires go back up to the attic, makes twists and turns in conduits for 50 feet before they come down again. These solid wires are real hard to pull back to change the boxes.
09-01-11, 09:53 AM
Join Date: Mar 2006
Location: Wet side of Washington state.
Posts: 18,493
09-01-11, 10:30 AM
Join Date: Feb 2005
Location: Near Lansing, Michigan
Posts: 10,944
I would start by trimming down the long wires. Only 6" is required from the point the wire enters the box from the conduit. I would also make up the ground with a crimp and fold them tightly into the back of the boxes. Everything else I think you can get with careful twisting and folding.
Posting Rules
You may not post new threads
You may not post replies
You may not post attachments
You may not edit your posts
---
HTML code is Off
---