Testing appliance voltage
10-17-11, 05:43 AM
Join Date: Oct 2011
Location: Malaysia
Posts: 2
Testing appliance voltage
---
Hi there, I just switched my parasound power amp from 110v to 220v according to the manufacturer instructions.

However, before I plug it into the 220v outlet, is there a way for me to figure it out if the device has properly switched? Can I use multimeter to test figure out something?

Thank in advance.
Sponsored Links
10-17-11, 06:05 AM
Welcome to the forums! Follow the instructions to the letter. Not much else you (or we) could do.
10-17-11, 05:15 PM
Join Date: Oct 2011
Location: Malaysia
Posts: 2
Thanks Chandler. I hope I am not frying it when I plugged it it.
10-17-11, 05:56 PM
Just to ask the obvious you did use a NEMA 6-15 plug and receptacle on a 15 amp 2 pole breaker?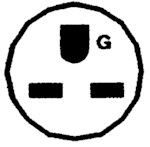 Assumes 15 amp circuit.
Posting Rules
You may not post new threads
You may not post replies
You may not post attachments
You may not edit your posts
---
HTML code is Off
---