Electrical Switch - Power Outage Question
11-23-11, 01:28 PM
Join Date: Nov 2011
Location: United States
Posts: 1
Received 0 Votes on 0 Posts
Electrical Switch - Power Outage Question
---
Hello,

Recently the power has been going out in my area for just a few minutes at a time. This has caused problems with my fish tank canister filter. Upon the power returning my filter does not start up properly, but the motor is running. I am worried that if this were to happen with me not home that there could be a problem. What I am looking for is a switch of some sort that upon loss of power would switch off and require me to manually turn it back on before power would return to that device. I am hoping something like this exists. I have also thought about attaching the filter to a UPS, but feel that this may be too expensive for the proper one. From what I have read it needs to have sinusoidal output in order to not wreak havoc on the motor. Any help with this matter would be greatly appreciated. Thank you for your time.

-Fred
Sponsored Links
11-23-11, 01:54 PM
Join Date: Feb 2005
Location: Near Lansing, Michigan
Posts: 10,944
You could rig up a starter circuit using a latching relay and a momentary button. You basically would have a push-to-start button and then it would keep the motor on until power is lost. They make these preassembled for big motors but the cost is way higher than would be reasonable for your need. You can probably get the relay and the switch at an electronics supply store.
11-23-11, 03:10 PM
How many watts is the pump rated at? Depending on the type of motor, a UPS might be less expensive than you think.
11-23-11, 03:42 PM
Join Date: Apr 2007
Location: Near Buffalo, NY
Posts: 4,239
Received 0 Votes on 0 Posts
Excellent advice, and this can be made for well under $50 in parts.
A store-bought latching relay isn't necessary. Any 120v DPDT relay will work. One side of the relay powers the device; the other side powers the coil. The switch energizes the coil to start the ball rolling. The relay is then engaged until the power goes off, at which time the switch needs to be pressed again.
11-23-11, 05:15 PM
Join Date: Nov 2011
Location: USA
Posts: 14
Received 0 Votes on 0 Posts
The pump probability doesn't use a lot of power if you look online canister filterers use between 10-100 watts depending on the size and you can probably get a UPS for around $100 dollars or less that will easily power it.

I wouldn't worry about the pump back when I had a fish tank and the pump went off because of a power outage and it didn't start right was because the pump wasn't primed and the motor would just spin water around until you added a little water to prime it I don't think it would do any harm to the motor.
11-23-11, 05:31 PM
Join Date: Aug 2004
Location: Myrtle Beach, SC.
Posts: 47
Received 0 Votes on 0 Posts
Electrical Switch - Power Outage Question
---
Hello Fredrick00
Here is a fast drawing I made on HOW to wire up your project.. This is what Rick Johnston is talking about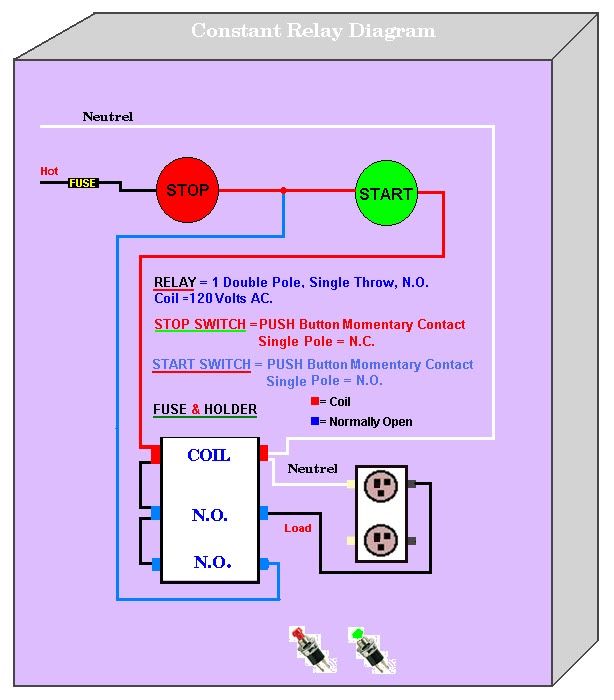 Hope this helps ---
Let us know how you made out with your wiring project
Have A Nice Day
Linesman
Posting Rules
You may not post new threads
You may not post replies
You may not post attachments
You may not edit your posts
---
HTML code is Off
---