Receptacle in Shallow Walll Above Fireplace
11-30-11, 03:08 PM
Join Date: Nov 2011
Location: Canada
Posts: 1
Receptacle in Shallow Walll Above Fireplace
---
I've mounted my flat screen TV above my fireplace and need to figure out a way to get an outlet behind it. The walls are plaster on top of I think plasterboard or a drywall like material. The distance from the outside of the interior wall to the exterior wall is only 1 3/4". The wall is spaced out from the exterior wall with 1x2" wood about 16" on centre. I have bought a metal single gang shallow box but i'm not sure how to secure it as it has no mounting tabs etc. Would I be better off looking around for a shallow non-metallic "old work" box?

There are no outlets on this wall currently so I am looking at having to run the wiring through the wall and down to the basement. Is there anything I need to do to make this fine for Canadian electrical code? I am hoping to not have to rip open the entire wall and that I can just get away with opening up at the "studs" and make a gap for the wire to run through and install a nail plate. Is this fine or would this be incorrect?

Thanks in advance!
Sponsored Links
11-30-11, 05:00 PM
You could use Madison clips. The long part goes in the wall and the side pieces bend over the box.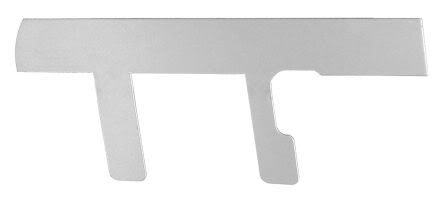 Or just screw it to the outside wall with screws through the back.
Posting Rules
You may not post new threads
You may not post replies
You may not post attachments
You may not edit your posts
---
HTML code is Off
---