Continuing power through two light switches
03-25-12, 08:33 AM
Join Date: Mar 2012
Posts: 7
Continuing power through two light switches
---
I have power coming into a light switch box. There are two switches, one powering a porch light, the other powering an overhead interior light. I am needing to continue power to an outlet after these switches.
This is what I've come up with. Will this work? Any better way to do it? I have a hard time believing all those wire nuts will fit into a 2 gang box.
Sponsored Links
03-25-12, 08:51 AM
Power seems to come in at the light from your diagram. If that is true there is no neutral at the switch assuming only a two conductor (plus ground) cable between the light and the switch. How does neutral get to the receptacle? You can't have a neutral and hot from different cables.
03-25-12, 08:54 AM
Join Date: Mar 2012
Posts: 7
Power is actually coming in at the switch. And it is a two conductor (plus ground) wire.
03-25-12, 09:09 AM
Your diagram is correct.

............................................
03-25-12, 03:53 PM
If the line feed is coming into the switch box, you should need only three wire nuts at most - one for four black wires - the hot wire, the feed for the new receptacle and two pigtails - one for each switch; another for four white wires - the line feed, the receptacle feed and each of the two light fixtures. All of the grounds - and there be as many as six of these if you bond the box plus each switch - go in the third wire nut, or a copper crimp connector.

Six wire nuts might fit in a 2-gang switch box behind two single-pole switches, but would you want to do that?
03-25-12, 03:58 PM
Join Date: Mar 2012
Posts: 7
Thanks for the suggestions. I absolutely would not want 6 wire nuts in the gang box if at all possible. I'll research what you suggested and see if I can figure it all out.

Thanks again!
03-25-12, 09:20 PM
Join Date: Mar 2012
Posts: 7
Here's an updated diagram. Look correct? And what would be the easiest way to tie 6 grounds together with the least amount of clutter? I'm thinking maybe the copper crimp connectors, though I've never used those before.
Updated: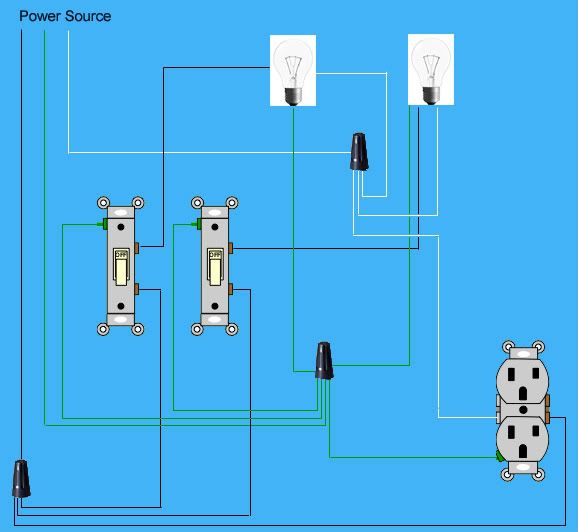 03-25-12, 10:13 PM
Yep, 'at's what I'm talkin' about! To reduce box fill you can use a (one) copper crimp connector. Or you can just wire-nut them. You'll only have six wires if you need to bond the box and decide to bond each switch with a separate pigtail. Even then, you'll only have six 12 AWG wires if your circuit is 20A, and six 14 AWG if it's a 15 amp circuit. Six # 12s fit nicely in a Big Blue or a big grey wire nut, and that should fit nicely inside the box if you lay it horizontally across the back, either above or below the location of the switch bodies.
03-26-12, 12:58 PM
Join Date: Mar 2012
Posts: 7
Excellent! Thank you very much for the help!!
Posting Rules
You may not post new threads
You may not post replies
You may not post attachments
You may not edit your posts
---
HTML code is Off
---