resister value to slow a fan
04-10-12, 07:31 PM
resister value to slow a fan
---
I have a small device with an internal small fan approx 1 inch in size. The device is a 5 watt FM transmitter and operates on 12 volts DC.
I use it to watch TV with a Sony radio headset at night after my roommate goes to bed so I don't wake her up. The small fan is very noisy to the point of being annoying.
It obviously spins pretty fast. The device has never even been warm to the touch. My guess is that this fan moves more air than needed to cool the unit. I would like to quiet the fan down by slowing it.
If I put a resister on one of the fan leads, I am told this would do the trick.
I have a few questions about this.
1. what value resister should I buy?
2. is there polarity on a resister to know about, or are both leads the same?
3. does it matter what lead on the fan I use?
Thanks,
Todd
Sponsored Links
04-11-12, 04:28 AM
Welcome to the forums.

1. You need to know the voltage and amp rating of the fan so you can calculate the ohms value and wattage rating of the resistor. That info should be printed somewhere on the fan. (Post back with that info.)

2. Resistors are not polarized.

3. Preferably the +V lead.
04-17-12, 04:38 AM
It's a multi-speed fan. Yellow is 12 volts, red is 5 volts, and black is ground (zero volts). If all three wires are connected the fan should run slow when the device is cool, then faster as the device heats up.

Can you put a meter between black and red, then black and yellow and see the DC voltage? There's a chance the red & yellow wires are swapped, which would send 12 volts to the 5-volt lead and make the fan scream.

In any case, you'll need a 120 ohm 1/2-watt resistor to cut the 12-VDC (and speed) in half. You'll have to put it in series with the black wire.
04-18-12, 07:09 AM
If I get the resistor, can you tell me what you mean by "in series"? I can definitely do it, just not sure exactly how. If I had to guess, does it mean leave the leads connected as they are, but put the resistor on the black lead to the red/yellow lead?
04-18-12, 07:27 AM
Series is one lead of battery to one leg of the resistor other resistor leg to a motor lead. Power to the fan travels through and is reduced. What you described is parallel but you need series.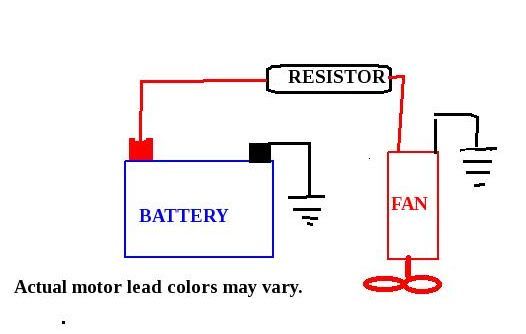 ---
Last edited by ray2047; 04-18-12 at

07:49 AM

.
04-18-12, 02:43 PM
Ok. Now I understand "in series". Believe me, I can do this, I just need direction. I do my own valve adjustments, etc. on my Kawasaki Concours.
But anyways, Rick says to put it in series with the black. Your diagram says to put it in series with the red.
And back to my previous question, shall I try disconnecting the red or the yellow and see if it runs slower?
And if that doesn't work, get the resistor? (I'll put it on the black unless you tell me different.)
04-20-12, 03:51 PM
Issue solved! First, I tried just the red, then just the yellow and I couldn't tell the difference. Maybe it was slower with the yellow, not sure, but still too loud. So I reconnected just the red. I stopped at an appliance repair outfit and bought the resistor you said to get Rick. After installing the resistor, the fan is now running at a nice non-annoying speed.
Thanks Rick and Ray!
04-21-12, 04:19 AM
Glad to help. Thanks for posting back and letting us know.
One caveat: Check the device periodically to make sure it's not overheating.
BTW, what are you doing with a 5-watt FM transmitter? That seems like quite a bit of power for a drive-in or a church. (Pirate radio?
)
04-21-12, 08:50 AM
I like to have the headset on while I am working on my motorcycle in the garage or even out working in the garden in the summer. That garage is separate from the house and is far enough away that a 1/2 watt unit that I had previously was fading out awfully bad. I have a switch to go from my TV audio or computer audio. (My TV has a setting that allows me to shut off the monitor so only audio is on.) I listen to a lot of Fox News and talk radio when I am home. And I podcast Hugh Hewitt. Kind of a political junkie. And NFL talk is always important! (draft this week!)
It has a telescoping antenna (to 19") that I have at about 10" at the moment. I know that I could transmit quite far if I had a bigger antenna located outside. Right now, it is set up the way I need it.
04-23-12, 04:26 AM
Rats. I thought I had a lead on a new pirate station.
I was going to say ... a 1/2-watt with a proper antenna can transmit hundreds of feet. In your case it might mean a roof-mount, which is probably too much hassle.
Posting Rules
You may not post new threads
You may not post replies
You may not post attachments
You may not edit your posts
---
HTML code is Off
---