switch/receptacle question
06-24-12, 12:48 PM
Join Date: Jun 2012
Posts: 6
switch/receptacle question
---
Hi. I have a double light switch in my bathroom. One switch controls the wall mounted light fixture over the vanity and the other switch controls a light fixture on the ceiling above the shower. Could I splice the two lights together to be controlled by one switch and then take out the 2nd switch and replace it with a receptacle? What do I need to do? It is an older house built in 1939. Each switch only has two wires. Thank you for your help.

Alisa
Sponsored Links
06-24-12, 01:30 PM
Alisa, welcome to the forums! It depends. If there is a neutral in the switch box, then there is a possibility you can do what you want. Can you remove the power to this switch set up, pull the switch and wires out of the box, take a picture of it all and post it here. That way we can see what you see.
http://www.doityourself.com/forum/el...your-post.html
06-24-12, 06:27 PM
Join Date: Jun 2012
Posts: 6
I'll do that right now. I tore part of wall out to repair this leaking vent pipe and right now I have access to all the wiring so it will be very easy hopefully...
I have to say in advance that my bathroom does not normally look this scary
It was a very old plaster/lathe wall so it looks bad.
06-24-12, 07:29 PM
Assuming you do have a neutral you could also replace each switch with a single duplex switch. That would give you two receptacles and two switches in the same box so you would still have independent control of each switched device.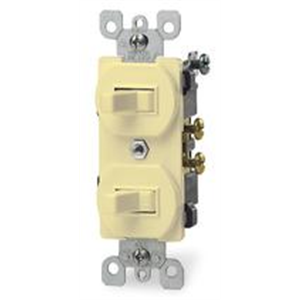 06-24-12, 07:43 PM
Join Date: Jun 2012
Posts: 6
switch pictures
---
I'm no electrician but I can't imagine this having EVER been up to code. I just feel like this looks dangerous especially considering it is in the wall beside a cast iron vent pipe that had been leaking for a long time--but I fixed the leak. (We just moved in)
The switch to the left (switch 1) has two wires which are coming down from the attic. One is red and the other is green. These two wires are enclosed in a hollow metal pipe that says T-83 electrical metallic tubing. The red wire is connected to the top screw on the right hand side of the switch and the green to the bottom right screw. The switch on the right side (switch 2) has two wires that are also coming down from the attic but they are not enclosed in any protective tubing. Both of these wires are black. One goes to the top right screw and the other to the bottom right screw. That's it. Also, I feel I should mention that this is exactly what it looked like after I removed the plaster wall and the lathe it was attached to. It appears the box is just sort of balancing on a flimsy piece of wood. It isn't even nailed in to the stud or anything. This seems dangerous. Is it? Or is this what I should expect from such an old house. On the bright side the old fuse box has been replaced with a circuit breaker box.
Thanks for your help. Let me know if you need better pictures or more information.
06-24-12, 07:45 PM
If you do not have a receptacle in your bathroom now, you should install a new 20 amp circuit. It is required by current code.

None of your current installation is legal. You need to install a new metal box on your existing conduit with a locknut. All the wires need to be in the conduit. Your other option is to abandon the wires/conduit and install new NM-b cable.
06-24-12, 07:52 PM
Join Date: Jun 2012
Posts: 6
I just saw your post about the the duplex switch. That is a really good idea!! I would like to still operate the two switches independently but also have a receptacle. Thank you
06-24-12, 07:58 PM
Join Date: Jun 2012
Posts: 6
I see this quickly getting beyond the scope of my book
What do you think it would cost (ballpark) to have a pro put in a new receptacle and duplex light switch and get it up to code?
06-24-12, 08:35 PM
Costs vary around the country to much along with site specific things that need to be dealt with. Call some licensed contractors in your area for an estimate.
06-24-12, 08:43 PM
I'm no electrician but I can't imagine this having EVER been up to code.
Good call. It isn't now, and never was, code compliant.
The individual conductors need to be inside a raceway. If the EMT continues in the attic to a junction box, then the wires you need can all be pulled from there. If the EMT stubs out in the attic and the wires that are in it now emerge there, then you need to replace all of that. Using Type NM-B (Romex), as TI suggested, may be quicker, easier and less expensive.
The box needs to be replaced with one that is securely mounted to a stud, or to the new (green?) drywall you're installing, as you suspected. That can be a new 2-gang box, and you can gain the space for your receptacle by installing the duplex switch that Ray suggested. Or it can be a 3-gang box, with the two SPST switches you have now plus a receptacle. I would use a metal box with the EMT feeding into it if the EMT is part of a continuous raceway. If not, you can install either a metal or a non-metallic box and supply it with Type NM-B.
If the EMT is connected to other metal raceways, and that connection is continuous to the panel, it can be used as a ground. If not, you can use the green wire to tie to ground in the attic. Whether or not the green wire can be re-purposed as a ground wire, a new black or red wire is needed to do whatever the green wire is doing now.
The wiring you need is:
One black (or red) conductor supplying ungrounded current (i.e., one "hot" wire);
One white wire connected to neutral;
Two black (or red) wires to carry switched power to the vanity light and the shower light;
One bare or green wire wire bonded to ground.
Tell us what is going on where the EMT comes out in the attic, and which box, switch and receptacle arrangement you want to wind up with, and we can help you design and install that so it will be both safe and convenient.
One question: Does this bathroom have a window, or are you planning to add a new exhaust fan?
06-26-12, 03:44 AM
Join Date: Jun 2012
Posts: 6
The bathroom has a window but no exhaust fan. I'm thinking about installing a fan/light combo where the light above the shower is. I'll post some pictures of what the EMT does up in the attic later on today.

Thank you all for your help. I really appreciate everyone who has taken the time out of their day to answer my questions.
06-27-12, 09:33 AM
If the fan or fan.light is over the footprint of the tub or shower it will require GFI protection per the installation instructions.
Posting Rules
You may not post new threads
You may not post replies
You may not post attachments
You may not edit your posts
---
HTML code is Off
---