Pool Timer not working
09-04-12, 07:46 PM
Join Date: Sep 2012
Posts: 1
Received 0 Votes on 0 Posts
Pool Timer not working
---
I installed this pool timer to replace the previous one that broke and can't get the dial to work. I can manually turn it on and off, but the timer is not turning at all. Any help would be greatly appreciated!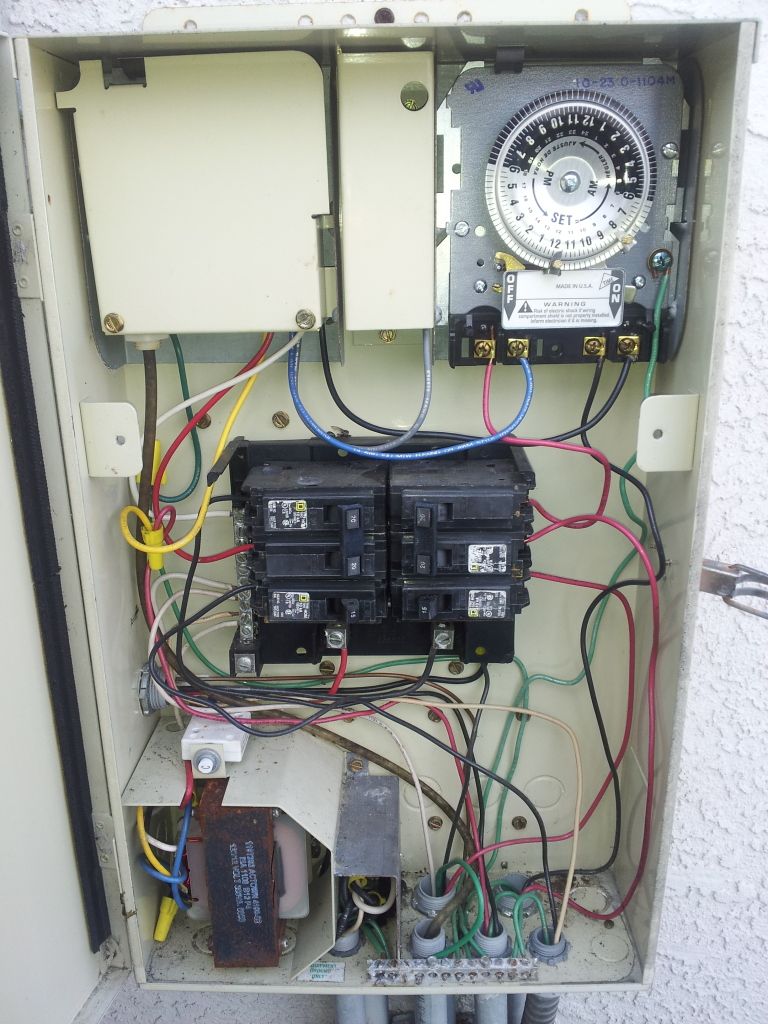 Sponsored Links
09-04-12, 08:25 PM
Welcome to the forums!

Your picture is great for context, but it doesn't provide the information we need to help you. A new picture showing the connections on the timer, with their designations, and also shows where each wire connected to it is going, would be helpful.

What's behind that cover at the upper left?
09-04-12, 08:26 PM
I don't see a neutral connected to the timer. Is the new timers clock 240 volts? If a 240 volt clock are you sure you have both hots connected to the Line side What voltage do you get when measuring between the two Line terminals?
09-05-12, 03:06 PM
Join Date: Jul 2006
Location: Near Philly
Posts: 559
Received 0 Votes on 0 Posts
Hard to tell from picture but it looks like all those breakers are being fed with 12 gauge wire?
Posting Rules
You may not post new threads
You may not post replies
You may not post attachments
You may not edit your posts
---
HTML code is Off
---