wireing a spa tub
10-13-12, 02:22 PM
Join Date: Jan 2007
Location: USA
Posts: 81
wireing a spa tub
---
I need to repair a job that was done as an after maket spa tub. The electrical was all wrong, and I need to add a dedicated circuit. Of course their are no instructions to look at, so my question is I had heard that the GFI needs to be 5-10 feet away from the tub. That would put it in the closet. I cannot get at the other walls because of the shower, mirrors etc. Is their a problem in putting a GFI in the closet that will act a saftey sw to the spa? One more thing the cord on the motor in not very long and and I need to add a rec by the motor that I can plug into. Is this out of code because it will be behind a wall, but it will have an access door to the motor and other equipment? I would run the line to the GFI and then down to the rec.
Sponsored Links
10-13-12, 05:12 PM
Do you have access to the motor controls and water supply/drain? The GFCI would be located in that area. Not sure where the 5-10' range came from. Your motor would plug directly into the GFCI receptacle.
10-13-12, 06:07 PM
Join Date: Jan 2007
Location: USA
Posts: 81
wiring a spa tub
---
I have access to the motor, but I have concerns about puttng the GFI behind a panel that is not easy to get at. I would put a GFI protected rec. in the motor area and run the GFI at about 45" up the closet wall. I got that 5-10 feet from the internet on one of the how to install a spa. The info I read said it had to be more then five feet and less then ten feet. I had never heard of this requirement before and I need to get your thoughts on this so I do not have to rewire it in the future? I would think it would serve a better purpose if it was near the spa and could be tripped or reset. I have a non-receptacle GFI that I am putting in, so it would act as a switch, and no one could plug something in and get fryed.
10-13-12, 06:14 PM
More than 5' and less than 10' sounds like they were talking about a convenience outlet - not power for the spa itself. Normally the GFI recp. is installed underneath in the service area. It really can be anywhere that the cord will reach. It's not recommended to extend the cord. Also, it would be a good idea to bond the motor of your spa to a cold water pipe. There may be a lug already on the motor for that purpose.
10-13-12, 06:25 PM
Join Date: Jan 2007
Location: USA
Posts: 81
wiring a spa tub
---
I would not be extending the motor plug I would run a 12-2 from the GFI to a GFI protected rec and plug the motor into the rec. I'm looking at the people who may need to reset this spa, and gain acess to the motor area. This is a retirement area and most people are getting up there in age. The big question is as far as you guys know there is no electrical code that states I cannot put a blank GFI next to the tub. I do not need to be five feet away?
10-13-12, 06:32 PM
Now I'm lost.....what is a blank GFI ?

My thoughts are this......if the GFI trips for that spa....there is a problem. I wouldn't want it out in the open where it could be pushed over and over.
10-13-12, 06:42 PM
Join Date: Jan 2007
Location: USA
Posts: 81
wiring spa tub
---
OK a blank GFI is a GFI that has no rec. It could act as a switch if you wanted it to, but the question is ( is there anything in the codes that say I have to be so far away from the tub to install a GFI) Also I'm not concern that someone would be reseting this GFI. If it is wired right and not over loaded it shoud last a long time, and these people will get help if needed.
10-13-12, 06:49 PM
I don't have my code book with me......maybe ray will stop by and fill us in.
10-13-12, 07:18 PM
Blank or dead face GFCIs are often used with spas. I doubt they are rated for use as a switch.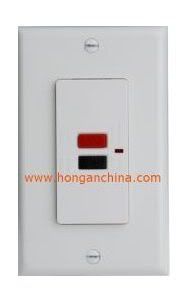 Depending on how the cable is run I would put it on the wall before it gets to the spa so it is easy to test each month and reset if it does trip.
10-13-12, 07:25 PM
Thanks for the pic and the info ray but how far from the spa does it have to be. I'm guessing far enough so that you cannot reach it while standing in the tub.
10-13-12, 08:42 PM
Join Date: Jan 2007
Location: USA
Posts: 81
wiring spa tub
---
Guy's I am not talking about using this as an on and off switch. I only want to know what is the distance I need to put the GFI from the tub. I do not want someone standing in a tub resetting a GFI, just like I don't want them pluging in a radio. This should not be this hard. If it comes down to safety I will install it by the motor. I just thought it would be easy to reset if it was on a wall.
10-13-12, 09:56 PM
Someone is confusing the distance for a convenience receptacle or disconnect from a hot tub with a receptacle for a Jacuzzi like bath tub. The receptacle can be under the tub skirt. The latest NEC requires the GFI protection to be accessible and not mounted under the skirt. A deadfront GFI can be used on the wall right next to the tub.
10-14-12, 07:27 AM
Join Date: Jan 2007
Location: USA
Posts: 81
wiring spa tub
---
Thanks PCBoss That was what I was hopping for. Put the blank GFI near the tub, and a GFI protected rec by the motor. Would you happen to have the code number and what book you are using just in case someone challenges why I did this? Thanks again all of you for your help.
10-14-12, 08:29 AM
From the National Electrical Code 2011 edition.
680.71 Protection. Hydromassage bathtubs and their associated
electrical components shall be on an individual branch
circuit(s) and protected by a readily accessible ground-fault
circuit interrupter. All 125-volt, single-phase receptacles not
exceeding 30 amperes and located within 1.83 m (6 ft) measured
horizontally of the inside walls of a hydromassage tub
shall be protected by a ground-fault circuit interrupter.
Accessible, Readily
(Readily Accessible). Capable of being
reached quickly for operation, renewal, or inspections
without requiring those to whom ready access is requisite
to climb over or remove obstacles or to resort to portable
ladders, and so forth.
Also reference this graphic from Mike Holt
MikeHolt.com
Posting Rules
You may not post new threads
You may not post replies
You may not post attachments
You may not edit your posts
---
HTML code is Off
---