Need help updating (and removing) old 1950's Range
01-23-13, 01:54 PM
Need help updating (and removing) old 1950's Range
---
I currently have an old, mostly unworking 1950's pink drop in range. It has more parts broken than worth fixing for my needs. Plus it's pink and it's just time to go, charm has worn off. Heats uneven, uses tons of energy, the list is huge. Plus, it's 27 inches wide and the size is long outdated. I'm not into retro, so it can go.

So, since the oven just recently died, at the time of year I'm quite broke (we don't have kids, and I pay other peoples tax returns instead of getting one)... I decided a "new to me" used stove was a good idea. I picked up a very good condition 6 yr old range from someone off Craigslist.

I have to widen the opening where the stove will sit. For now, that basically involves removing a set of cabinet drawers until I can afford to rework the area better. I need something working asap.

Then I'm going to have to figure out how to remove the old thing. It has wall mounted burner controls and I'm told the entire will be wired directly into the power supply instead of having a plug.

Next, most important, I need help installing a new outlet that will work with my new stove.

Most of this I can handle. I've done some electrical work and I understand the basics. But the biggest 'on my own' projects I've done are rewiring switches and replacing fixtures.

I however don't have a clue how to approach a big ol' range outlet. Or how to do it if there isn't a box already there?

I don't think it will be hard to remove one of my old cupboards and a little bit of counter. Nor do I think it will be hard to remove the "body" of my stove. I'm concerned about removing the control panel mounted in wall.

While I'm not keeping it, I may try to list the pink oven on craigslist and I want to reduce the damage I do to it to keep any of it retail value.

Any tips if you have removed an old built in oven? Any tips or links to what I should expect when rewiring and installing the new power recepticle?
01-23-13, 03:15 PM
To be honest, that range is well before my time. But, there's likely a junction box either on the wall behind it or in a neighboring cabinet. The wire from your breaker box goes there, and there should be a whip from the range that connects with wire nuts. To disconnect, just turn off the breaker, make doubly sure the power is off (one use of the non-contact voltage sensors), open the box and disconnect the wires.

It's possible the wire from the breaker panel goes directly into the range, the removal process will be the same.

After you have it disconnected, you'll want to confirm the size of the wires and what wires/colors you have. Also confirm that it's in decent condition. Newer ranges typically require 120/240v @ 40A. If you have the correct wires, it should be an easy job to add a range receptacle.

If you're running into issues removing your old range, post a few pics and I'm sure someone here can help.
01-23-13, 03:19 PM
I doubt the existing wiring will be up to modern code. It is probably three wire. Modern code you need four wire. What size breaker is the stove on? Was it wired with MN, SE, BX, or conduit?
01-23-13, 03:22 PM
Welcome to the forums!

Look for the 2-pole 240V breaker marked "Stove" or "Range" and turn it off. You should be able to slide it forward far enough to see and work behind it. There will be a cord going to something. It may be a large receptacle, or you may see a covered J-box that the cord goes into.

Use a non-contact voltage tester to make sure there's no power in the cord. Either unplug it or open the box, test for power again, undo the splices in the J-box and cap the supply wires with whatever was over the splices.

Post back and tell us what you found and what you did.

If you don't already have them, you will need the installation instructions for the new-to-you range to see whether you already have what it needs, or to get the right receptacle wired and installed in the right place for it.

We can answer questions that come up as you go.
01-28-13, 09:45 AM
Boy do I have a headache! No panels in cupboards, ect. Today is my demo day. I killed all power to the stove and the switches/outlets in the built in "nook".

I've got someone coming to install a new outlet for me at this point, but I told him everything would be torn out when he got here... and I'm failing so far.

I initally couldn't find anything other than the wiring that runs from oven to the wall mounted control panel. Is it possible the entire range is wired from the wall mounted controls? Or is this a silly idea and I need to pull more out to reveal answers?

I pulled out all the drawers in the cabinet next the range and found a very small opening behind the largest drawer that I can barely reach. Two big connections down there that I managed to pull from the hole gently with a plyers to give me arm length. I assume it is some how related to the range, but I can't seem to find how it might connect to the range itself.

The only things I see exiting the rear of the range (I have disconnected the mounts and slid it forward enough to view the back with a flash light), is the metalic tubing that houses the controls from the wall into the back of the unit.

However I am unable to see the exact spot it goes in the range, so there could be other connections there.

I am a short person (thus why i can't reach into the deep cabinets to reach wall very well) and I don't think I can get the entire thing out on my own at this point. Waiting for husband, he has the height and strength, while I have the handy know how.

I am unsure of the age of this unit, only that my basic research has revealed is likely 1950's and I do not know the model or anything as all that is either in back where I can not access it or has been removed in the many years it has been installed and owned by others.

I will try to take some photos.

Also, do I need to remove every "connection" on the wall mounted panel to free the unit completely or do you think there is a place to disconnect easily at the back of the range itself?
01-28-13, 10:12 AM
I have determined, thanks to a closer look at the old paper hanging in control panel, that my stove is GE model J620S and probably from 1959.
At this point, I'm looking for confirmation if the wiring behind the control panel I removed, is all that is connecting it to the power supply.
I believe the lower hole is where the new wiring for the stove was threaded up from the basement back in the 50's and not connected to the stove, but where they installed updates at the time to "upgrade" to this unit.
Seems I have a 3 wire coming up, is it possible to use this for a modern connection or am I in for a lot of cost getting it wired?
Some photos if they may assist
This photo directly below shows the box behind the control panel. The other photo shows the wiring behind the drawers at floor level that I believe is not attached to the range.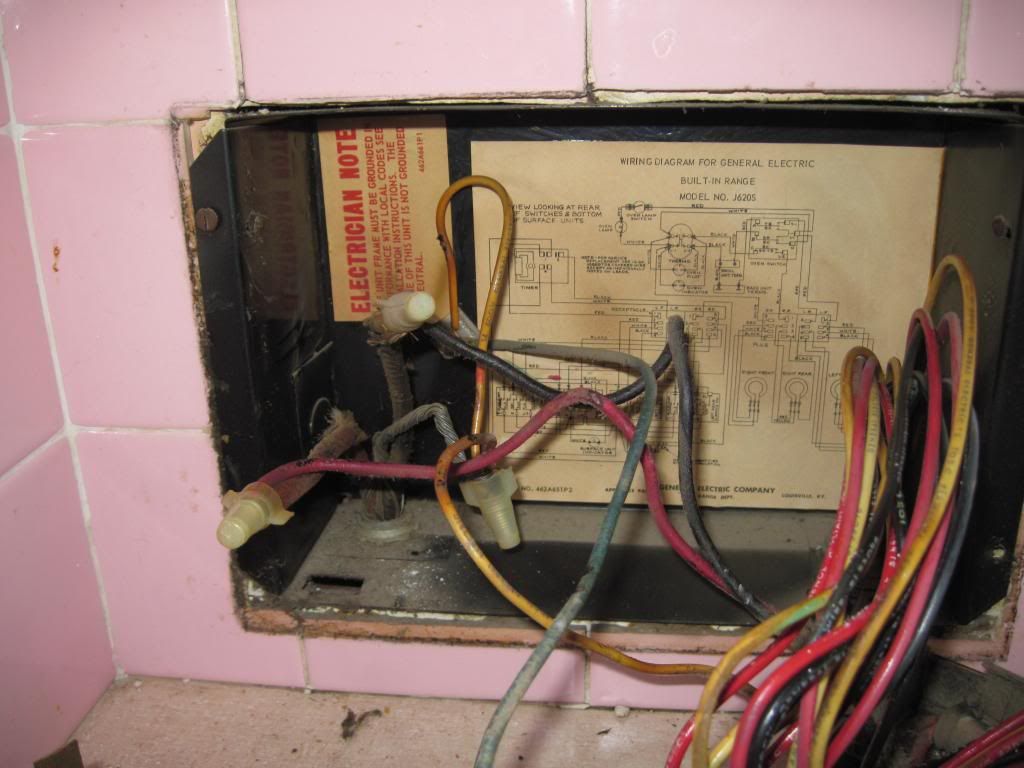 01-28-13, 10:19 AM
I see only two connections in the bottom photo. If you only have four wires it is 240 volts only. If your new appliance is 120/240 you will need new wiring. Second I don't see a ground in the bottom photo. If it isn't conduit you couldn't use it even if the appliance is 240 volt only. Finally the wires don't look big enough.
01-28-13, 12:18 PM
I most definately have 3 wires in the recessed control box up top. I have to assume there are more wires inside the lower hole, but I can't get in there very well, so since I don't think there is a way for 3 wires to sprout from 2, I just have to assume there are 3 lower as well. But I will have my guy double check before he starts.
The only place the range was hooked into my power was at the control panel. So, that was easy.
I have now, managed to free the pink ugly beast from my wall. I can't figure out how to get the control panel off without cutting wires though, both ends are too big to thread though the metal tubing holding them. I just settled for unhookig it from the range and I unhooked the control panel from the 3 wall wires and I wrapped or capped all the wall wires so there was no fire risk. I left the 2 breaker switches for the range turned off too, but I powered up the rest of my kitchen again once I was sure it was all properly marked.
And now... to beat down my old drawers and cupboards.
Poor beautiful wood, I wish I could save you.
01-28-13, 05:35 PM
Hi dornĖ

I have extremely limited knowledge but my house was built in 1967 and I replaced my old electric range (probably early 60ís type) several years ago. I had a 3-wire direct connection to the range, 2 hots and a neutral (if I remember correctly). My understanding was (and is) that new modern electrical code requires 4 wires, red (hot) black (hot) and a neutral(white) and a ground wire.

But my understanding was that the 3-wire direct (i.e., direct meaning no receptacle for the range to plug into, instead the cable from breaker box connects directly to the range) connection to the range could be grandfathered in. But since my cable was really in bad shape, I opted to run a new 6 gauge 4-wire cable from the breaker box to the wall behind the electric range and there I put in a receptacle to accept a 4 prong plug, the type that came with my range. (I think I also put in a 50 amp breaker in the breaker box to match the 6 gauge wire.)

Anyway, your picture shows 3 Ėwires coming into that box recessed in your wall. Looks like to me that the 3 wires connect to the range wires via the 3 wire nuts in the picture.

Now since I am a novice, and you are a novice, our discussion could be comical. But maybe the experts here would explain why you couldnít just connect you new range directly to those 3 wires in your recessed box without running new cables through your house?

I know clamps and protective conduit etc. are required but thatís not a big deal.

When you say getting the control panel off do you mean removing that recessed box from the wall? Wouldnít that be hidden from view with your new range? In other words I donít understand why removing that recessed box is necessary?

(Donít mind me there was a good sale at the PA Liquor Store tonight! LOL)
01-28-13, 06:37 PM
I had to pull the control panel off because it controled the stove top functions (oven is on front of range) and was placed well above the counter top line, and to the left of my range by about 6 inches. The range is centered (or will be) in the middle of two work areas/cabinets, and I'd like to keep it under my outside venting hood.

I am hoping to install the new 220v a little further away from the current location, behind the new range so it's hidden, but I don't know if it's legal to move/install at 3 prong like that. I believe, that I am indeed grandfathered in with the 3 prong, since I am not moving the range and the range I have purchased has a 3 prong. However, if I move the wire opening, I may no longer be grandfathered in.

If anyone knows the answer to this new quiestion (legal to install a 3 prong if you move it about 8 inches to keep it out of sight?), I'd appreciate a speedy answer.

Guy who is helping me out is a handyman type who has done remodel work for my mom and installed my dishwaher in the past. He says it's fine to install the 3 prong since the appliance already existed there, but I haven't asked him about moving it over and down a bit and I won't if it's a no-no.
01-28-13, 06:54 PM
I am hoping to install the new 220v a little further away from the current location,
You won't be able to install a 220 volt supply because your home is supplied with 240 volts.
And most stoves are 120/240 not 240. If you move it you must bring it up to current code. That means four wires.
You still haven't told us wire size, number of wires, or breaker size. We need that before we can help you more. My opinion I wouldn't try to use wiring that is obviously as old as that wire is. The insulation becomes brittle with age and must be handled very gently. Then there is the fact 3-wire is less safe.
01-29-13, 09:49 AM
My opinion I wouldn't try to use wiring that is obviously as old as that wire is. The insulation becomes brittle with age and must be handled very gently.

.


You know what. I was trying to remember why I ran new wiring other than the old looked so bad. What you said above triggered my memory. I remember now, I found that it was almost impossible to handle the old wire at all without damaging it because it was so stiff and brittle.

I guess that is certainly something dorn must consider.
01-29-13, 12:16 PM
If anyone knows the answer to this new quiestion (legal to install a 3 prong if you move it about 8 inches to keep it out of sight?), I'd appreciate a speedy answer.
dorn I am not a pro like the guys here. But my understanding is that you
would not
be allowed by code to extend the 3-wire circuit. You would be doing that by moving things over 8 inches. I have a pretty old NEC book (the bible) and if I can find the relevant section Iíll post it.
What I was just wondering before (and the guys here would know) would it be possible to put a junction box in the lower left of that recessed box in the wall, connect those 3-wires in the new junction box to a new cable leaving the new junction box and going to the new range. Some boxes have ears on them for fastening and sides that can be removed, etc. so I thought you might be able to set up an acceptable junction box right within the recessed box.
In other words I was just wondering if it would be possible to disturb the current wiring only to the extent that you undo those old wire nuts and connect them to a new cable in a junction box.
I thought maybe that would then qualify as not extending the circuit. Probably just a nutty idea. And besides I thought the whole thing would be hidden from view. Not so, so I guess it's a moot point anyway.
But Ray outlined the information that these guys need to be helpful.