Ground wires, exterior light fixture- proper way to connect ground wires
09-14-13, 01:08 PM
Join Date: Sep 2013
Location: us
Posts: 2
Received 0 Votes on 0 Posts
Ground wires, exterior light fixture- proper way to connect ground wires
---
I want to connect an exterior light fixture to a round metal box. The exterior light fixture has a bare ground wire. The light fixture also has a mounting plate bracket which has a green ground screw.

The feed wire from the switch also has a ground wire which is attached to the round metal box by a metal screw.

What is the proper way to attach the light fixture ground wire and the feed ground wire?

Best Ways? -----To light mounting bracket ground screw? To Electrical box ground screw? Pigtail them?

What is proper way?

Thanks for help, most appreciated
Sponsored Links
09-14-13, 01:35 PM
Join Date: Sep 2013
Location: us
Posts: 2
Received 0 Votes on 0 Posts
Hi,
Thanks for your reply. I'm not quite sure what you mean. Do you wrap the the feed ground the ground screw in the box? "Hit the bracket screw".. I'm confused on that. Wire nut the fixture wire? Are you taking the feed ground, wrapping it around the box ground screw, then wrapping the ground feed around the bracket ground screw, then attaching the feed ground wire to the fixture ground wire with a wire nut? Appreciate your input. Danoland
09-14-13, 01:43 PM
Simplest is to conect the house ground and light ground to two pigtails. One pigtail to the bracket and one pigtail to the box. If one wire is long enough you can use a green grouding nut that has a hole in the end for one ground wire to pass through. Then you only need one pigtail. The wire passing through is the second.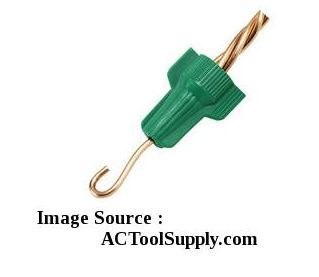 09-14-13, 01:56 PM
Join Date: Feb 2002
Location: port chester n y
Posts: 2,117
Received 0 Votes on 0 Posts
The bare conductor in the "feed-in" cable is a Equiptment Grounding Conductor (EGC ) which is Bonded to a metallic box with a Bonding/Grounding 10/32" machine screw.

Loop the EGC around the machine screw leaving say a 3" "tail end" , and simply WN the fixture EGC to the "tail end" of the cable EGC.
Posting Rules
You may not post new threads
You may not post replies
You may not post attachments
You may not edit your posts
---
HTML code is Off
---