Extending Split-switched outlet
11-30-13, 07:04 PM
Join Date: Nov 2013
Posts: 2
Extending Split-switched outlet
---
I want to add three new duplet outlets in series to my existing kitchen outlet (20 amp circuit) which is a split switched outlet (food disposal, switched, and dish washer, non switched). I want the three new outlets to all be non switched outlets. Any diagram as to how to do this. The split switched outlet is a 12/3 feed from the switch.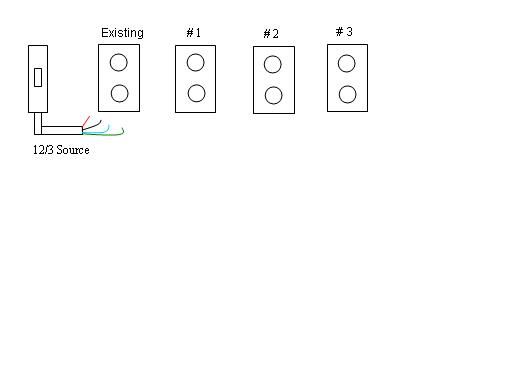 Sponsored Links
11-30-13, 08:28 PM
Receptacles should not be on the dishwasher/garbage disposal circuit. Best practice is to run a new dedicated circuit or redo the DW/GD so it uses one side of the 12-3 and the receptacles use the other side of the 12-3.
12-01-13, 07:01 AM
Join Date: Nov 2013
Posts: 2
Thanks Ray, I'll reconfigure the circuit.
Posting Rules
You may not post new threads
You may not post replies
You may not post attachments
You may not edit your posts
---
HTML code is Off
---