DIY Video Lighting Wiring Help
01-16-14, 11:50 AM
DIY Video Lighting Wiring Help
---
Hey Guys,
I am hoping Someone here can help me with a little project I am trying to do. I want to make a video light with 8 26w CFL light bulbs. I have drawn up what I believe to be the correct diagram but I'm not sure on a couple things.
1.) I've been looking at switches and I don't know what type of switch I need. I want simple on off switches. Maybe AC 5A 120V? Complete Guess here.
2.) Should I add a fuse somwhere? If so what spec'd fuse and where would I put it?
I would greatly appreciate anyone's help. Cause I'm going to do this and I'd rather not fry myself lol.
Thanks guys!
Jeremy
Sponsored Links
01-16-14, 01:03 PM
Hey Ray, thanks for getting back to me.
Is that what I need a 15 amp SPST switch? I'm not sure.
If you're asking why not use 1 switch the reason is I want to be able to turn each group of lights on and off depending on how much light i need.

I would like to use rocker switches for the 4 control switches and one Toggle switch for the main power. I just dont know which type of switch as far as amps/volts specs go. and also the fuse question.
01-16-14, 01:09 PM
You could use two duplex (SPST15a) switches for the individual lights and a simplex (SPST 15a) as master for all lights all lights mounted in a three gang box.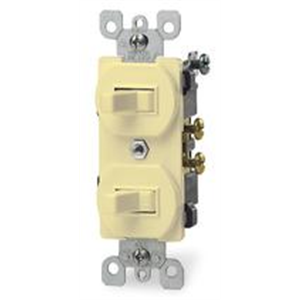 ---
Last edited by ray2047; 01-16-14 at

01:24 PM

.
01-17-14, 05:03 AM
Video prefers a consistent color temperature, so keep that in mind when you buy your lamps. If you're going to use them indoors with tungsten lights, 3,000°K is the correct temp. Fluorescents can be quite a bit higher, approaching daylight, which gives everything a blue tint.
01-17-14, 05:23 AM
And when filming make sure to turn the lights on at least several minutes before use so they can come up to full brightness and their color will stabilize. If you set your white balance and exposure right after turning the lights on it may change over the next minute or two as the bulbs warm.
01-19-14, 04:19 AM
Great! Thanks for the heads up guys!
I was looking at the ecosmart 23w (100w Equivalent)s. They are 5000k,
I was going to go with a phillips bulb but I just can't beat the price these are going for right now. $1.50 a piece!
I appreciate all the help! You guys Rock!
Posting Rules
You may not post new threads
You may not post replies
You may not post attachments
You may not edit your posts
---
HTML code is Off
---