80 volts at shed 50 feet from source with #10 wire
03-08-14, 02:14 PM
80 volts at shed 50 feet from source with #10 wire
---
I have an outbuilding that came with the rental property I live on, its power has not been working sense I moved in, and I would like to figure out why, and to be able to utilize the building. My landlord says I can fix it or have it fixed, but they wont be taking care of it.
At the source, there are two 30 amp breakers linked together, seperate from the house's power. At the breakers the voltage reads at 240, but when I take a reading where the wires enter the work shed, before the breaker box in there, I get a reading of 108 volts. The wire is #10 and the shed is about 50 feet from the source.
when the power is hooked up through the breaker box, which has four 15 amp breakers in it, I get some power, but only enough to light up a string of LED lights, or the light on a outlet tester (but not both at the same time).
the red circles in the photos below show where I touched the multimeter probes to test the voltage.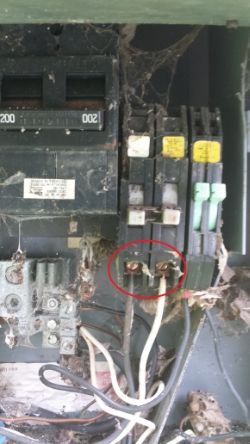 03-08-14, 03:47 PM
Join Date: Oct 2012
Location: Northern NJ - USA
Posts: 60,896
Welcome to the forums.
Sounds like an underground break. Since you have the wires open at the LB in the picture. Check the voltage from ground to A and ground to B.
Technically you should also have a white/neutral wire for that sub panel. Right now you're using the ground wire as the neutral and ground.
03-08-14, 07:18 PM
Technically you should also have a white/neutral wire for that sub panel. Right now you're using the ground wire as the neutral and ground.
That's the biggest visible problem I can see with the existing wiring. It's good for ONE 30 amp 120 volt circuit....OR....ONE 30 amp 240 volt circuit, but not 120/240 volts like I am assuming it is being used. I also noticed the bare ground wires at the LB which tells me you either have NM or UF cable probably direct buried connecting to the shed. And then, there is the 200 amp Zinsco panel at the house that needs to be replaced. The property needs a lot of work.
03-09-14, 03:51 AM
Yes I agree it needs a lot of work, theres not even any gutters... but the landlord replaced the entire huge front deck before I moved in. strange.

Really The landlord only bought the house to be able to cut the trees down to make room for his vacation home's view.

A-G is 0 and B-G is 75

thank you for your replies.
03-09-14, 08:10 AM
It is a Digital multimeter
They can give false reading due to either bad battery or their high impedance. Replace the batteries and check the meter on a known good receptacle.
Not the cause of your problem but that CB EL probably is not code compliant for use as a junction (splice) box.
I'd suggest trying to salvage it as a single 20 amp 120 volt feed to the garage but if those are 30 amp breakers in the box getting a 20 amp Zinco is another possible difficulty. But first lets see if the cable is usable. Disconnect the white and black feed wires at the shed subpanel and connect together with a wire nut. Check for continuity at the CB El and then check to a known good ground. It should be open to ground.
03-09-14, 01:22 PM
Why is everybody on this site so worried about ul listing there are other listing agency's around just because ul is most reconigized doesn't mean other listing agency's aren't as worthy . the zinsco breakers sold at Home Depot are etl listed.
03-09-14, 05:56 PM
Join Date: Dec 2005
Location: USA
Posts: 39,965
One reason is your insurance company. Often they require certain listings, especially UL, for panels, heaters, etc. if you want to spend $500 to upgrade the breakers in a panel whose dependability has been in question for years, so be it. A panel with all the breakers necessary to have a safe and reliable set up could be had for a fraction of that.
04-04-14, 08:22 AM
So my landlord came over and confirmed the broken wire suspicion. He said if I dig the trench (18 inches) he will have new wire put in.
18 inches is fine if you are installing conduit, but if you use the easier to install UF-B cable, you need the trench to be 24 inches deep.