Mystery junction box?
05-03-14, 05:15 PM
Mystery junction box?
---
I have a circuit I believe is overloaded - too many devices hanging off that one 20A circuit. So I decided to do some detective work, and ran into some mysteries.
First of all, my panel box is inside a car port. Here is a picture. On one side is the meter mounted on the exterior wall, on the other side is the panel.
The meter.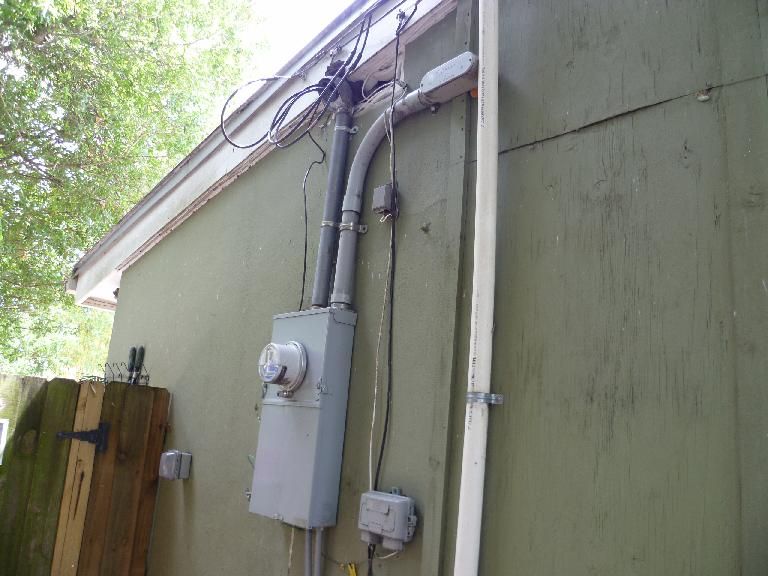 The panel.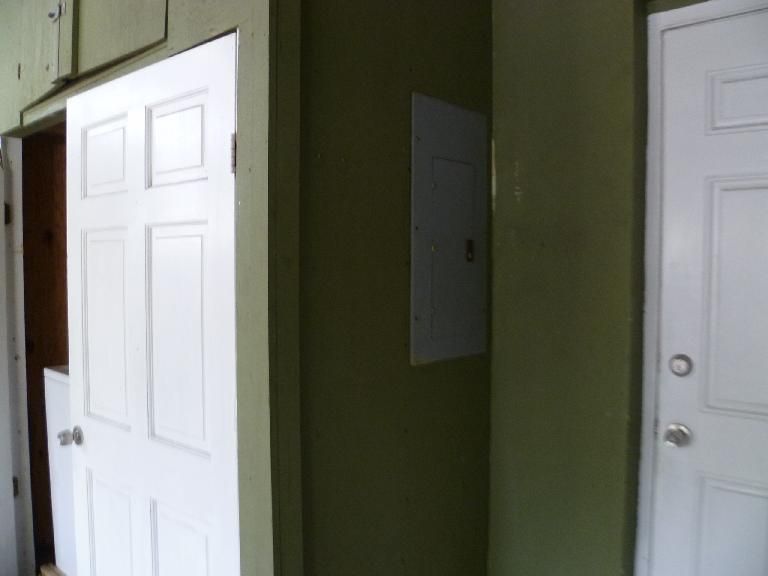 There is a reason I am describing their locations.
So I opened the panel box trying to trace where that circuit goes. It goes into an EMT conduit - along with a few other circuits. Actually there are only five conduits leading OUT of the panel box, and they ran up into the storage area above the washer/dryer...then they ran back down into the washer/dryer closet.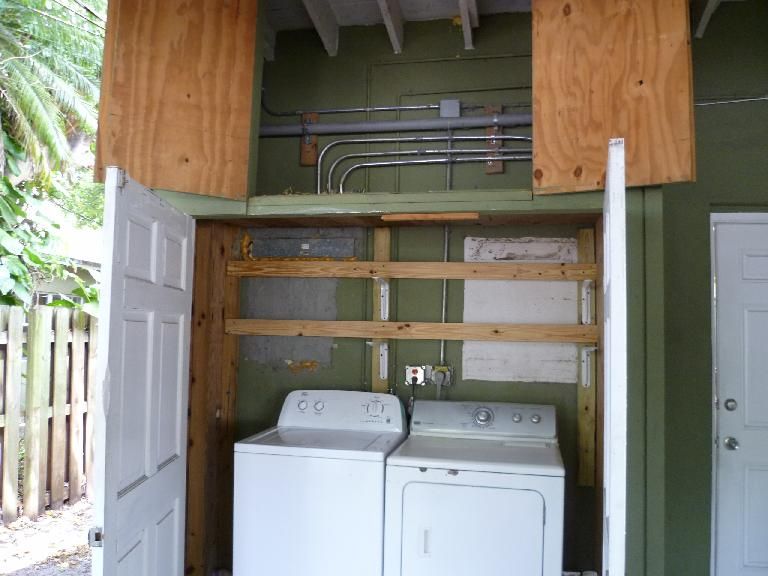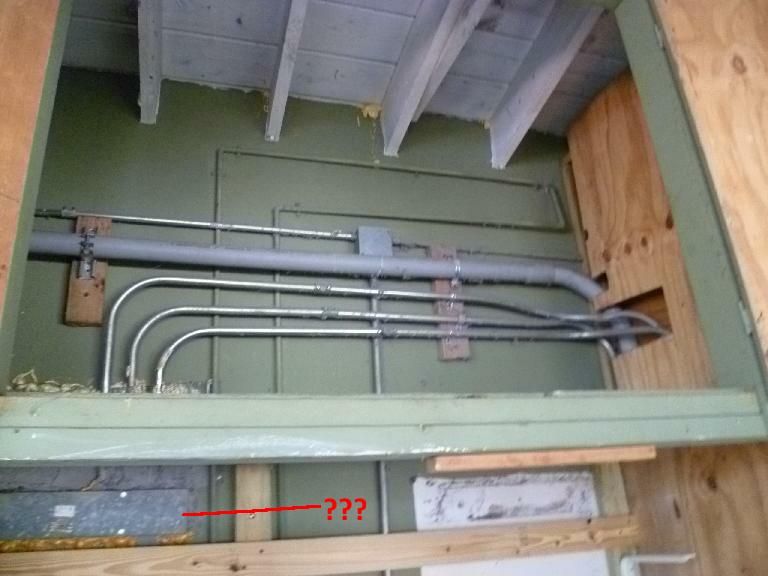 The large diameter pipe is from the meter to the panel. Then almost all the EMT conduits (except two conduits - one to the washer/dryer, one to the car port overhead light) run back up and over to this space in the washer/dryer.
It looks like a junction box. It's very wide. You can tell it is about the same width as my washing machine!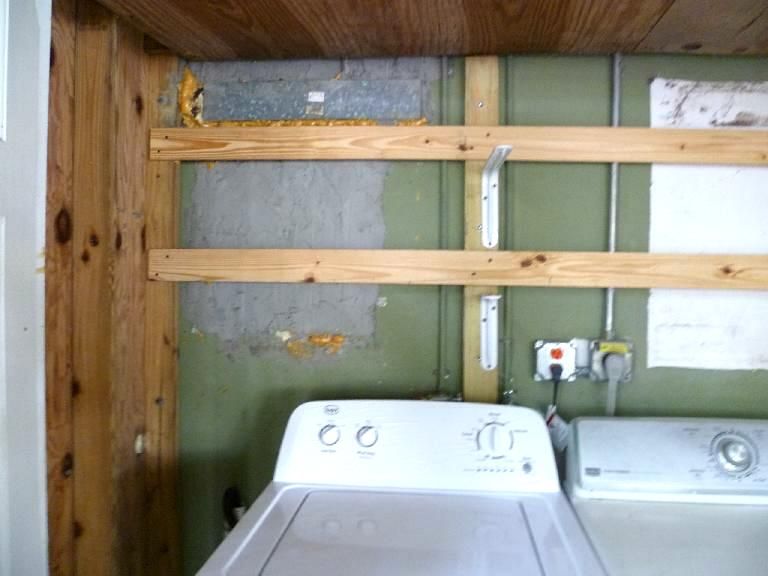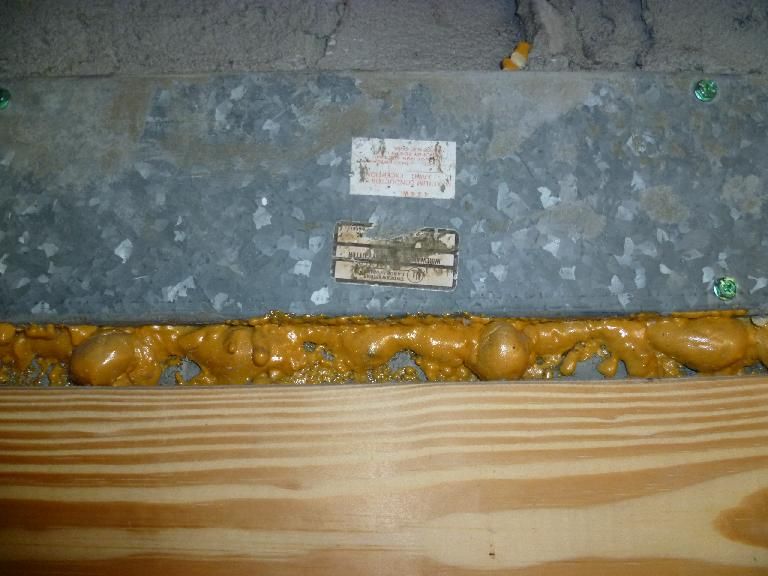 I removed the covered screws but the cover won't come off. This is not a standard flat cover, it seems to "wrap" the top and bottom of the box and the top/bottom is cemented in.
Now that I am looking at this, I am guessing this may be where the original panel box was?
My guess is it was recessed mounted on the exterior wall very close to the meter. Then they addred the closet for the washer and dryer and the overhead storage, and moved the panel to the other side of this closet. However all the conduits ran out from there, so they put in this wide junction box here, and ran the wires to the new panel?
This wide box is the real distribution center to the whole house?
If so, it seems I might have a better chance to see if I can split out the overloaded circuit by opening this box? Am I on the right track?
If so, why would they cement in the cover? There is no chance of running any conductor to anywhere through these conduits if there is this intermediate junction box that's not accessible! HELP!
Sponsored Links
05-03-14, 05:35 PM
That box appears to be a gutter, which would make sense as gutters many times have kind of a hinged cover. No, it should not have been sealed. Yes, I think you are on the right track. Cut the foam and gain access. You may even need to bust a little wall.
05-04-14, 08:05 AM
Gutters come in two ways:
A flat cover with key holes so you only have to loosen the screws and move the cover a little similar to a blank cover on a steel 4x4" box.
or, what it sounds like you have:
A cover that wraps around the top and bottom. On one side is a kind of spring latch. On the other is a basic hinge that is a loop and stamped metal that fits sloppy, but still prevents the cover from falling off. Google "electrical gutter with hinged cover" and you should see what I mean.
Have you removed the screws and tried to pry the cover off from one end?
05-04-14, 09:21 AM
I tried but didn't push it.

I had the main breakers off but not sure what's inside so I am a little concerned about jamming a pry bar or a flat head screw driver into the seams.

I might try and chip away at the cement more and see. I am not sure why there are both cement and foam.
05-04-14, 11:29 AM
I think you are right and they just refed the branch circuits there. So sticking the end of a screwdriver, or small pry bar, into the end should not be too dangerous. Just don't go crazy.
Remove the screws and start from the end and work your way across. I didn't mentioned this before but I am almost 100% sure you are right about this being a J box as there is a UL sticker on the cover. Removing the cement and foam would also be a good idea. I suspect they did that to keep out critters.
05-08-14, 07:15 PM
After some chipping, prying and cursing, I was finally able to open this box.
It is not hinged, the four screws hold the cover in place, the cover has a 1/2" lip on top and bottom.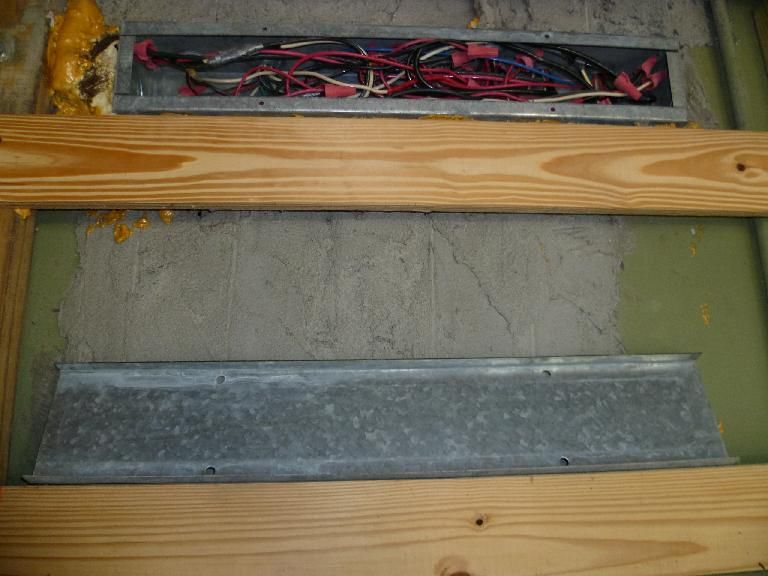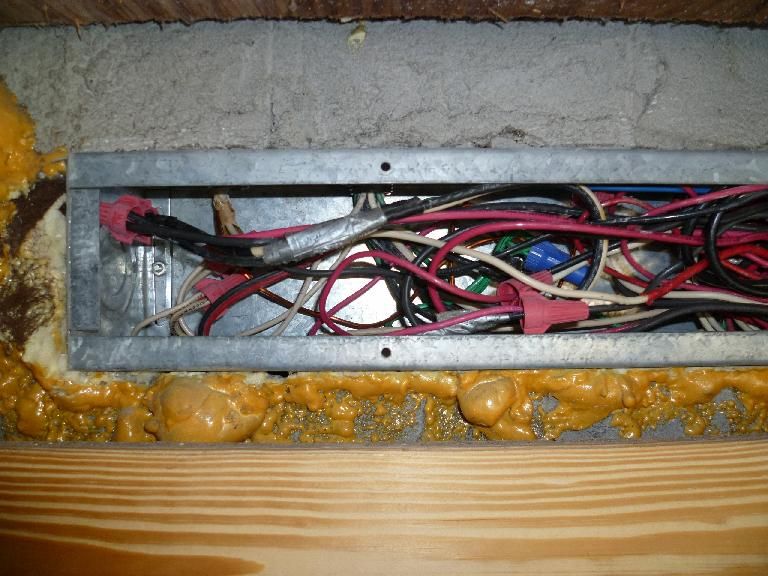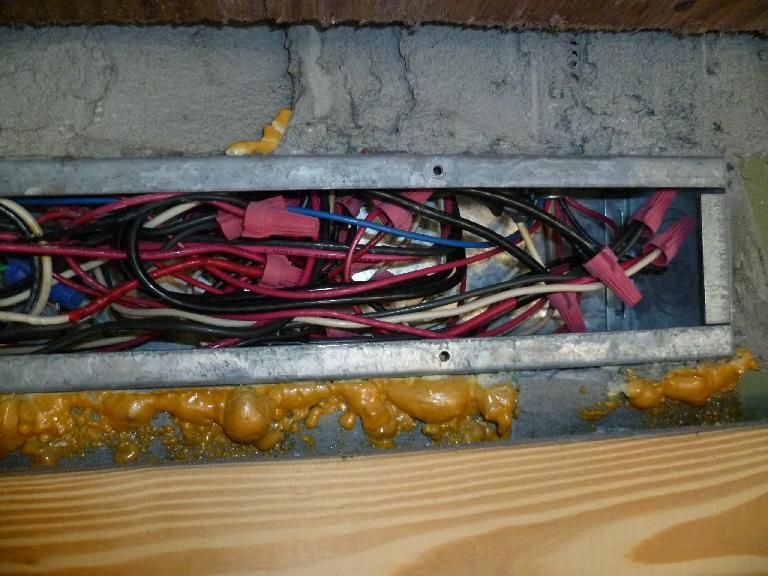 There are lots of conductors in here. It will take me some time to sort them out and see if may be able to put the dishwasher on a dedicated circuit breaker.
Some general questions.
(1) Is there a maximum box fill for boxes like these? Does it look like I am OK?
(2) On the upper left hand corner are several black conductors, looks like #6 conductors, may be for the range? There is duct tape over them. I hope it's just to bundle the conductors together and not a sloppy splice. I will have to remove the tape to find out.

(3) All of these conductors are in conduits coming from the top side of the box. However to the upper left corner there is a romex cable. If you look closer at the picture above where I put a circle, the neutral white wire of the romex has been taped red. Does it mean this is a hot wire? So probably they needed a 220V circuit and used the romex black and white conductors for it? May be it's the central AC or water heater.
05-08-14, 07:30 PM
Join Date: Jul 2002
Location: Maryland
Posts: 15,084
A white taped or marked as a hot would be for 240 volt circuit.

Calculating box fill is done based on the box dimensions and a conductor count and size. You are probably fine on box fill based on a quick look.
05-09-14, 07:46 AM
I did not know of the existence of such a gutter box here.

If you noticed the pictures the previous owner had mounted shelves etc...on that wall. I was going to put up some cabinets but now I need to leave the left side clear to allow access to this gutter box.

I really don't understand why they have both foam and cement patches on that wall. May be it was a large panel box they removed and they spray foamed the cavity as much as possible, and applied cement over the foam?

Why didn't they just leave the old panel box where it was?

Now, if I need to move a device to a new circuit, I will need to access this box, and run a conduit from this box to the panel. However every knockout hole on this box has been cemented in.

Is there such a thing as an extension ring to this box? What can I do to allow new circuits to be ran through here WITHOUT running through existing conduits as the existing conduits look quite congested already.
05-09-14, 05:45 PM
Who knows why people do what they do. It likely sounded like a good idea at the time.
I have not seen a extention ring for a gutter before. I have "made" one by cutting out the back of one. I would guess this would violate the UL listing of the gutter but it was for low voltage so it was not as big of a deal, and was indoors.
I think your options are to either chip out enough cement to get another conduit to the gutter, or run a conduit over to the cover and the last 3-4' convert to flexible conduit. On the end install a 90 degree flex connector and connect it to the cover. (You will have to drill your own KO) The flex will give you the flexibility to remove the cover and still gain access.
However, I will warn you that access to the gutter with the flex connected to the cover, and wires installed, is a pain in the butt to work in.
Just like a 4x4" box cover with a KO on the cover and a cable attached.
Posting Rules
You may not post new threads
You may not post replies
You may not post attachments
You may not edit your posts
---
HTML code is Off
---