Moving from USA to UK, question about laptop charger.
05-30-14, 12:20 PM
Join Date: May 2014
Posts: 1
Moving from USA to UK, question about laptop charger.
---
Hello people,

I am moving from the United States to the UK in the fall. I have recently bought a new laptop and I have a question about the charger. I only have one 220V converter available for me to use, so I would like to actually have a charger for the laptop that works directly with the UK outlets. My Laptop charger says it accepts an input of 110-240V and 50-60Hz at 2.0 amps, output 19.5V at 6.15 amps? UK outlets are rms 230V and 50Hz. Is it safe to buy an adapter cord for this charger, which will fit into a UK outlet, but continue using this particular transformer which came with my laptop that I bought in the US?
Sponsored Links
05-30-14, 01:17 PM
Yes....the charger is within specs for the UK supply. Using an adapter on the charger cord will be fine. Thats assuming the charger has it's own supply cord and doesn't have prongs that attach the box directly to the wall.

I'm not sure you'll find an adapter cord, normally it's just an adapter plug.
05-31-14, 01:18 PM
Join Date: Sep 2009
Location: Louisville KY
Posts: 576
As GG said it will work fine in the UK. Most laptop manufacturers actually sell replacement cords for their chargers that have the UK plugs on them. You may want to check with your manufacturer, I have a Toshiba and was able to buy one for my trips to Europe.
05-31-14, 03:13 PM
Banned. Rule And/Or Policy Violation
Join Date: Jan 2010
Location: KS
Posts: 1,896
Unless your laptop uses the 'wall wart' style with the prongs attached, it will use one of these, which you will be able to pick up at just about any shop for a few pounds once you are there (you can use the round two-prong version as well if you need to):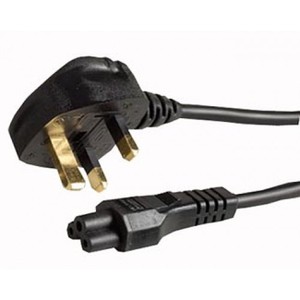 05-31-14, 04:03 PM
Join Date: Mar 2003
Location: NC, USA
Posts: 20,368
Upvotes Received: 140
I travel all over and just use a simple prong adapter. Most modern electronics are universal with the electronics handling the conversion of voltage and frequency so you only need work out the mechanics to get the plug to fit.

You do have to watch older electronics and simple devices like hair dryers and irons though. You can buy transformers for the voltage but there is not much you can do about the frequency wich will affect things with motors like a elctric razor or blender so I find it better to just purchase the appliance in country instead of dragging one thousands of miles from home.
05-31-14, 06:42 PM
Use an adapter to fit into local source. There only a few different ones required for the majority of countries. Usually they a sold in plastic packet of several different conversions/countries. I bought a combination pack of3 or 4 plug adapters many years ago and never had anything else. Strangely, I found it easier to buy them in the U.S. if you are leaving from there. People in different countries (EU) don't have much of a need. In most hotels, the front desk may have convertors for your use. Do not bother with the mess and bulk of another cord when traveling.

Very often, if traveling the bathroom outlets may accept both U.S and EU (dual outlets)and some convert the frequency (for razors), but I have charged my laptop with no convertor if used the bathroom outlets.

Not very many problems in 41 countries. India was never a problem and a young hotel clerk could also trouble-shoot any computer problems.

Dick
06-01-14, 12:01 PM
While I've never left the US, I have a few spare cords for my laptop charger, one of which with a 6-15 plug. I've ran it on 120, 208, and 240 all within the same day and never had a problem.
06-01-14, 03:27 PM
Laptops are very resilient as far as power supplies. They can adapt themselves to 50 or 60 cycles as far as I have seen. Apparently, the cooling fans are controlled by the machine or are tolerant of lower frequencies.

A big problem is frequency of other item that have motors for moving operations or or cooling. Don't try a US clock(non digital) or similar in a 208 or 220/240 system.

Since you are moving appliances may be a problem.

Dick
06-01-14, 03:33 PM
Laptops are very resilient as far as power supplies.
It has almost nothing to do with the fact that it's a laptop. It's the switching power supply it uses. You'll find that the same power supply system used in many desktop computers as well as mobile phone/pda/pad,electric shaver, etc. chargers.
Posting Rules
You may not post new threads
You may not post replies
You may not post attachments
You may not edit your posts
---
HTML code is Off
---