Need to extend EMT to panel
06-20-14, 10:43 AM
Need to extend EMT to panel
---
Here is a panel when looking from the inside it looks as if the conductors were running loose.
But the other end - the metal handy box has a pipe connected to it.
After some tracing, and opening up the sheet rock under the panel box, I found that the pipe actually ended about 4" below the bottom of the panel.
May be it used to be connected and it was knock loose. The middle plate seem to have been knock loose too. Can't explain why.
Here is a close up.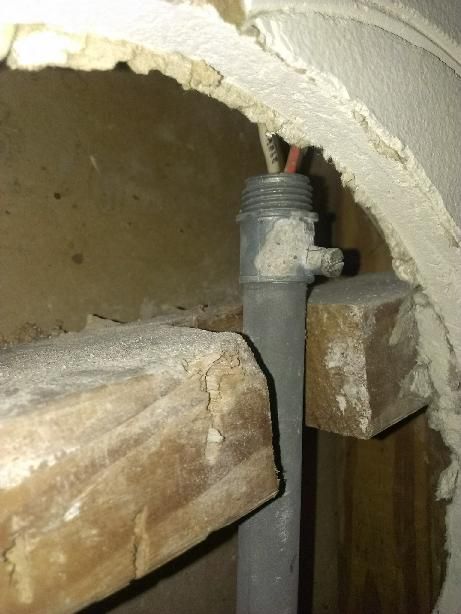 I can't move the pipe, not up not down not by even 1/4".
If I disconnect the two conductors from the panel, I can remove the set screw connector from that pipe. But I don't think I can add a short piece there, and be able to fit a coupling and a set screw connector where it belong. If the pipe can move an inch I can, but it's fixed in that way somehow.
Ideas?
Also, many of these old receptacles are not grounded. The box does not have the hole for the green screws. The existing holes are too big. Do I need to drill my own holes? Or is it better to use those clips?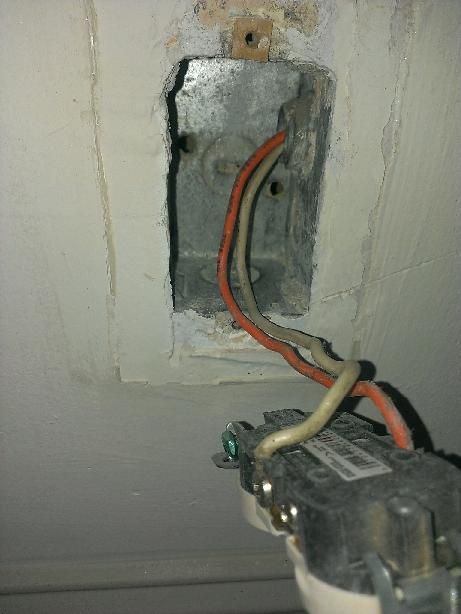 Thanks in advance.
Sponsored Links
06-20-14, 10:55 AM
Add a box under the panel and attach the connecter to it. Then add a short piece of cable to run from the new box and panel. If it is truly 4" you might be able to just nipple a 4"x4" box to the panel and skip the cable.
06-20-14, 11:46 AM
Do they have set screw couplings for EMT that do not have a "stop" in the middle, one that I can slide all the way onto one pipe, make the connection, align the two ends, then slide back over the other pipe and secure? If they have those couplings I can do it with a short piece of pipe.
06-20-14, 04:36 PM
No, I haven't seen that type of fitting. You could use a short rigid coupling (we call it a tomic coupling) and then use a nipple with some lock nuts. However, I think this will be a PIA. I would just install a box.
06-20-14, 05:55 PM
The distance is too small for a 2 gang box. Unless I use a handy box.

Also I found out the pipe no longer aligns with the hole above. It is about 1/2" off.

I think someone knocked down the piece of middle plate, and with it the pipe came apart. Now I cannot push the piece of wood back in place because the nails that was embedded in that piece of wood are now above it, stopping it from going back up.

I am going to have to open more wall to reseat that piece of wood.
06-20-14, 06:47 PM
Maybe a short length of Greenfield since it isn't aligned.
Good idea Ray!
Change the EMT connector to a combo EMT/FMC connector like this:
[ATTACH=CONFIG]33487[/ATTACH]
Then add a piece of flexible metal conduit to the panel. You shouldn't need a ground wire as it will be less than 6' and 20 amps or less.
06-21-14, 09:41 AM
Yes, plus normally when using flexible metal conduit you are required to also pull in a ground wire. However, there is an exception in the code that if the circuit is 20 amps or less, and the conduit is 6' or less, you do not have to install a ground. You can if you want though.
06-21-14, 03:28 PM
How thick is the wall? Can you mount a 4"sq on the concrete wall and bring the EMT into the bottom then Romex out of the bottom and up into the panel ,connect the bare bond wire to the new box which are tapped for a bond screw,snap a KO seal into the unused opening in the panel.
Use an 1 1/2" 4"sq, a plaster ring of the correct depth,and a blank plate to finish it off
You are going to have to open the wall some any way so make the hole large enough to be workable .
Geo
Posting Rules
You may not post new threads
You may not post replies
You may not post attachments
You may not edit your posts
---
HTML code is Off
---