Can I Power A LED strip with USB 3.0.
07-06-14, 12:06 PM
Join Date: Jul 2014
Location: England
Posts: 3
Received 0 Votes on 0 Posts
Can I Power A LED strip with USB 3.0.
---
Hi so I purchased a 5 meter RGB 5050 Led Strip. And it come with only 1 power supply.
But I didn't use the full 5 meter's so i got like 2 feet of spare LED strip but no power supply to power it.
I am a complete electical noob but I seen that you can purchase a LED strip that is powered by your USB on your PC.
I know USB 3.0 Generates more power than 2.0 so would I be able to make a DIY usb connector for this....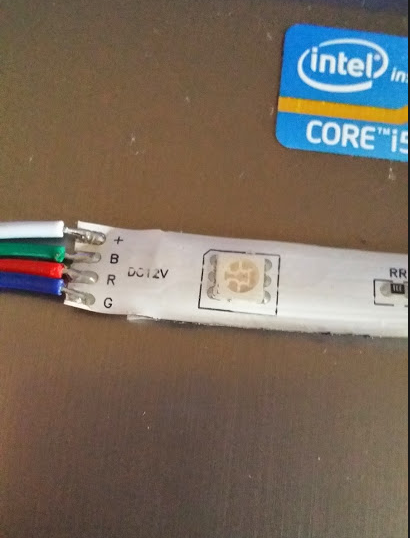 if so how can i do it?
I know that its RGB but im looking for just RED out of it. So im guessing that the R wire needs some sort of power into it.
Sponsored Links
07-06-14, 01:52 PM
Welcome to the forums!

The voltage output for USB is 5 DC volts. Your LED strip is 12 DC volts so it will not work. However if you have an open Molex connector inside the case, it has a 12 volt output that should work.

FYI - The white wire on your strip is the positive wire. The red, blue, and green wires are the negative side of the DC power, each to light up the corresponding LED on the strip. So if you want the red LED to light up, you would connect the white wire to the positive on the Molex connector, and the red wire to the negative (ground) wire. If you want both the red and green to light up you would connect the white to the positive, and both red and green wires to the negative (ground) This might also help:

[ATTACH=CONFIG]34281[/ATTACH]
07-06-14, 05:14 PM
Join Date: Jul 2014
Location: England
Posts: 3
Received 0 Votes on 0 Posts
Laptop?
---
Well the problem there is that I am currently running on a laptop not a desktop, so this pin i don't believe is available to me. but if i can get a small charger or some sort if its 12 volts will it work? Like i said i'm a completely blank when it comes to wiring and stuff.

Thanks for this help i really do appreciate it so much. just wish i could contribute to the forums. I feel like a snatch and grab user atm. im going to stick around as I do like to make things. So what better place to get advice and tips.
07-06-14, 05:24 PM
Yes, any power supply with a 12 volt DC output should work. Just be sure that it has enough watt output (or VA) to run what your LED strip draws. A 5 meter strip (16.4 feet) draws between 30-75 watts depending the type of strip.
Happy to have you here. Help others if you can.
07-06-14, 05:28 PM
Join Date: Oct 2012
Location: Northern NJ - USA
Posts: 53,121
We live in a world of wall warts. Those are the power supplies with little boxes that plug into the wall and have a small cord coming off of it. I've got boxes of them that I've picked from everywhere.

You may have some too. You can use any supply from probably 7.5vdc-13vdc.
07-06-14, 06:02 PM
Join Date: Jul 2014
Location: England
Posts: 3
Received 0 Votes on 0 Posts
Lmao that comment made me laugh. "Wall Warts" and yeah you are right i have a good few of them and i have no idea what they are for. so ill try and find a decent discrete on if i can.

Also this strip aint 5 meters any more the bit i wanna DIY power is around 120cm long. and its a RGB 5050 led strip. The one covered in a see through silicone material (supposed to be water proof but i am not risking it, i got it from ebay lol)
07-06-14, 07:43 PM
From what I can find, a waterproof 5050 RGB 5 meter strip draws about 72 watts. Divide that by 500 for 1 cm = .144 watts per cm. At 120 cm your smaller strip should draw about 17.28 watts.
Posting Rules
You may not post new threads
You may not post replies
You may not post attachments
You may not edit your posts
---
HTML code is Off
---